Martinique Sailing Cruise
The Tropical Paradise Sailing Cruise of Martinique & the Windward Islands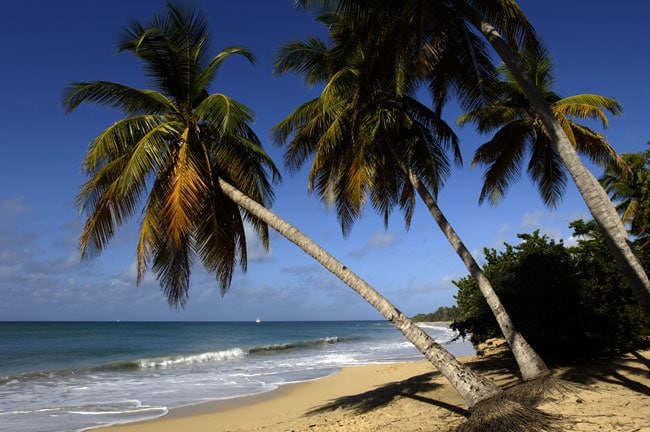 The beautiful Windward Islands await and there is no better way to see them than aboard our fabulous 82′ luxury sailing catamaran. These sleek craft provide spacious and comfortable accommodation and ample deck space. Their speed allows swift transits, whilst their shallow draft means you get to explore the stunning bays and coves up close. We have carefully selected cruises to show you the most beautiful and unspoilt locations and to give you a truly memorable trip through this wonderful Archipelago. It's islands hopping in style every nautical mile of the way.
On board you have will your own private double cabin with en-suite bathroom. You will be pampered by your crew and chef who will prepare exquisite recipes for you with fresh local produce, especially tropical fruits, vegetables and fish. There is plenty of opportunity to go snorkelling or exploring the coastline with the 2 man Sea kayak carried on board. Your 7 night Windward Island cruise can be as active or as relaxing as you choose.
Martinique Dream Itinerary
Dream Grenadines
(Lagoon 620 - Ipanema 58)
The Weather
December through May is considered the dry season, while June through November is considered the more humid season. In general, rainstorms pass quickly and the sun shines on most days. Average air temperatures in coastal areas range from 22º to 30º C (72º to 86º F) and in inland areas, from 19º to 27º C (66º to 81º F). Naturally, travelers will find more rain and cooler temperatures in the rain forests and higher elevations. The warm coastal water temperatures stay between 20º and 23º C (68º and 74º F).
Special Offers
Loyalty discount:
● 5% on all Dream Yacht Cabin Cruises for clients who have been on a DYC cruise within the past 24
months before the date of booking of the new cruise. "
Early booking discount:
● 10% for bookings made at least 180 days prior to departure date
● 5% for bookings made at least 90 days prior to departure date
Only loyalty and early booking discounts are cumulative
| | |
| --- | --- |
| Cabins | 10 |
| Berths | 16 |
| Heads | 10 |
| Length Overall | 23.99 m |
| Draft | 1.50 m |
| Beam | 12 m |
| Fuel Tank | 2 x 1000 litres |
| Engine | 2 x 230 hp |
| Water Capacity | 2 x 1000 litres |
| Sail area | 372 m² |
Full batten mainsail
Furling gennacker
Electric windlass
Air conditioning in every cabin
Water maker
Generator
LCD TV Screen
GPS
Autopilot
Chart plotter and depth sounder
Radar and VHF radio
Wind speed and direction indicators
Cockpit speakers
Semi-rigid dinghy 40 HP outboard
2 man kayak
Prices
Martinique Dream Sailing Cruise
8 days / 7 nights, Martinique - Martinique on board our catamaran Ipanema 58 or Lagoon 620
Prices in £ per person per cruise for full board
Embarkation: Marina Le Marin, Saturday, from 6 pm to 8 pm
Disembarkation: Marina Le Marin, Saturday at 10 am
"Passports details must imperatively be communicated to the base before clients arrival
arrival"

| Departure | Double cabin | Single Cabin |
| --- | --- | --- |
| 17/02/18 | £1,455 | £1,629 |
| 24/02/18 | £1,455 | £1,629 |
| 03/03/18 | £1,455 | £1,629 |
| 10/03/18 | £1,455 | £1,629 |
| 17/03/18 | £1,455 | £1,629 |
| 24/03/18 | £1,455 | £1,629 |
| 31/03/18 | £1,455 | £1,629 |
| 07/04/18 | £1,455 | £1,629 |
| 14/04/18 | £1,455 | £1,629 |
| 21/04/18 | £1,323 | £1,481 |
| 28/04/18 | £1,323 | £1,481 |
| 05/05/18 | £1,323 | £1,481 |
| 12/05/18 | £1,236 | £1,384 |
| 19/05/18 | £1,236 | £1,384 |
| 26/05/18 | £1,200 | £1,344 |
| 02/06/18 | £1,200 | £1,344 |
| 09/06/18 | £1,200 | £1,344 |
| 16/06/18 | £1,200 | £1,344 |
| 23/06/18 | £946 | £1,059 |
| 30/06/18 | £1,045 | £1,171 |
| 07/07/18 | £1,200 | £1,344 |
| 14/07/18 | £1,200 | £1,344 |
| 21/07/18 | £1,236 | £1,384 |
| 28/07/18 | £1,236 | £1,384 |
| 04/08/18 | £1,236 | £1,384 |
| 11/08/18 | £1,236 | £1,384 |
| 18/08/18 | £946 | £1,059 |
| 25/08/18 | £946 | £1,059 |
| 01/09/18 | £946 | £1,059 |
| 08/09/18 | £946 | £1,059 |
| 15/09/18 | £946 | £1,059 |
| 22/09/18 | £946 | £1,059 |
| 29/09/18 | £946 | £1,059 |
| 06/10/18 | £946 | £1,059 |
| 13/10/18 | £946 | £1,059 |
| 20/10/18 | £946 | £1,059 |
| 27/10/18 | £1,045 | £1,171 |
| 03/11/18 | £1,045 | £1,171 |
| 10/11/18 | £1,200 | £1,344 |
| 17/11/18 | £1,236 | £1,384 |
| 24/11/18 | £1,236 | £1,384 |
| 01/12/18 | £1,236 | £1,384 |
| 08/12/18 | £1,236 | £1,384 |
More exotic destinations to tempt you
Tortola Dream

JAN - DEC

Cruising Capital of the Caribbean

7 Nights Itinerary

Great flight options from the UK

Lagoon 620 Catamaran

Prices per person on full board

Grenada Dream

JAN - DEC

The unlocked secret is now yours to discover

7 Nights Itinerary

Flights from £1395

Sanya 57 Catamaran

Prices per person on full board

Mauritius Dream

JAN - DEC

Star and Key of the Indian Ocean

7 Nights Itinerary

Flight from £899

Lagoon 440 Catamaran

Prices per person on full board

Martinique Dream

JAN - DEC

Never-ending summer

7 Nights Itinerary

Flights from £995

Dream 82 Catamaran

Prices per person on full board

Thailand Dream

JAN - DEC

Sail yourself happy in the Land of Smiles

7 nights Phuket Itinerary

Flights from £795

Dream 60 Catamaran

Prices per person on full board

Corsica Dream

JAN - DEC

Explore the sea caves near Bonifacio

7 Nights Itinerary

Flights from £395

Dream 82 Catamaran

Prices per person on full board

Cuba Dream

JAN - DEC

The unlocked secret is now yours to discover

7 Nights, Cienfuegos Itinerary

Flights from £1395

Dream 60 Catamaran

Prices per person on full board

Maldives Dream

JAN - DEC

Sail amongst this water wonderland

7 & 10 Nights Itineraries

Flights from £799

Dream 60, Marquise 56 & Eleuthera 60

Prices per person on full board

Tahiti Dream

JAN - DEC

An oasis surrounded by turquoise

3, 7 & 10 Nights Itineraries

Great flight options from the UK

Eleuthera 60 or Lagoon 620 Catamaran

Prices per person on full board

BVI Dream

JAN - DEC

Cruising Capital of the Caribbean

7 Nights Itinerary

Great flight options from the UK

Lagoon 620 Catamaran

Prices per person on full board

Seychelles Dream

JAN - DEC

Paradise on Earth

3, 4 & 7 Night Itineraries

Flights from £799

Mojito 82′ or Eleuthera 60' Catamaran

Prices per person on full board