Discover the Pearls of Mauritius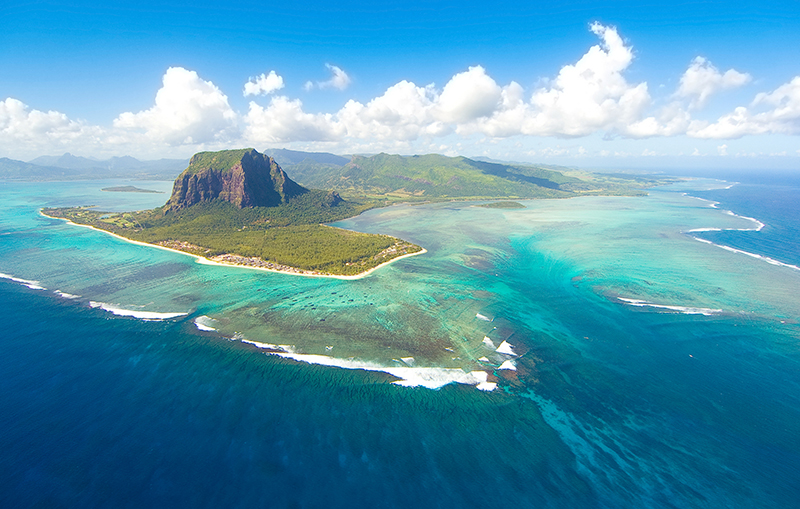 Mauritius sits like a pearl in the turquoise waters of the Indian Ocean. A contrast of colours, culture and tastes it holds a fascination for every visitor who comes here. Add natural beauty to die for and immense charm and the stage is set for a dream holiday in every sense of the word.
There is no better place to discover the clear warm waters and white beaches than from the deck of our Dream Yachts catamaran. The seas surrounding these gorgeous islands teem with underwater treasures. Make sure you practice your snorkelling skills then you can paddle off to even the most hidden places in on-board kayak and marvel at what goes on below the surface.
Whilst cruising you can laze on the sun deck or retire to your own private double cabin with en-suite bathroom. Meals come courtesy of the cook who has an excellent reputation for local signature dishes made with produce from the islands and the sea – as you might imagine the fresh fish and fruit are wonderful.
Our cruise itineraries are designed to show you everything Mauritius is famous for with some hidden away favourite places of our own on the agenda for good measure. All departures are guaranteed.
Mauritius Dream 7 Nights Itinerary
The Weather
Mauritius is not far from the tropic of Capricorn. That means that the sun is longer at its highest point than anywhere else. Usually in winter (May to October) the highest temperatures vary between 20°C and 26°C in the coastal regions. In summer (November to April) it's slightly higher, meaning 26°C to 32°C .The water temperature of the Indian Ocean can go up to 28°C. Usually wind is blowing quiet steady from easterly directions.
Special Offers
Loyalty discount:
● 5% on all Dream Yacht Cabin Cruises for clients who have been on a DYC cruise within the past 24
months before the date of booking of the new cruise. "
Early booking discount:
● 10% for bookings made at least 180 days prior to departure date
● 5% for bookings made at least 90 days prior to departure date
Only loyalty and early booking discounts are cumulative
Honeymoon and wedding anniversary (every 5 years):
"● 25% discount for the bride, valid for all departures except 29/11, 06/12, 13/12, 20/12 and 27/12/2017
Honeymoon / Anniversary discount is not cumulative with any other discount
| | |
| --- | --- |
| Cabins | 4 |
| Berths | 8 |
| Heads | 4 |
| Length Overall | 13.61 m |
| Draft | 0.9 m |
| Beam | 7.7 m |
| Fuel Tank | 2 x 325 litres |
| Engine | 2 x 40 hp |
| Water Capacity | 3 x 300 litres |
Full batten mainsail
Furling genoa
Electric windlass
Water maker
Generator
Cabin fans
CD player
Refrigerator
GPS
Autopilot
Chart plotter and depth sounder
Radar and VHF radio
Wind speed and direction indicators
Cockpit speakers
Dingy
Prices
Mauritius Sailing Cruise 2018
8 days / 7 nights, Rivière Noire - Rivière Noire on board our catamaran Lagoon 440
Prices in £ per person per cruise, for full board
Embarkation: La Balise Marina, Wednesday at 1 pm
Disembarkation: La Balise Marina, Wednesday at 8 am
| Departure | Double Cabin | Single Cabin |
| --- | --- | --- |
| 14/02/2018 | £1,159 | £1,623 |
| 21/02/2018 | £1,159 | £1,623 |
| 28/02/2018 | £1,159 | £1,623 |
| 07/03/2018 | £1,159 | £1,623 |
| 14/03/2018 | £1,159 | £1,623 |
| 21/03/2018 | £1,159 | £1,623 |
| 28/03/2018 | £1,159 | £1,623 |
| 04/04/2018 | £1,159 | £1,623 |
| 11/04/2018 | £1,159 | £1,623 |
| 30/05/2018 | £959 | £1,343 |
| 06/06/2018 | £959 | £1,343 |
| 13/06/2018 | £959 | £1,343 |
| 20/06/2018 | £959 | £1,343 |
| 27/06/2018 | £959 | £1,343 |
| 04/07/2018 | £959 | £1,343 |
| 11/07/2018 | £959 | £1,343 |
| 18/07/2018 | £959 | £1,343 |
| 25/07/2018 | £959 | £1,343 |
| 01/08/2018 | £959 | £1,343 |
| 08/08/2018 | £959 | £1,343 |
| 15/08/2018 | £959 | £1,343 |
| 22/08/2018 | £959 | £1,343 |
| 29/08/2018 | £959 | £1,343 |
| 05/09/2018 | £1,032 | £1,445 |
| 12/09/2018 | £1,032 | £1,445 |
| 19/09/2018 | £1,032 | £1,445 |
| 26/09/2018 | £1,032 | £1,445 |
| 28/11/2018 | £1,032 | £1,445 |
| 05/12/2018 | £1,032 | £1,445 |
| 12/12/2018 | £1,032 | £1,445 |
| 19/12/2018 | £1,032 | £1,445 |
| 26/12/2018 | £1,273 | £1,782 |
More exotic destinations to tempt you
Tortola Dream

JAN - DEC

Cruising Capital of the Caribbean

7 Nights Itinerary

Great flight options from the UK

Lagoon 620 Catamaran

Prices per person on full board

Grenada Dream

JAN - DEC

The unlocked secret is now yours to discover

7 Nights Itinerary

Flights from £1395

Sanya 57 Catamaran

Prices per person on full board

Mauritius Dream

JAN - DEC

Star and Key of the Indian Ocean

7 Nights Itinerary

Flight from £899

Lagoon 440 Catamaran

Prices per person on full board

Martinique Dream

JAN - DEC

Never-ending summer

7 Nights Itinerary

Flights from £995

Dream 82 Catamaran

Prices per person on full board

Thailand Dream

JAN - DEC

Sail yourself happy in the Land of Smiles

7 nights Phuket Itinerary

Flights from £795

Dream 60 Catamaran

Prices per person on full board

Corsica Dream

JAN - DEC

Explore the sea caves near Bonifacio

7 Nights Itinerary

Flights from £395

Dream 82 Catamaran

Prices per person on full board

Cuba Dream

JAN - DEC

The unlocked secret is now yours to discover

7 Nights, Cienfuegos Itinerary

Flights from £1395

Dream 60 Catamaran

Prices per person on full board

Maldives Dream

JAN - DEC

Sail amongst this water wonderland

7 & 10 Nights Itineraries

Flights from £799

Dream 60, Marquise 56 & Eleuthera 60

Prices per person on full board

Tahiti Dream

JAN - DEC

An oasis surrounded by turquoise

3, 7 & 10 Nights Itineraries

Great flight options from the UK

Eleuthera 60 or Lagoon 620 Catamaran

Prices per person on full board

BVI Dream

JAN - DEC

Cruising Capital of the Caribbean

7 Nights Itinerary

Great flight options from the UK

Lagoon 620 Catamaran

Prices per person on full board

Seychelles Dream

JAN - DEC

Paradise on Earth

3, 4 & 7 Night Itineraries

Flights from £799

Mojito 82′ or Eleuthera 60' Catamaran

Prices per person on full board