Tahiti Society Sailing Cruise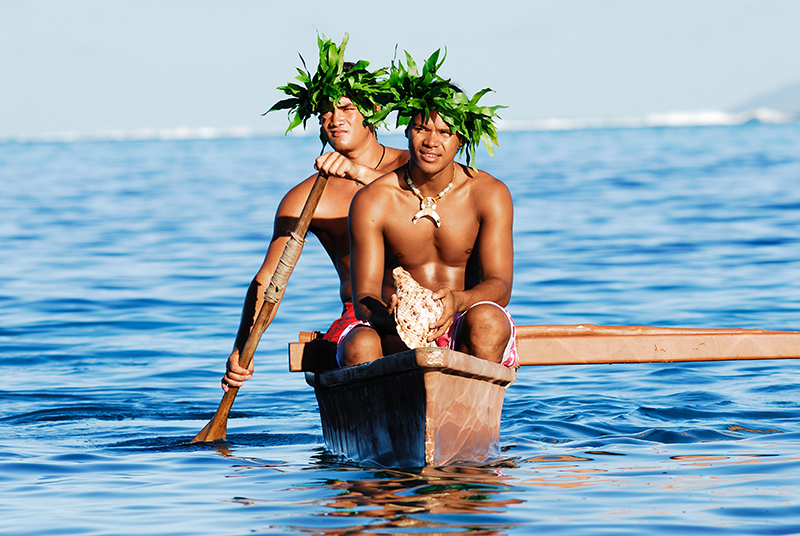 If you're after that once in a lifetime adventure then Bora Bora, and many other surrounding Polynesian islands, must be on your short list. Naturally seeing it aboard the biggest and most comfortable catamarans in the whole of the South Pacific is the only way to travel.
With a range of itineraries ranging from 4 to 8 days you can choose to discover Tahiti and its islands in the Archipelago of Tuamotu and Société at your own speed. This is your opportunity to discover wild bays and uninhabited atolls that are accessible only by boat and almost untouched by the human visitors. Alternatively you can explore picturesque island harbours, uninhabited atolls, enjoying the most tranquil of moorings in locations that are truly at the ends of the earth, for the ultimate escape from the stresses of modern life.
Yet for all the wilderness that surrounds you we ensure you do not forego modern comforts. Whether you chose a private charter, or to book by the cabin, our luxurious Eleuthera 60 catamarans accommodate up to 8 passengers in spacious en suite double cabins with air-conditioning. Your hostess will prepare scrumptious meals and introduce you to fabulous flavours made from fresh local products including abundant fresh fish and tropical fruits.
Your crew of two, intimately acquainted with the region, will be a mine of information and local knowledge. With a range of itineraries for you to choose from, ranging from 3 nights to 7 nights, each of which can be combined with a stay shore, a truly unforgettable voyage of discovery is guaranteed.
Bora Bora Dream 7 Nights Itinerary
Polynesia Raiatea to Tahiti 10 Nights Itinerary
The Weather
French Polynesia is a tropical destination with lots of sun and just enough rain for its luxuriant vegetation and its colorful flowers. Temperatures range between 24°C and 30°C all year through and lagoon water temperature varies between 23°C and 26°C
Special Offers
Loyalty discount:
● 5% on all Dream Yacht Cabin Cruises for clients who have been on a DYC cruise within the past 24
months before the date of booking of the new cruise. "
Early booking discount:
● 10% for bookings made at least 180 days prior to departure date
● 5% for bookings made at least 90 days prior to departure date
Only loyalty and early booking discounts are cumulative
Honeymoon and wedding anniversary (every 5 years):
● 50% discount for the bride on all departures between 17/06/2017 and 16/09/2017 except departures on 22/07, 29/07 and 05/08
Honeymoon / Anniversary discount is not cumulative with any other discount
| | |
| --- | --- |
| Cabins | 6 |
| Berths | 12 |
| Heads | 6 |
| Length Overall | 18.90 m |
| Draft | 1.55 m |
| Beam | 10 m |
| Fuel Tank | 2 x 650 litres |
| Engine | 2 x 110 hp |
| Water Capacity | 2 x 240 litres |
Full batten mainsail
Furling genoa
Electric windlass
Generator
LCD TV Screen
Refrigerator
Freezer
GPS
Autopilot
Chart plotter and depth sounder
Radar and VHF radio
Wind speed and direction indicators
Cockpit speakers
SatCom
Semi-rigid dinghy 40 HP outboard
Prices
Bora Bora Dream Sailing Cruise
8 days / 7 nights, Raiatea - Raiatea on board our Lagoon 620 Catamaran
Embarkation: Raiatea - Saturday, between 12 (noon) and 6 pm
Disembarkation: Raiatea - Saturday, between 8 and 10 am
| Departure | Double Cabin | Single Cabin |
| --- | --- | --- |
| 17/02/2018 | £945 | £1,059 |
| 24/02/2018 | £945 | £1,059 |
| 03/03/2018 | £1,059 | £1,186 |
| 10/03/2018 | £1,059 | £1,186 |
| 17/03/2018 | £1,059 | £1,186 |
| 24/03/2018 | £1,273 | £1,425 |
| 31/03/2018 | £1,273 | £1,425 |
| 07/04/2018 | £1,273 | £1,425 |
| 14/04/2018 | £1,273 | £1,425 |
| 21/04/2018 | £1,273 | £1,425 |
| 28/04/2018 | £1,695 | £1,899 |
| 05/05/2018 | £1,695 | £1,899 |
| 12/05/2018 | £1,695 | £1,899 |
| 19/05/2018 | £1,695 | £1,899 |
| 26/05/2018 | £1,695 | £1,899 |
| 02/06/2018 | £1,695 | £1,899 |
| 09/06/2018 | £1,695 | £1,899 |
| 16/06/2018 | £1,695 | £1,899 |
| 23/06/2018 | £1,695 | £1,899 |
| 30/06/2018 | £1,959 | £2,194 |
| 07/07/2018 | £1,959 | £2,194 |
| 14/07/2018 | £2,159 | £2,418 |
| 21/07/2018 | £2,159 | £2,418 |
| 28/07/18 | £2,159 | £2,418 |
| 04/08/18 | £2,159 | £2,418 |
| 11/08/18 | £2,159 | £2,418 |
| 18/08/18 | £1,959 | £2,194 |
| 25/08/18 | £1,959 | £2,194 |
| 01/09/18 | £1,959 | £2,194 |
| 08/09/18 | £1,959 | £2,194 |
| 15/09/18 | £1,959 | £2,194 |
| 22/09/18 | £1,959 | £2,194 |
| 29/09/18 | £1,959 | £2,194 |
| 06/10/18 | £1,959 | £2,194 |
| 13/10/18 | £1,959 | £2,194 |
| 20/10/18 | £1,959 | £2,194 |
| 27/10/18 | £1,614 | £1,807 |
| 03/11/18 | £1,614 | £1,807 |
| 10/11/18 | £1,614 | £1,807 |
| 17/11/18 | £1,059 | £1,186 |
| 24/11/18 | £1,059 | £1,186 |
| 01/12/18 | £945 | £1,059 |
| 08/12/18 | £945 | £1,059 |
| 15/12/18 | £945 | £1,059 |
| 22/12/18 | £1,473 | £1,649 |
| 29/12/18 | £1,473 | £1,649 |
Bora Bora Dream Sailing Cruise
11 days / 10 nights, Raiatea - Tahiti on board our Lagoon 620 Catamaran
Prices in £ per person per cruise for full board
Embarkation: Raiatea - between 12 (noon) and 6 pm
Disembarkation: Tahiti - between 8 and 10 am
| Departure | Double Cabin | Single Cabin |
| --- | --- | --- |
| | | |
| 14/01/2017 | £1,368.00 | £1,915.00 |
| 04/02/2017 | £1,368.00 | £1,915.00 |
| 25/02/2017 | £1,368.00 | £1,915.00 |
| 18/03/2017 | £1,368.00 | £1,915.00 |
| 08/04/2017 | £1,791.00 | £2,507.00 |
| 29/04/2017 | £2,158.00 | £3,021.00 |
| 20/05/2017 | £2,158.00 | £3,021.00 |
| 10/06/2017 | £2,158.00 | £3,021.00 |
| 01/07/2017 | £2,500.00 | £3,500.00 |
| 22/07/2017 | £3,013.00 | £4,218.00 |
| 12/08/2017 | £3,013.00 | £4,218.00 |
| 02/09/2017 | £2,500.00 | £3,500.00 |
| 23/09/2017 | £2,500.00 | £3,500.00 |
| 14/10/2017 | £2,500.00 | £3,500.00 |
| 04/11/2017 | £2,158.00 | £3,021.00 |
| 25/11/2017 | £2,158.00 | £3,021.00 |
| 16/12/2017 | £1,863.00 | £2,609.00 |
| 06/01/2018 | £1,863.00 | £2,609.00 |
| 27/01/2018 | £1,368.00 | £1,915.00 |
| 17/02/2018 | £1,368.00 | £1,915.00 |
| 10/03/2018 | £1,368.00 | £1,915.00 |
| 31/03/2018 | £1,791.00 | £2,507.00 |
More exotic destinations to tempt you
Tortola Dream

JAN - DEC

Cruising Capital of the Caribbean

7 Nights Itinerary

Great flight options from the UK

Lagoon 620 Catamaran

Prices per person on full board

Grenada Dream

JAN - DEC

The unlocked secret is now yours to discover

7 Nights Itinerary

Flights from £1395

Sanya 57 Catamaran

Prices per person on full board

Mauritius Dream

JAN - DEC

Star and Key of the Indian Ocean

7 Nights Itinerary

Flight from £899

Lagoon 440 Catamaran

Prices per person on full board

Martinique Dream

JAN - DEC

Never-ending summer

7 Nights Itinerary

Flights from £995

Dream 82 Catamaran

Prices per person on full board

Thailand Dream

JAN - DEC

Sail yourself happy in the Land of Smiles

7 nights Phuket Itinerary

Flights from £795

Dream 60 Catamaran

Prices per person on full board

Corsica Dream

JAN - DEC

Explore the sea caves near Bonifacio

7 Nights Itinerary

Flights from £395

Dream 82 Catamaran

Prices per person on full board

Cuba Dream

JAN - DEC

The unlocked secret is now yours to discover

7 Nights, Cienfuegos Itinerary

Flights from £1395

Dream 60 Catamaran

Prices per person on full board

Maldives Dream

JAN - DEC

Sail amongst this water wonderland

7 & 10 Nights Itineraries

Flights from £799

Dream 60, Marquise 56 & Eleuthera 60

Prices per person on full board

Tahiti Dream

JAN - DEC

An oasis surrounded by turquoise

3, 7 & 10 Nights Itineraries

Great flight options from the UK

Eleuthera 60 or Lagoon 620 Catamaran

Prices per person on full board

BVI Dream

JAN - DEC

Cruising Capital of the Caribbean

7 Nights Itinerary

Great flight options from the UK

Lagoon 620 Catamaran

Prices per person on full board

Seychelles Dream

JAN - DEC

Paradise on Earth

3, 4 & 7 Night Itineraries

Flights from £799

Mojito 82′ or Eleuthera 60' Catamaran

Prices per person on full board