Thailand Phuket Sailing Cruise
Sail yourself happy in the Land of Smiles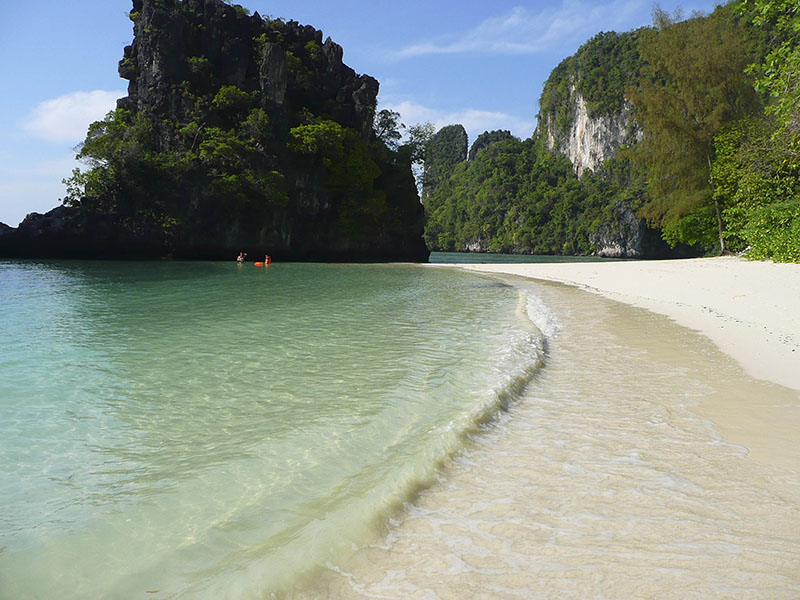 Phuket Island is located in the south of Thailand in the Andaman Sea, one of the most beautiful sailing areas in the world, with hundreds of idyllic undiscovered islands. It's altogether quite stunning, with pristine deserted beaches and crystal clear waters. Most notable is the spectacular PhangNga Bay with its amazing limestone rocks rising up from the sea, made famous by the James Bond movie "The Man with The Golden Gun".
Our Thailand catamaran cruise is the ideal way to explore and discover this amazing area of natural beauty in idyllic sailing conditions. Our luxurious Dream 60 catamaran accommodates up to 12 guests in 6 comfortable cabins.  There is a spacious saloon and dining area and an ample sun deck to enjoy the sailing and sunshine.
The crew are attentive, discreet and very knowledgeable about the area. The levels of service are excellent and each day they prepare breakfast and flavoursome lunch and dinner, with fresh local ingredients and plenty of local cuisine – it's all absolutely scrumptious. The daily routine involves a swim before breakfast then, sailing on to a wonderful new location, with time for more swimming and snorkelling, perhaps some sea kayaking, and new friends. Live the dream and sail with us in these waters – it's an experience you will never forget!
Phuket Dream Itinerary
The Weather
During the Hot Season from March to mid-May, temperatures reach 24 – 34 degrees Celsius. In the Rainy Season from mid-May to mid-November, temperatures are between 23 – 32 degrees Celsius. Temperatures during the Cool Season from November to February are usually between 21 – 33 degrees Celsius.
Special Offers
Family Policy: for child under 12 yrs sleeping in parents superior cabin: 200 Euros for the cruise (+cash box)
Loyalty discount:
● 5% on all Dream Yacht Cabin Cruises for clients who have been on a DYC cruise within the past 24
months before the date of booking of the new cruise. "
Early booking discount:
● 10% for bookings made at least 180 days prior to departure date
● 5% for bookings made at least 90 days prior to departure date
Only loyalty and early booking discounts are cumulative and can apply to the family policy
Honeymoon and wedding anniversary (every 5 years):
● 25% discount for the bride, valid for all departures in June, July, September and October
Honeymoon / Anniversary discount is not cumulative with any other discount
| | |
| --- | --- |
| Cabins | 6 |
| Berths | 12 |
| Heads | 6 |
| Length Overall | 18.28 m |
| Draft | 1.40 m |
| Beam | 8.40 m |
| Fuel Tank | 1500 litres |
| Engine | 2 x 75 hp |
| Water Capacity | 2 x 600 litres |
Full batten mainsail
Furling genoa
Electric windlass
Generator
CD player
Solar panels
Coffee maker
Microwave
Oven
Dishwasher
GPS
Autopilot
Chart plotter and depth sounder
Radar and VHF radio
Wind speed and direction indicators
Cockpit speakers
Semi-rigid dinghy with outboard
Prices
Thailand Sailing Cruise 2018
8 days / 7 nights, Phuket – Phuket on board our catamaran Dream 60
Prices in £ per person per cruise for full board
Embarkation: Marina Yacht Haven, Phuket, Saturday at 5 pm
"(Late embarkation possible until Midnight with extra fee of 60 Euros from 1 to 3 persons, including taxi
transfer + long tail boat till 1st mooring)"

Disembarkation: Marina Yacht Haven, Phuket, Saturday at 9 am
"(Early disembarkation possible from 8 pm to 7 am the last day : Supplement of 60 Euros from 1 to 3
persons including long tail boat transfer since last mooring + transfer taxi to the airport)"

| Departure | Double Cabin | Triple Cabin | Single Cabin |
| --- | --- | --- | --- |
| 17/02/2018 | £1,368 | £1,095 | £1,915 |
| 24/02/2018 | £1,368 | £1,095 | £1,915 |
| 03/03/2018 | £1,300 | £1,040 | £1,820 |
| 10/03/2018 | £1,300 | £1,040 | £1,820 |
| 17/03/2018 | £1,300 | £1,040 | £1,820 |
| 24/03/2018 | £1,145 | £916 | £1,604 |
| 31/03/2018 | £1,145 | £916 | £1,604 |
| 07/04/2018 | £1,145 | £916 | £1,604 |
| 14/04/2018 | £1,145 | £916 | £1,604 |
| 21/04/2018 | £882 | £705 | £1,235 |
| 28/04/2018 | £882 | £705 | £1,235 |
| 05/05/2018 | £882 | £705 | £1,235 |
| 12/05/2018 | £882 | £705 | £1,235 |
| 19/05/2018 | £882 | £705 | £1,235 |
| 26/05/2018 | £882 | £705 | £1,235 |
| 02/06/2018 | £882 | £705 | £1,235 |
| 09/06/2018 | £836 | £669 | £1,171 |
| 16/06/2018 | £836 | £669 | £1,171 |
| 23/06/2018 | £836 | £669 | £1,171 |
| 30/06/2018 | £977 | £782 | £1,368 |
| 07/07/2018 | £977 | £782 | £1,368 |
| 14/07/2018 | £977 | £782 | £1,368 |
| 21/07/2018 | £977 | £782 | £1,368 |
| 28/07/2018 | £1,059 | £847 | £1,483 |
| 04/08/2018 | £1,059 | £847 | £1,483 |
| 11/08/2018 | £1,059 | £847 | £1,483 |
| 18/08/2018 | £977 | £782 | £1,368 |
| 25/08/2018 | £882 | £705 | £1,235 |
| 01/09/2018 | £882 | £705 | £1,235 |
| 08/09/2018 | £882 | £705 | £1,235 |
| 15/09/2018 | £882 | £705 | £1,235 |
| 22/09/2018 | £882 | £705 | £1,235 |
| 29/09/2018 | £882 | £705 | £1,235 |
| 06/10/2018 | £882 | £705 | £1,235 |
| 13/10/2018 | £977 | £782 | £1,368 |
| 20/10/2018 | £1,186 | £949 | £1,661 |
| 27/10/2018 | £1,186 | £949 | £1,661 |
| 03/11/2018 | £1,186 | £949 | £1,661 |
| 10/11/2018 | £1,300 | £1,040 | £1,820 |
| 17/11/2018 | £1,300 | £1,040 | £1,820 |
| 24/11/2018 | £1,300 | £1,040 | £1,820 |
| 01/12/2018 | £1,300 | £1,040 | £1,820 |
| 08/12/2018 | £1,300 | £1,040 | £1,820 |
| 15/12/2018 | £1,300 | £1,040 | £1,820 |
| 22/12/2018 | £1,464 | £1,171 | £2,049 |
| 29/12/2018 | £1,682 | £1,345 | £2,355 |
More exotic destinations to tempt you
Thailand Dream

JAN - DEC

Sail yourself happy in the Land of Smiles

7 nights Phuket Itinerary

Flights from £795

Dream 60 Catamaran

Prices per person on full board

Grenada Dream

JAN - DEC

The unlocked secret is now yours to discover

7 Nights Itinerary

Flights from £1395

Sanya 57 Catamaran

Prices per person on full board

Corsica Dream

JAN - DEC

Explore the sea caves near Bonifacio

7 Nights Itinerary

Flights from £395

Dream 82 Catamaran

Prices per person on full board

Cuba Dream

JAN - DEC

The unlocked secret is now yours to discover

7 Nights, Cienfuegos Itinerary

Flights from £1395

Dream 60 Catamaran

Prices per person on full board

Mauritius Dream

JAN - DEC

Star and Key of the Indian Ocean

7 Nights Itinerary

Flight from £899

Lagoon 440 Catamaran

Prices per person on full board

Maldives Dream

JAN - DEC

Sail amongst this water wonderland

7 & 10 Nights Itineraries

Flights from £799

Dream 60, Marquise 56 & Eleuthera 60

Prices per person on full board

Martinique Dream

JAN - DEC

Never-ending summer

7 Nights Itinerary

Flights from £995

Dream 82 Catamaran

Prices per person on full board

Tortola Dream

JAN - DEC

Cruising Capital of the Caribbean

7 Nights Itinerary

Great flight options from the UK

Lagoon 620 Catamaran

Prices per person on full board

Seychelles Dream

JAN - DEC

Paradise on Earth

3, 4 & 7 Night Itineraries

Flights from £799

Mojito 82′ or Eleuthera 60' Catamaran

Prices per person on full board

Tahiti Dream

JAN - DEC

An oasis surrounded by turquoise

3, 7 & 10 Nights Itineraries

Great flight options from the UK

Eleuthera 60 or Lagoon 620 Catamaran

Prices per person on full board

BVI Dream

JAN - DEC

Cruising Capital of the Caribbean

7 Nights Itinerary

Great flight options from the UK

Lagoon 620 Catamaran

Prices per person on full board