Saronic Gulf & Peloponnese Flotilla Holiday
Why choose a Saronic Flotilla Holiday ?
The excellent Saronic flotilla boasts a superb fleet of yachts, consistent winds and a perfect starting and finishing point away from busy shipping lanes and in the middle of a wonderful and varied sailing area.
Rich in history, this area offers great sailing for more experienced sailors, with historic and cultural destinations at the end of a great day's sailing.
We start and end our sailing holiday on the Island of Poros with its long seafront full of traditional bars and tavernas. Epidavros with its famous amphitheatre is on our Saronic Gulf route, along with Aegina island and the Methana peninsula offering varied but traditional destinations.
Heading South on the Argolic Gulf route we explore the islands of Hydra and Spetses as well as having the chance to see the untouched town of Leonidhion, with great sailing inbetween.
With the Nautica bay beach club just around the corner, why not combine a week on flotilla with some beach time and excellent dinghy and windsurfing?
Frequently Asked Questions
Why should I choose a flotilla holiday?
You will be in charge of your own chartered yacht as part of a flotilla fleet of not more than twelve yachts. Your professional lead crew will be on hand to assist and guide you through the beautiful waters, organising social events along the way. The crew's aim is to make this a personal experience for you, and their local knowledge will help to make your holiday a very special one.
What is included with my flotilla holiday?
Return flights from the UK (on flight inclusive packages)
Overseas airport transfers (on flight inclusive packages)
Atol protection (on flight inclusive packages)
Fully equipped charter yacht
A welcome punch party
A beach party (14 day flotilla holidays only)
All airport taxes
End cleaning of your flotilla yacht
The services of the experienced flotilla lead crew plus the support of the base team / local agents
One full tank of diesel plus full water tank and cooking gas
Starter pack of basic provisions and cleaning materials
Cruise notes
Bed linen & tea towels
Note:: Mooring charges (except at flotilla base) extra fuel or water; food, drink and items of a personal nature such as laundry are excluded. For sail & stay, transfer costs from yacht base to your accommodation are usually excluded and payable locally unless you are booking a flight inclusive package.
Do I need a sailing license?
Yes, each skipper on a flotilla or bareboat charter is required to possess a recognised sailing qualification, typically either an RYA Day Skipper practical certificate or an International Certificate of Competence (ICC). If you have experience but not the qualification, our RYA training centre can help you to achieve this as part of your holiday. Call us to discuss this.
Do I need a visa for my holiday in Greece?
No, for British citizens, a tourist visa is not required.
How much cash should I take with me?
Obviously this will depend on what your plans are, but generally you can expect to pay around 15 euros per person for an evening meal. Although most places take card, it is good practice to have enough cash with you to cover any bill. Cash points are available at our home ports of Rhodes and Kos as well as many of the islands – your crew know exactly where and when you can get more and they will keep you updated as your holiday progresses. Travellers cheques are no longer readily accepted, and of course euros is the currency used in Greece.
Will I have to pay mooring fees?
On our flotillas, the first and last night of your charter will be in the marina, and we cover the fees for this (excluding showers and other marina facilities). During the course of your holiday there may be one or two places that charge a small fee, but this will generally not exceed 10 euros per night. In some places you will have to pay for topping up your tanks with water. Again, this is included whilst in the marina on your first and last nights.
What wind conditions can I expect?
Generally the prevailing wind is from the North / North East and the strength ranges from force 2 to force 5. Stronger sailing breezes can generally be expected in the afternoons, between 2 and 5pm. During the Meltemi season, which is generally late July to the end of August, the winds can be a little stronger, between force 3 to 6 at times, although much of the sailing area is protected by the mainland so the swell is not too exaggerated.
Do I need to stock up with provisions at base?
A few basic supplies and plenty of water is always good to have on the yacht, and the marina supermarket is close for the heavy items, however all the islands and ports have some facilities and shops (although sometimes quite basic!). Half the fun of your flotilla holiday is exploring the harbours and villages, and of course there are plenty of restaurants for your evening meals ashore.
What are the rules regarding Holding Tanks in the Greece?
In Greece the regulations relating to discharges and pollution make a holding tank a practical necessity although we are not aware of them being a legal requirement as yet. It is prudent to ensure that the discharge of any holding tank is done as far from the shore as is practical and to certainly avoid discharge in a confined area such as a bay, harbour or marina.
The Saronic Gulf Route
The Argolic Route
2 Week Monemvasia Flotilla Itinerary
| | |
| --- | --- |
| Sat | Fly UK to Athens and transfer by hydrofoil to Poros for embarkation. |
| Sun | Ermioni (24 nm) – After dinner at one of the local tavernas, stroll the scenic route around the pine-clad headland. |
| Mon | Plaka (25 nm) – Situated under impressive rocky slopes, the mile long beach and tavernas will keep you happy. For the more energetic, a visit to the regions capital towm, Leonidhion. |
| Tue | Kiparissi (14 nm) – Is situated in a spectacular bay surrounded by steep mountains. |
| Wed | Yerakas (10 nm) – This protected bay is an enchanting place, with just a couple of lovely tavernas along the waters edge. |
| Thu | Monemvasia (11 nm) – One of the highlights of the flotilla, you must leave time to explore the medieval village on the southern side of the huge rock, joined to the mainland by a causeway. |
| Fri | Sambatiki (22 nm) – A tiny little place, but offers simple charm. Enjoy a meal from one o fthe few tavernas sitting on the beach. |
| Sat | Tiros (8 nm) – The small village is now a better stop, with the addition of an extension to the mole. A charming little village with friendly local tavernas. |
| Sun | Astros (14 nm) – A clean little harbour that is good enough to swim in, the town has many seaside tavernas. A short stroll up from the town is the remains of a Venetian castle. |
| Mon | Nafplion (12 nm) – This city is un-missable and worth arriving early. The picturesque old town is a mixture of Venetian, Turkish and neo-classical buildings and a stroll through the narrow streets and open squares overhung with bougainvillea, clematis and jasmine is a delightful experience. |
| Tue | Vivari (12 nm) – Moor at the head of this virtually landlocked inlet and dine ashore at one of the excellent tavernas. |
| Wed | Spetses (23 nm) – Spetsai is a beautiful historical island that should be visited so as to not miss its magnificent houses, traditional boatyards and the house of the Greek heroine of the War of Independence, Bouboulina. |
| Thu | Hydra (18 nm) – Widely regarded as one of the most beautiful islands in Greece, Hydra is a must see destination. Although mooring can be 'interesting', the variety of traditional houses, tavernas and the absence of cars make this a fantastic visit. |
| Fri | Poros (14 nm) – Sail back towards Poros and enjoy a stroll along the bustling seafront before perhaps heading across to the mainland by watertaxi to enjoy a last farewell dinner with your fellow sailors. |
| Sat | Transfer by hydrofoil to Athens and then to the airport for your return flight to the UK. |
The Weather
Daily sunshine is virtually guaranteed on a Saronic flotilla in the Greek Isles. The season runs from April to late October with temperatures ranging from the low to mid 20s in early and late season up to the high 30s in late June through August. Winds are predictable with moderate to fresh winds (force 2-5) in the afternoon.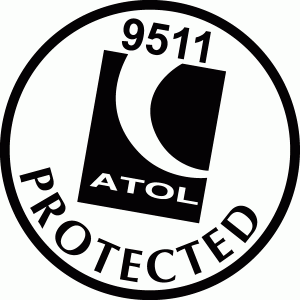 Book your flights with us to ensure full ATOL protection for your holiday.
Flight and transfer prices per person
| 2018 Dates | Flights & Transfers from | |
| --- | --- | --- |
| 14th April - 21st May | £298 | |
| 22nd - 28th May | £499 | |
| 29th May - 11th June | £348 | |
| 12th June - 30th June | £378 | |
| 1st July - 15th July | £398 | |
| 16th July - 26th August | £499 | |
| 27th August - 9th September | £388 | |
| 10th September - 23rd September | £329 | |
| 24th September - 22nd October | £298 | |
Transfers only – available from £90 per person return
Yacht Security Deposit
Returnable Deposit:
Yachts 35 ft or under – £1000
Yachts 36 ft to 40ft – £1500
Yachts 41 ft to 45ft – £2000
Yachts 46ft and over – £2500
Non-Returnable Yacht Damage Waiver:
Yachts 35 ft or under – 1 week £120 2 weeks £180
Yachts 36 ft to 40ft – 1 week £180 2 weeks £2700
Yachts 41 ft to 45ft – 1 week £250 2 weeks £375
Yachts 46ft and over – 1 week £300 2 weeks £450
Reduced deposit of £500 to be taken with the yacht damage waiver.
Extras
Outboard engine £60 per week
On our Saronic flotilla there are Saturday morning scheduled flights from Gatwick or Heathrow to Athens, with afternoon or evening return. Flight time 3 hrs 20 mins. Regional flights available from Luton, Manchester and Glasgow on request. For cruise & stay, flexible durations are available due to daily flight service.
40-50 minute road transfer to Piraeus 1 hour Hydrofoil/Flying Cat crossing to Poros this gets you in the perfect starting location for this Saronic flotilla.
Flotilla Holidays Other Destinations
French Riviera Flotilla

20th May - 30th September 2017

Experience level - 2

Saturday departures

Flights & transfers from £195

Ideal for couples & friends

Prices per yacht for 7 nights

Lefkas Flotilla

14th April - 15th October 2017

Experience level - 1

Combine with Nikiana beach club

Flights & Transfers from £279

Ideal for families

Prices per yacht for 7 nights

Kefalonia Flotilla

21st May - 24th September

Experience level - 1-2

Sunday departures

Flights & Transfers from £295

Great choice of routes

Prices per yacht for 7 nights

Dalmatian Islands Flotila

13th May - 30th September 2017

Experience level - 2

Saturday departures

Flights and transfers From £325

Island and mainland stops

Prices per yacht for 7 nights

NEW MONTENEGRO ROUTE FOR 2017

Dubrovnik ‎ & Montenegro Flotilla

13th May - 23rd September 2017

Experience level - 2

Saturday departures

Flights and transfers from £325

Visit world famous Dubrovnik

Prices per yacht for 7 nights

Mallorca Flotilla

20th May - 21st October 2017

Experience level - 2

Saturday departures

Flights and transfers from £195

Great for couples & friends

Prices per yacht for 7 nights

Sporades Flotilla

19th May - 22nd September 2017

Experience level - 2-3

Friday departures

Flights & transfers from £375

Ideal for explorers

Prices per yacht for 7 nights

Turkey Flotilla

13th May to 14th October 2017

Experience level - 2

Saturday departures

Flights & transfers from £299

A beautiful coastline to explore

Prices per yacht for 7 nights

Dodecanese Flotilla

13th May - 21st October 2017

Experience level - 2

Saturday departures

Flights and Transfers From £275

An area rich in history & culture

Prices per yacht for 7 nights