Meet us at Stand H40
The RYA Dinghy Show has always been one of our favourites. It stands out for the sheer range of Dinghies brought by clubs and classes from all over Britain and it quite a sight to see all these boats inside, polished to perfection. This years show theme is "a world of opportunity – see where dinghy sailing can take you, whether its an exciting career on the water, spending time outdoors or competing on the racecourse.
This year the show will be seperated into four zones (shopping & equipment, buy a boat, holidays and training, classes and clubs) along with a VR sailing, sailing simulators, the national eSailing virtual regatta and a model boat pool. There will also be many talks from various sailors including those preparing for Tokyo 2020 as well as how to improve your personal sailing.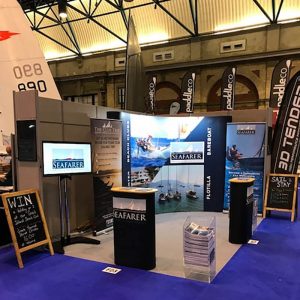 Seafarer will be on Stand H40 in the West Hall (Holidays and Training Section) with a few familiar faces to chat to about all things sailing. We've got a few bits and pieces on over the weekend including;
Win a RYA Competant Crew or Day Skipper Course
Free Greek Beer, Wine & Soft Drinks on Saturday and Sunday from 4pm ish
Some special discounts
Launch of some of the special events to mark our 25th Anniversary
If you would like 10% off tickets for the show click here and use the code RYAEX071080.
Looking forward to seeing you there. Here's a video of some sailing at Nikiana to get ready for the summer.