Sailing a tropical paradise
Departures every 10 days from the 21st January
We are pleased to announce that our Thailand flotilla will be back for 2023, and we will be running a longer season, in anticipation of high demand for winter sailing next year.
Running from the 21st January up to the end of March, our Thailand flotilla explores the Phang Na bay on the sheltered east coast of Phuket, from James Bond Island in the north to Koh Lanta in the south with the famous Phi Phi Islands between. Our flotilla started there in January 2020, and we enjoyed a great first season…right up to the pandemic…for obvious reason it's been tricky since, but with travel opening up globally, we are determined to make this flotilla the success it promised to be.
The area offers some great sailing, amazing coastal scenery, fascinating local culture and delicious local cuisine.  This is a 10 night flotilla which gives the opportunity for  sail & stay combinations in Phuket, Bangkok and beyond. We offer a fleet of monohulls and catamarans as well  cabin charter, sailing Thailand's wonderful warm waters.
Sail & Stay
The area offers limitless possibilities to go exploring or relax at a superb beach resort pre and post cruise  We offer options to extend your stay in a beach hotel in Phuket or take a connecting flight to Thailand's exciting capital Bangkok for a couple of days before your return flight to the UK. There are also possibilities in neighbouring countries such as Malaysia and Vietnam.  Talk to one of our consultants who will be happy to assist you with a tailor made package.
The Weather
You can expect temperatures in the high 20's to low 30's c and plenty of sunshine. Winds are typically north easterly at this time of year and range between force 2 and maximum force 6.
Cruising level 2+
With some  moderate to brisk sailing winds, and moderate tides the area is best suited to those with reasonable previous experience. Most nights are at anchor with plenty of use of dinghy and outboard to get ashore.

Phuket is an Island located in the southwest of Thailand in the Andaman Sea and is considered as the centre of one of the world's most beautiful sailing areas. The area boasts countless idyllic islands, secluded beaches and all in lush tropical surroundings. The spectacular Phang Nga Bay with its amazing limestone pinnacles made famous through the James Bond film, is just one among many iconic sights we will explore on this amazing trip.
The lead yacht will be a large one with en suite cabins, so for those that don't want to charter an entire yacht, you can book by the cabin. The support and camaraderie you have come to expect on a Seafarer flotilla will be there with daily briefings and some group meals as well visits to points of interest.
The area features stunning anchorages suitable for overnight stays as there are very few harbours and marinas, whilst charming villages offer unique lunchtime stops. Many of the islands in this region are ringed with dazzling coral reefs so rich in marine life that you'll be tempted to spend much of your time in the water rather than on it.
All in all it's a great mix of natural beauty, history and culture plus some great sailing as the icing on the cake!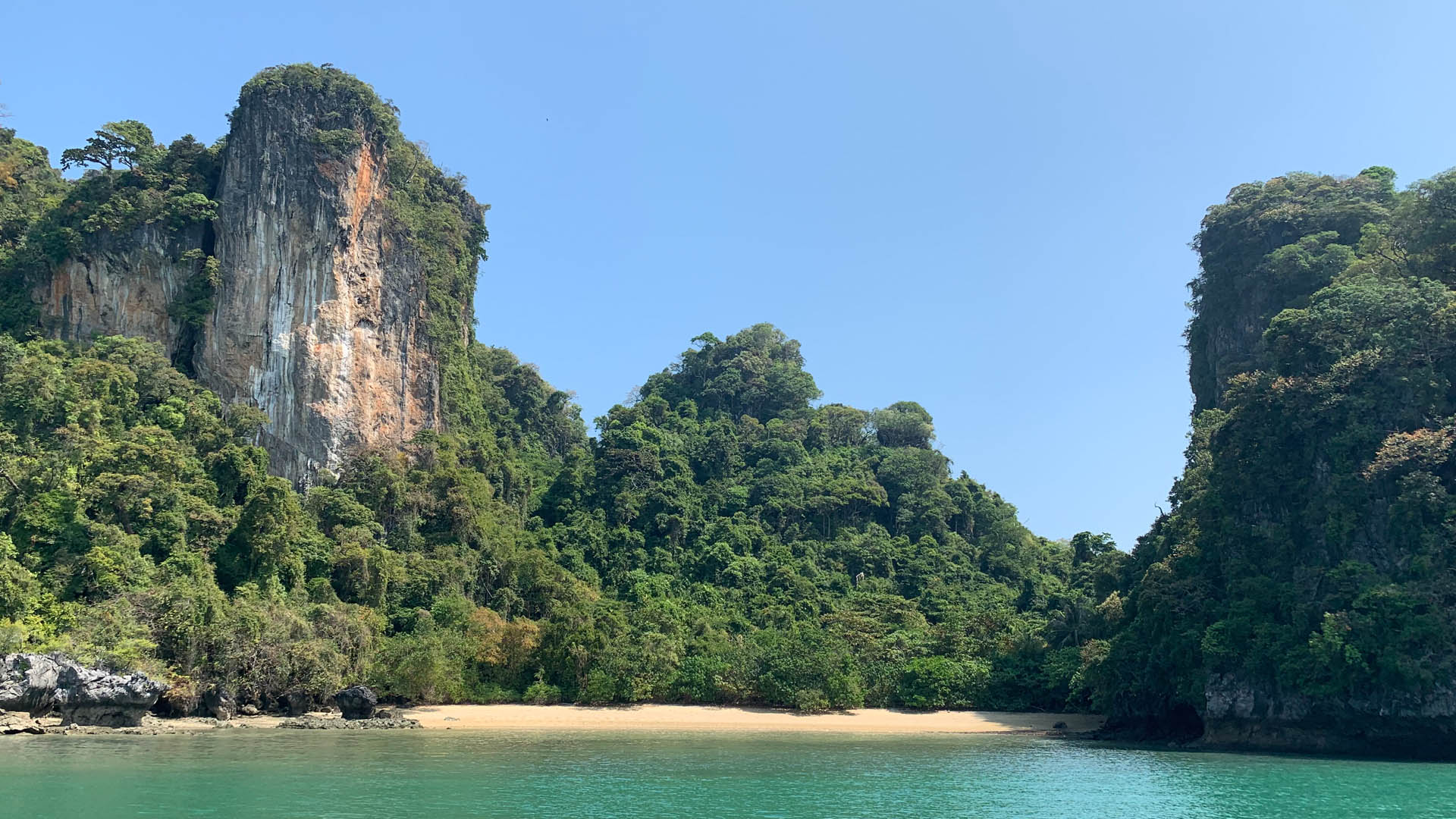 The Itinerary
X
Phuket
Arrivals and Departures. The journey from the airport will give you your first glimpse of the lush Thai vegetation, Buddhist temples, and picturesque villages.
X
Koh Hong
(17 nm) This amazing site is only accessible by tender through a cave leading you to a lake surrounded by 100m cliff. Hong island, considered to be amongst the most beautiful islands in the Krabi province. Exploring this fascinating island, where you'll take in the stunning natural rock formations, including solitary limestone peaks both in the sea and on land. You'll also have the opportunity to explore the caves, which contain stalagmites and stalactites. Lunch at anchor.
X
Koh Yao Noi
(18 nm) Tonight we anchor in the bay on the south side of Koh Yao Noi. Eat onboard or alternatively take a 30 minute stroll along the main road from the pier to the sunset restaurant - take a local taxi back if you don't feel like walking!
X
Rai Lei Beach
(15 nm) Depart and sail north to see James Bond Island, then lunch in Koh Pak Bia. Overnight in Rai Lei Beach - plenty of lively bars and restaurants for a good night out.
X
Koh Pu
(20 nm) South we go to Koh Pu, very laid back with just a couple of restaurants on the long beautiful beach.
X
Koh Lanta, Bamboo Beach
(16 nm) South again to the beautiful island of Koh Lanta, we moor overnight in Hat Kan Tiang.
X
Free Sailing
A chance to spend a day on the beach, or a day sail down the coast of Koh Lanta, the choice is yours.
X
Phi Phi Don
(18 nm)Phi Phi Lei was made world famous as the location used for "The Beach". Phi Phi Don to the north, is wild and loud, but well worth a visit!
X
Koh Yao Yai
(17 nm) After the hustle and bustle of Phi Phi Don, today we head to a quieter, more traditional island.
X
Phuket Yacht Haven
(21 nm) Have lunch close to Koh Naka Yai before heading back to Phuket Yacht Haven
X
Phuket Yacht Haven
(9 nm) Disembark your yacht in Phuket and return to the airport or accommodtion if extending your stay.
Thailand Flotilla Prices - 2023
Prices per week (£)
| Yacht | Year | Cabins / sh/WC | 21st Jan - 4th March | 15th - 25th March |
| --- | --- | --- | --- | --- |
| Monohull | | | 10 Days | 10 Days |
| Bavaria 33 | 2013 | 2/1 | £3,126 | £2,837 |
| Bavaria 34 | 2008 | 2/1 | £3,126 | £2,837 |
| Hanse 385 | 2013 | 3/2 | £4,670 | £4,406 |
| Bavaria 39 | 2006 | 3/2 | £4,120 | £3,940 |
| Sun Odyssey 409 | 2014 | 3/2 | £4,750 | £4,540 |
| Bavaria 45 | 2018 | 4/3 | £6,283 | £5,903 |
| Catamaran | | | | |
| Mahe 36 | 2013 | 3/1 | £5,622 | £5,151 |
| Island Spirit 380 | 2017 | 4/2 | £6,283 | £5,903 |
| Island Spirit 410 | 2019 | 4/2 | £8,513 | £7,563 |
Rates include: Welcome pack, welcome punch party, beach party  bed linen & towels, dinghy & outboard, mooring at base on first and last night,