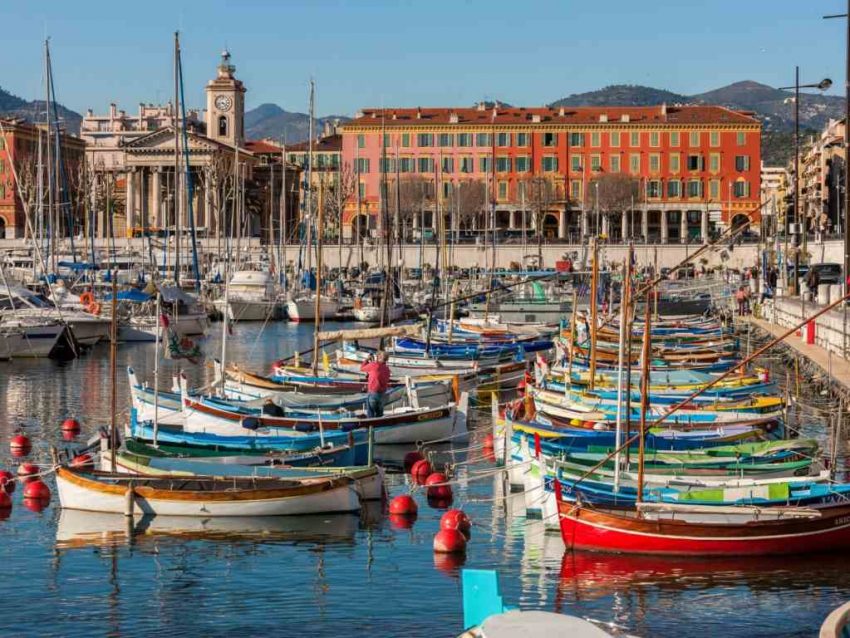 At Seafarer we are fast gaining a reputation for offering unique flotilla destinations, and the newest addition to our portfolio is our Côte d'Azur flotilla on the French Riviera. Everyone knows the allure and the glamour associated with this beautiful coast and assumes that this is the exclusive haunt of the rich and famous, particularly if looking seaward towards the Superyachts moored in Saint-Tropez and Cannes. John Connolly, our product manager, has family along the coast in Nice and had sailed in the area since the late eighties. In October 16, he had the opportunity to take our Sales Consultants, Suzie, Nevena and Simos sailing in the region to explore our new flotilla route, to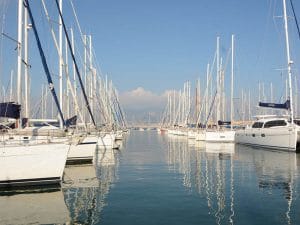 see some of the iconic spots, but also to explore idyllic locations, a nice contrast from the typical image of the region.
Our flotilla holidays start from Port Pin Rolland, located close to Saint-Mandrier-Sur-Mer, a peninsula close to the historic port of Toulon. The marina is accessible from both Marseille and Toulon airports, with many daily flights available, particularly to Marseille, which is approximately 100km from our base. Once in the marina, our routes take you either west or east, depending upon your choice, although we would recommend two weeks to see everything the coast has to offer.
John commented "We arrived a little late, so decided to head east, and out to the island of Porquerolles, around 15 nautical miles from base. It was a great way to start, we got to know our yacht, a lovely Dufour 450, and had a gentle sail across to the island. Arriving at dusk, we secured a berth in the marina and headed out to explore. The main pedestrian street heads out from the marina, with plenty of choice of bars and restaurants before it opens out to the main square, popular with locals for an afternoon game of Pétanque. We rounded off the day with a delicious dinner of moules marinière – a bargain at €10 – before enjoying a peaceful night in the marina."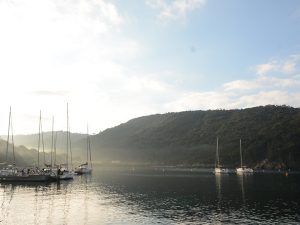 The island group of Îles d'Hyères includes the islands of Porquerolles and Port Cros, both recommended stops on our Saint-Tropez flotilla route, heading east.  The laid back charm contrasts beautifully with the chic cosmopolitan locations on the coast, such as Saint-Maxime and of course Saint-Tropez. Nevena, a keen photographer, loved Saint-Tropez: "The stylish town is everything you would expect, but for me the old village, sloping away up the hill from the quay is fantastic – beautifully restored old buildings, hidden courtyards and cute little restaurants make for great photo opportunities!"
When it was time to head back towards our home port, we decided on a stop in Le Levandou – not such a well known coastal resort, but, as it turns out, a real gem. Simos, our resident connoisseur of the finer things in life noted "Le Levandou is fantastic – we enjoyed an apéritif – an ice cold pastis overlooking the sea before a great value fish supper on the sea front and a wander through the backstreets. A bright morning followed with a rich coffee before an essential trip to the boulangerie for fresh bread and pastries to set us up for a great day's sailing". Suzie, our senior sales consultant, was pleasantly surprised by the prices: "The marinas are cheaper than in Croatia, and the excellent food is good value for such a location – 16 euros for a 3 course dinner is fantastic for anywhere, let alone the South of France!"
John takes up the story after leaving Le Levandou – "We set sail early, as we wanted to get as much sailing in as possible – the Rade d'Hyères is nicely protected – we had a fantastic sail with a 15 knot north-westerly, and explored the big bay under sail. A lovely shelving coast means plenty of places to anchor and swim, and to anchor overnight when the weather is kind. Great islands, a beautiful coast, superb food and good winds – this is a f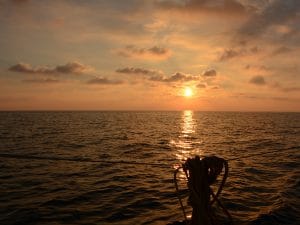 antastic place to sail."
After our first season in 2017, we have made a couple of changes to the routes for 2018: Our Cassis route has been altered to offer a fantastic mix of islands and mainland destinations, and now includes Port Miou (one of the Calanques in the National Park) as well as the historic Vieux Port (Old Port) of Marseille. For the foodies (and how can't you be in the South of France!) Marseille is the place to try the famous bouillabaisse – a fish stew that defines Provencal cooking. On our eastern route, we have includes both Port Cros and Porquerolles islands as regular stops, after great feedback from clients in 2017, as well as Cavalaire sur mer, which offers a better mooring solution to St Maxime, whilst still giving the opportunity to vist the iconic St Tropez.
To find out exactly what our team are so excited about, feel free to give us a call at the office and explore the French Riviera section of our website – we are always happy to talk about our sailing areas and our flotilla destinations.
We can organise the whole package for you, including your flights and transfers, with yachts available from 32 feet up to 50 feet, suitable for parties of 8 or more – explore the fleet here. Yachts are selling fast, so we would certainly recommend booking sooner than later, also meaning that you can save more on your yacht and flights, leaving a few extra euros for that bottle of wine after a great day's sailing!