Explore the Wonderful Maldives on a Sailing Cruise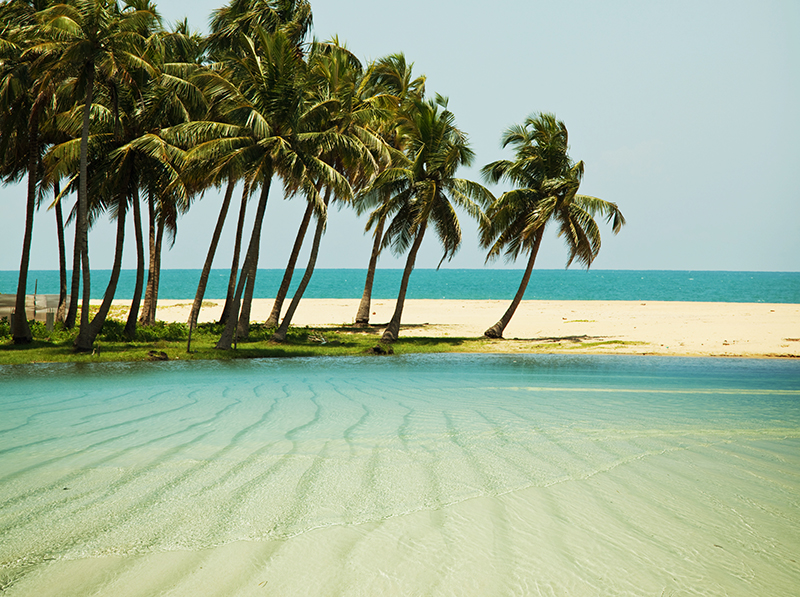 Catamarans, with their shallow draughts, allow you to explore the numerous islands and reefs that are set in this abundant and vibrant crystal blue Indian Ocean in total comfort. We can think of few places where this is more of value than the beautiful islands of the Maldives.
To sail amongst this water wonderland is amazing. To be able to dive and snorkel amongst the underwater landscape is simply out of this world. If you prefer to scuba then diving can be arranged with the local diving clubs in each location.
Our large Dream 60 and Nautitech 82 craft offer the ultimate dream sea safari, accommodating up to 16 guests in 8 comfortable cabins, each with en suite shower and WC. Amenities include a spacious saloon and dining area and an ample sun deck – a perfect location to sit and relax and watch the world go by, whilst enjoying a long cooling cocktail and taking in the sunset and ocean's breeze. The cruise is on a full board basis, with plenty of fresh local produce, tropical fruits and abundant fresh fish, featuring on the chef's menu.
The catamaran has all the latest navigational equipment to enable safe and pleasant sailing as you explore a multitude of islands, many of which are uninhabited. The itinerary includes the North Male Atoll, South Male Atoll and Ari Atoll – amongst some of the best places to be discovered by kayak, snorkelling or diving. The crew of three provide attentive yet discreet service and detailed local knowledge throughout the 8 days / 7 nights cruise that departs every Tuesday from HULHUMALE
Weekly departures are guaranteed and we think this is the perfect way to experience uninhabited islands, beautiful beaches, fishing villages and the Maldivian way of life, all in good company.
Maldives Dream 7 Night Itinerary
Maldives Dream 10 Night Itinerary
The Weather
The average minimum temperature all year round is 24 degrees Celsius and the average maximum temperature all year round is 29 degrees Celsius.
Special Offers
Loyalty discount:
● 5% on all Dream Yacht Cabin Cruises for clients who have been on a DYC cruise within the past 24
months before the date of booking of the new cruise. "
Early booking discount:
● 10% for bookings made at least 180 days prior to departure date
● 5% for bookings made at least 90 days prior to departure date
Only loyalty and early booking discounts are cumulative
Honeymoon and wedding anniversary (every 5 years):
● 50% discount on cruise rate for the bride, valid for departures in June, July, September and October
Honeymoon / Anniversary discount is not cumulative with any other discount
| | |
| --- | --- |
| Cabins | 6 |
| Berths | 12 |
| Heads | 6 |
| Length Overall | 18.28 m |
| Draft | 1.40 m |
| Beam | 8.40 m |
| Fuel Tank | 1500 L |
| Engine | 2 x 75 H.P. |
| Water Capacity | 2 x 600 L |
| Sail area | 171 m² |
Full batten mainsail
Furling genoa
Electric windlass
Water maker
Generator
LCD TV Screen
Refrigerator
Freezer
GPS
Autopilot
Chart plotter and depth sounder
Radar and VHF radio
Wind speed and direction indicators
Cockpit speakers
Semi-rigid dinghy 15 HP outboard
| | |
| --- | --- |
| Cabins | 4 |
| Berths | 8 |
| Heads | 4 |
| Length Overall | 18.28 m |
| Draft | 1.45 m |
| Beam | 8.57 m |
| Fuel Tank | 1100 litres |
| Engine | 2 x 110 hp |
| Water Capacity | 835 litres |
| Sail area | 180 m² |
Full batten mainsail
Furling genoa
Electric windlass
Bimini Top
Self tailing windlass
Swimming ladder
LCD TV
Air conditioning
Washing machine
Dishwasher
Autopilot
Chart plotter and depth sounder
Radar and VHF radio
Wind speed and direction indicators
Cockpit speakers
Sea kayak x 2
Snorkeling gear
Prices
Maldives Dream Sailing Cruise
8 days / 7 nights, Hulhumale Lagoon - Hulhumale Lagoon on board our catamaran Dream 60
Prices in £ per person per cruise for full board
Embarkation: Hulhumale - Sunday, between 2 pm and 6 pm, Disembarkation: Hulhumale - Sunday, between 6-8 am
| Departure | Double | Triple | Single |
| --- | --- | --- | --- |
| 18/02/2018 | £1,836 | £1,469 | £2,571 |
| 25/02/2018 | £1,836 | £1,469 | £2,571 |
| 04/03/2018 | £1,836 | £1,469 | £2,571 |
| 11/03/2018 | £1,836 | £1,469 | £2,571 |
| 18/03/2018 | £1,836 | £1,469 | £2,571 |
| 25/03/2018 | £1,836 | £1,469 | £2,571 |
| 01/04/2018 | £1,836 | £1,469 | £2,571 |
| 08/04/2018 | £1,477 | £1,182 | £2,068 |
| 15/04/2018 | £1,477 | £1,182 | £2,068 |
| 22/04/2018 | £1,332 | £1,065 | £1,865 |
| 29/04/2018 | £1,068 | £855 | £1,495 |
| 06/05/2018 | £1,068 | £855 | £1,495 |
| 13/05/2018 | £1,068 | £855 | £1,495 |
| 20/05/2018 | £1,068 | £855 | £1,495 |
| 27/05/2018 | £1,068 | £855 | £1,495 |
| 03/06/2018 | £909 | £727 | £1,273 |
| 10/06/2018 | £909 | £727 | £1,273 |
| 17/06/2018 | £909 | £727 | £1,273 |
| 24/06/2018 | £909 | £727 | £1,273 |
| 01/07/2018 | £1,005 | £804 | £1,406 |
| 08/07/2018 | £1,005 | £804 | £1,406 |
| 15/07/2018 | £1,005 | £804 | £1,406 |
| 22/07/2018 | £1,005 | £804 | £1,406 |
| 29/07/2018 | £1,005 | £804 | £1,406 |
| 05/08/2018 | £1,068 | £855 | £1,495 |
| 12/08/2018 | £1,068 | £855 | £1,495 |
| 19/08/2018 | £1,005 | £804 | £1,406 |
| 26/08/2018 | £1,005 | £804 | £1,406 |
| 02/09/2018 | £1,005 | £804 | £1,406 |
| 09/09/2018 | £1,005 | £804 | £1,406 |
| 16/09/2018 | £1,005 | £804 | £1,406 |
| 23/09/2018 | £1,005 | £804 | £1,406 |
| 30/09/2018 | £1,068 | £855 | £1,495 |
| 07/10/2018 | £1,118 | £895 | £1,565 |
| 14/10/2018 | £1,118 | £895 | £1,565 |
| 21/10/2018 | £1,118 | £895 | £1,565 |
| 28/10/2018 | £1,118 | £895 | £1,565 |
| 04/11/2018 | £1,118 | £895 | £1,565 |
| 11/11/2018 | £1,332 | £1,065 | £1,865 |
| 18/11/2018 | £1,332 | £1,065 | £1,865 |
| 25/11/2018 | £1,332 | £1,065 | £1,865 |
| 02/12/2018 | £1,068 | £855 | £1,495 |
| 09/12/2018 | £1,068 | £855 | £1,495 |
| 16/12/2018 | £1,068 | £855 | £1,495 |
| 23/12/2018 | £1,477 | £1,182 | £2,068 |
| 30/12/2018 | £2,055 | £1,644 | £2,876 |
Maldives Dream Sailing Cruise
11 days /10 nights, Hulhumale - Hulhumale on board our catamaran Eleuthera 60
Prices in £ per person per cruise for full board
Embarkation: Hulhumale, between 2 pm and 6 pm.
Disembarkation: Hulhumale - between 6 and 10 am
| Departure | Double Cabin | Single Cabin |
| --- | --- | --- |
| 21/02/2018 | £1,986 | £2,781 |
| 03/03/2018 | £1,986 | £2,781 |
| 13/03/2018 | £1,986 | £2,781 |
| 23/03/2018 | £1,986 | £2,781 |
| 02/04/2018 | £1,986 | £2,781 |
| 12/04/2018 | £1,886 | £2,641 |
| 22/04/2018 | £1,886 | £2,641 |
| 02/05/2018 | £1,514 | £2,119 |
| 12/05/2018 | £1,514 | £2,119 |
| 22/05/2018 | £1,227 | £1,718 |
| 01/06/2018 | £1,227 | £1,718 |
| 11/06/2018 | £1,100 | £1,540 |
| 21/06/2018 | £1,100 | £1,540 |
| 01/07/2018 | £1,100 | £1,540 |
| 11/07/2018 | £1,227 | £1,718 |
| 21/07/2018 | £1,227 | £1,718 |
| 31/07/2018 | £1,227 | £1,718 |
| 10/08/2018 | £1,227 | £1,718 |
| 20/08/2018 | £1,227 | £1,718 |
| 30/08/2018 | £1,227 | £1,718 |
| 09/09/2018 | £1,227 | £1,718 |
| 19/09/2018 | £1,291 | £1,807 |
| 29/09/2018 | £1,291 | £1,807 |
| 09/10/2018 | £1,291 | £1,807 |
| 19/10/2018 | £1,291 | £1,807 |
| 29/10/2018 | £1,514 | £2,119 |
| 08/11/2018 | £1,514 | £2,119 |
| 18/11/2018 | £1,514 | £2,119 |
| 28/11/2018 | £1,514 | £2,119 |
| 08/12/2018 | £1,514 | £2,119 |
| 18/12/2018 | £2,645 | £3,704 |
| 28/12/2018 | £1,986 | £2,781 |
More exotic destinations to tempt you
Tortola Dream

JAN - DEC

Cruising Capital of the Caribbean

7 Nights Itinerary

Great flight options from the UK

Lagoon 620 Catamaran

Prices per person on full board

Grenada Dream

JAN - DEC

The unlocked secret is now yours to discover

7 Nights Itinerary

Flights from £1395

Sanya 57 Catamaran

Prices per person on full board

Mauritius Dream

JAN - DEC

Star and Key of the Indian Ocean

7 Nights Itinerary

Flight from £899

Lagoon 440 Catamaran

Prices per person on full board

Martinique Dream

JAN - DEC

Never-ending summer

7 Nights Itinerary

Flights from £995

Dream 82 Catamaran

Prices per person on full board

Thailand Dream

JAN - DEC

Sail yourself happy in the Land of Smiles

7 nights Phuket Itinerary

Flights from £795

Dream 60 Catamaran

Prices per person on full board

Corsica Dream

JAN - DEC

Explore the sea caves near Bonifacio

7 Nights Itinerary

Flights from £395

Dream 82 Catamaran

Prices per person on full board

Cuba Dream

JAN - DEC

The unlocked secret is now yours to discover

7 Nights, Cienfuegos Itinerary

Flights from £1395

Dream 60 Catamaran

Prices per person on full board

Maldives Dream

JAN - DEC

Sail amongst this water wonderland

7 & 10 Nights Itineraries

Flights from £799

Dream 60, Marquise 56 & Eleuthera 60

Prices per person on full board

Tahiti Dream

JAN - DEC

An oasis surrounded by turquoise

3, 7 & 10 Nights Itineraries

Great flight options from the UK

Eleuthera 60 or Lagoon 620 Catamaran

Prices per person on full board

BVI Dream

JAN - DEC

Cruising Capital of the Caribbean

7 Nights Itinerary

Great flight options from the UK

Lagoon 620 Catamaran

Prices per person on full board

Seychelles Dream

JAN - DEC

Paradise on Earth

3, 4 & 7 Night Itineraries

Flights from £799

Mojito 82′ or Eleuthera 60' Catamaran

Prices per person on full board