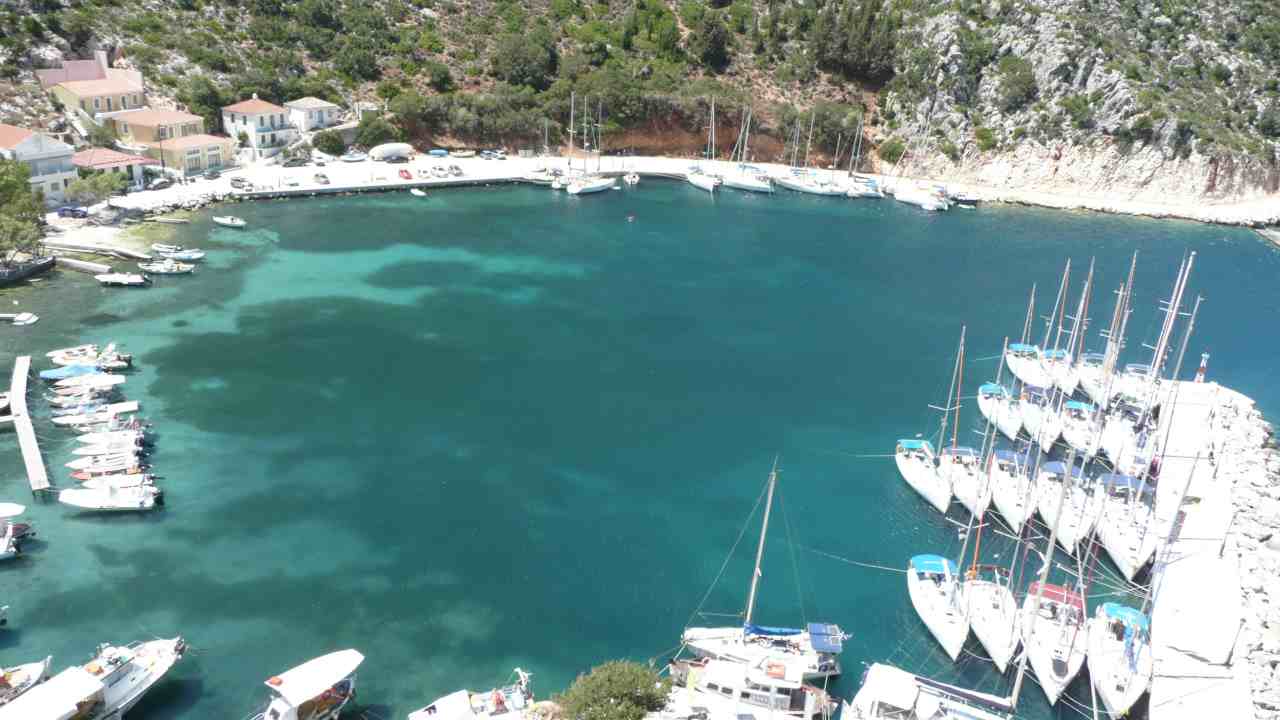 Why Choose a Lefkas Flotilla?
Easy / Relaxing Sailing – In protected waters
Ideal For Families – Short sailing distances
Beach Club and flotilla holiday option
Combine Flotilla with RYA tuition
The Ionian remains ever popular and with good reason. Gentle breezes, secure anchorages and iridescent waters make this the ideal flotilla holiday destination. The protected waters are ideal for less experienced sailors as well as those more experienced sailors looking to relax and unwind.
Our Lefkas Ionian flotilla holidays sail from our base in Nikiana harbour, on the east of the island and visits Meganisi, Kefalonia and Ithaka as well as some of the smaller and more traditional islands and mainland destinations.
Each island, harbour and town has its own character, from cosmopolitan Fiskardho, traditional Lefkas to sleepy Kastos and the pine-clad bays of Meganisi, you are spoilt for choice and there is something for everyone on an Ionian flotilla holiday.
For the best of both worlds, why not try a combination of a week of dinghy, windsurfing, kayaking & SUPing at our beach club at Nikiana Beach Club with a week exploring the islands on flotilla. The perfect Greek island holiday!
Summer Holiday Kids Club
Our Lefkas flotilla features a kids club running from the 16th of July to the 2nd of September. This will be free for all those joining these flotillas and will feature afternoon & evening activities for children & big kids alike. Please see our Sailing for Families page for more information.
Sail & Stay Option - Nikiana Beach Club
Combine a Week on Flotilla with a Week Dinghy Sailing & Windsurfing
The Ithaca Route
X
Lefkas Town
Fly UK to Preveza and transfer to Lefkas for embarkation. Our home port is on the sheltered east of the island of Lefkas, perfect for exploring the South Ionian.
X
Vassiliki
Syvota (10 nm) is a fantastic natural harbour with a great choice of tavernas for a first group meal after the punch party.
X
Fiskardho
(12 NM) Chic and cosmopolitan, Fiskardho is known for being a "must see" destination in the Mediterranean. Some of the best restaurants in the Ionian offer the chance to dine in style.
X
Frikes
Frikes (10 nm) is a very well known and popular spot on the eastern coast of Ithaca, and is home to arguably the best restaurant in the Ionian, as well as a fantastic bar for some evening down time from sailing.
X
Spartohori
Spartohori (14 nm) village is set on the hill overlooking the bay, and the view (and a cold beer!) and the rewards for a short climb.
X
Free Sail
Plenty of choice for you to – Meganisi alone offers 4 or 5 possible destinations, town quay, restaurant quay, long lining in a bay or swinging on the anchor – your crew will suggest the perfect stop for you.
X
Lefkas Town
Return to Lefkas island and enjoy a farewell dinner together in the old town. Two week clients continue free sailing – your crew will be happy to guide you to some of the hidden gems for your weekend.
The Lefkas Route
X
Lefkas Town
Fly UK to Preveza and transfer to our flotilla base for embarkation. Our home port is on the sheltered east coast of the island of Lefkas, perfect for exploring the South Ionian.
X
Vathi Meganisi
A short hop (5 nm) on our first day is perfect – plenty of time to get used to your yacht and enjoy a swim stop for lunch before the evening punch party on the quay.
X
Palairos
This small mainland village (9 nm) is popular with Greek tourists and offers a great selection of tavernas for your evening meal. Anchor outside the harbour or on the quay, the choice is yours...
X
Kalamos
Today we head south to the mountainous island of Kalamos (13 nm). You can be guaranteed some great sailing breezes in the afternoon before heading into the well-protected harbour and dinner at George's famous taverna.
X
Port Leone
A short hop to the location of our beach party on Kalamos (8 nm) means plenty of time to explore or relax – head south to the Dragonera islands, great for spotting dolphins, or take it easy, sailing around Kastos with a lazy stop for lunch
X
Free Sail
Plenty of choices for your free sailing – head to Meganisi for a night in one of the bays on the north coast, or alternatively head south west to Ithaka or Kefalonia.
X
Lefkas Town
Return to Lefkas island and enjoy a "last supper" together on the waters edge. Two week clients continue free sailing – your crew will be happy to guide you to some of the hidden gems for your weekend.
The Weather
The summer sailing season in Greece enjoys fantastic weather, with clear skies and warm temperatures from April through to October. April and May average around 20 to 25 centigrade, rising to the mid thirties in late July and August, before reducing gradually during September and October. Sailing conditions are generally moderate with wind strengths between force 2-5.
The water temperature is perfect for swimming, averaging 20 degrees in May, rising to 23 or 24 degrees in the protected bays by late August, and only reducing back to around 20 degrees in late September / early October.
For Those New To Sailing
Seafarer skippered flotilla
If you like the concept of a flotilla holiday for your family or group of friends but lack the qualifications or experience to skipper the yacht yourselves, then a Seafarer skippered flotilla holiday, where we provide a professional skipper to take charge of the sailing and navigation, may be the perfect solution. Unlike a standard charter, you can also enjoy the social side of sailing as part of a flotilla, meeting others in the evenings or during the day, organized activities for the kids as well as all the usual benefits of yachting, like exploring, swimming in secluded bays during the day, and the simple joy of travelling under sail. It all adds up to a magical family holiday. Click below for more details on how a skippered family flotilla works, what the costs would be and some fantastic destinations.
The Seafarer Price Guarantee
We Will Not Be Beaten On Price !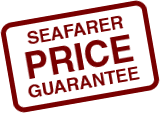 As an independent company, we are able to keep our prices highly competitive – if you see a like for like product featured elsewhere cheaper, let us know and we will beat it!
This guarantee applies to yacht and accommodation rates on our Beach Club, Flotilla, Learn to Sail & Cabin Charter programmes operated by Seafarer and is subject to availability at the time of booking.
Book your flights with us to ensure full financial protection for your holiday.
| | | |
| --- | --- | --- |
| | Your flight inclusive holiday with us (should you choose this option) is financially secure as we are ATOL licensed, making the entire package ATOL protected.  We have been trading since 1995 so, with over 25 years under our belts, you can book with total confidence. | |
Yacht Security Deposit
Returnable Deposit:
Yachts 35 ft or under – £1000
Yachts 36 ft to 39 ft – £1500
Yachts 40 ft to 45 ft – £2000
Yachts 46 ft and over – £2500
Non-Returnable Yacht Damage Waiver:
Yachts 35 ft or under – 1 week £120 2 weeks £180
Yachts 36 ft to 39 ft – 1 week £180 2 weeks £270
Yachts 40 ft to 45 ft – 1 week £250 2 weeks £375
Yachts 46ft and over – 1 week £300 2 weeks £450
Extras
Sea kayak £100 per week
Inflatable SUP (stand up paddle board) £100 per week
Child safety netting £100 per charter
Skipper £1295 per week
Hostess £945 per week
Sunday charter flights from Gatwick or Heathrow to Preveza. Flight Time 3 hrs.
Regional flights from Manchester, Edinburgh, Birmingham (may only) and Bristol are available on request. Return flights from only £100 per person.
Transfers to our yacht base in Nikiana from £35 per person return.