What is included with my flotilla holiday?
Return Flights From The UK (On Flight Inclusive Packages)
Overseas Airport Transfers (On Flight Inclusive Packages)
Atol Protection (On Flight Inclusive Packages)
Fully Equipped Charter Yacht
A Seafarer Welcome Punch Party
A Seafarer Beach Party (14 Day Flotilla Holidays Only)
All Airport Taxes (Except In The Caribbean, Taxes Payable Locally)
End Cleaning Of Your Flotilla Yacht
The Services Of Our Experienced Flotilla Lead Crew Plus The Support Of Our Base Team / Local Agents
One Full Tank Of Diesel Plus Full Water Tank And Cooking Gas
Starter Pack Of Basic Provisions And Cleaning Materials On All Flotilla Yachts
Seafarer Cruise Notes
Bed linen & Tea Towels. (Hand & Shower Towels Are Generally Provided – please confirm at time of booking)
Note:: Mooring charges (except on the first and last night of your charter) extra fuel or water; food, drink and items of a personal nature such as laundry are excluded. For sail & stay, transfer costs from yacht base to your accommodation are usually excluded and payable locally unless you are booking a flight inclusive package.
What is included with my bareboat charter holiday?
Fully Equipped Charter Yacht For The Duration Of The Charter (As Confirmed On The Holiday Confirmation)
The Services Of Seafarer Representatives And/Our Local Agents
Option To Join Flotilla For A Day (If Cruising Within Flotilla Sailing Area) Longer Periods Are Available At Supplement
Seafarer Cruise Notes When Cruising Within Flotilla Sailing Area
Bareboat charter rates are quoted per boat per week and exclude flights and overseas transfers, which we can arrange at competitive rates. Required security deposits and damage waiver premiums are listed in our bareboat price list against each yacht type. Bareboat charters exclude fuel (you receive the yacht with a full tank of diesel and should return it full). End cleaning of your yacht is usualy excluded and payable locally unless stated otherwise on your confirmation.
What is included with my beach club holiday?
Return Flights From The UK (On Flight Inclusive Packages)
Overseas Airport Transfers (On Flight Inclusive Packages)
ATOL Protection (On Flight Inclusive Packages)
Meals On A Bed And Breakfast Basis
Use Of Dinghy Sailing & Windsurfing Equipment
Use Of Stand-Up Paddle Boards And Kayaks
Support Of Base Staff
Regular Complimentary Sailing Clinics
Do I need additional insurance for the yacht?
Although all yachts are comprehensively insured, a security deposit is required to cover the first part of any damage caused. For flotilla holidays and some bareboat destinations an optional Deposit Reduction Premium (DRP) is charged which covers the insurance excess in the event of accidental damage to the charter yacht or for loss or damage to the equipment. This premium is typically £100 for yachts up to 34 ft, £150 for yachts 35 to 39ft, £200 for yachts 40-45ft and £250 for yachts over 46ft. This cover reduces your maximum liability to £500 which will be taken prior to departure in the form of a reduced security deposit. As an alternative to this, you will be required to lodge a refundable security deposit of £1000 (up to 34 ft), £1500 ( 35-39ft), £2000 ( 40-45ft) and £2500 (46ft+) collected either pre departure or on arrival in resort. These deposit and DRP rates may vary in specific locations and for certain yacht types, especially catamarans.
Do you have discounts for children?
We frequently have special offers and discounts for children at our beach clubs and flotillas – please check our latest offers here
What qualifications and sailing experience do I need?
Skippering a flotilla yacht is immensely enjoyable and relatively easy, particularly during the summer months when winds are steady and the weather reasonably predictable. On flotilla, the mostly relatively short passages between anchorages mean that willing helpers on-board will not become bored or restless. Skipper qualification requirements vary between countries and though not always required, we recommend that the skipper has an International Certificate of Competence (ICC) as a minimum, which is equivalent to the RYA Day Skipper practical qualification.
The Saronic Gulf or Ionian Isles in Greece are where conditions are generally more moderate. If you have only limited previous sailing experience possibly gained by dinghy sailing at local club level or perhaps acting as an occasional crew member on a cruising/racing yacht, we recommend you enrol on a RYA training course either pre departure or in resort, by prior arrangement with us.
Crews sailing from bases such as The Dodecanese or Sporades in Greece, The Dalmatian coast of Croatia or the Caryan coast of Turkey on flotilla or bareboat charter, can expect more challenging sailing. Therefore formal qualifications plus a higher degree of sailing experience and navigational knowledge are usually required.
The larger yachts require skippers with experience of handling yachts of a similar size and an internationally recognized qualification such as Coastal Skipper or higher may be required, though in general an ICC qualification is widely recognized and accepted. In all cases please check the relevant Frequently Asked Questions section for your holiday destination and with us that you have appropriate qualifications and experience. Furthermore, original certificates must be taken with you.
Seafarer cannot accept responsibility for expenses incurred by you or any liability, should a person in authority (flotilla skipper or port authorities) deem it necessary to provide a professional skipper for safety reasons to assist you in sailing / motoring the chartered vessel during your holiday.
How do I get to the base and what time should I get there?
If you are taking flights arranged by Seafarer on flotilla, the transfers to the yacht base will be provided. However, if you are making your own travel arrangements then the yacht location and our agents contact details will be provided to you with your travel documents. You can usually embark your charter yacht at or shortly after 18:00 (although in many cases you will be able to board earlier). The yacht will have been cleaned and presented to you in a seaworthy condition with a full inventory of equipment, full tank of fuel, water, gas and bed linen onboard. Towels are not generally provided. Further details on what to pack, check in procedures and itinerary info will be provided with your travel documentation. Disembarkation is generally at 09:00, to give our staff a chance to prepare the yacht for the next crew arriving.
What will be included in the inventory of my yacht?
Our yachts are thoughtfully designed and comprehensively equipped with an inventory specifically chosen for Mediterranean sailing holidays. Aboard each yacht you will typically find: Adult and child size life jackets, life harnesses, an inflatable dinghy (outboard available at supplement in some locations), pilot book, navigation charts and equipment, cooking utensils and a full set of bed linen. Fitted to each yacht are: Shower with hot water, deck shower, Bimini hood, an electric fridge, an audio system (3.5mm Aux cable), GPS and VHF radio. Most yachts are equipped with depth, log and wind instruments. The inventory and specifications described within this website are given as a general guideline and a fair representation of the yachts and their equipment available from Seafarer Cruising & Sailing Holidays and our suppliers or agents.
Specifications may change from one supplier to another. If confirmation of specific equipment is required on a particular boat we will be pleased to provide this in writing. Note: Whilst we endeavour to ensure that all flotilla yachts have holding tanks, on some bareboats or extra yachts hired in to our flotillas, this cannot be guaranteed.
Do I need a sailing license on a Cabin Charter Holiday?
No. The professional skipper aboard your cabin charter yacht has commercial sailing qualifications – our minimum requirement for our cabin charter skippers is a commercially endorsed Yachhtmaster Offshore certificate of competence.
Are there changes to travel documents now that we have left the EU?
Nothing has changed as regards travel documentation for British nationals traveling to the EU. No visa is required (unless you are staying longer than 90 days), your European health card will still be valid as will your driving licence and sailing licence.  One thing you must ensure is that you have at least 6 months to run on your passport, calculated from the last day of your holiday.
Where can I see your Terms and Conditions?
See our Terms and Conditions Page for full details of our terms and conditions of booking including payment and cancellation terms, our obligations to you,your responsibilities to us plus details of bonding & financial protection. For any additional information, please feel free to call us on 0208 324 3118 and one of our experienced and knowledgeable consultants will be happy to help.
Will we sail the itinerary shown on the website?
The Flotilla itineraries shown on this website are intended as a general guide. Our flotilla skippers are responsible for the safety of all persons, yachts and equipment on flotilla and as such they are permitted to vary the itinerary sailed if in their opinion the weather or operating conditions make this necessary. From time to time we do change our itineraries for longer periods (if a town quay is being re-modelled, for example) but we always try to keep our website as accurate as we can.
For cabin charter, do I need to stock up with provisions?
The crew will have stocked the yacht with provisions for continental breakfast and light lunch, which they will be preparing for you daily. Should you wish to bring your favourite snacks or drinks onboard, you can purchase these locally. Whilst the fridges onboard are predominantly for the food purchased for you by the crew, there will be space for a cold beer or a bottle of wine for your sun downer at the end of a days sailing. Most islands have local kiosks where you can buy cold drinks, so no need to stock up unless you are going to spend an evening on anchor. Your crew will let you know what the program will be, so you can plan accordingly.
How much cash should I take with me?
Obviously this will depend on what your plans are, and where you go.
As a general rule on a flotilla holiday, most places you will go will accept card, it is good practice to have enough cash with you to cover any bill – your crew know exactly where and when you can get more cash and they will keep you updated as your holiday progresses. Travellers cheques are no longer readily accepted, and of course euros is the currency used in Greece, France and Spain. Turkey takes the Turkish Lira, Croatia takes the Kuna.
What are the rules regarding Holding Tanks in the Aegean?
In Greece the regulations relating to discharges and pollution make a holding tank a practical necessity although we are not aware of them being a legal requirement as yet. It is prudent to ensure that the discharge of any holding tank is done as far from the shore as is practical and to certainly avoid discharge in a confined area such as a bay, harbour or marina.
How long will we sail each day?
This will depend upon the particular destination of the day, however we look to organise our itinerary so that there are not more than 30 nautical miles between ports. This equates to around 5-6 hours at sea – plenty of time normally for a lunch stop in a bay with a swim. We generally aim to be in harbour by 5pm, although this is dependent upon the weather, obviously.
Can I get involved with the sailing on a Cabin Charter holiday?
Absolutely. You can get involved as much or as little as you would like, that's one of the benefits of our cabin charter program. Many of our skippers are also RYA qualified instructors and whilst they cannot offer you certification during your trip, they can certainly give you some informal tuition, providing this does not impact on the enjoyment of the group aboard.
Do I need a visa for my sailing holiday?
For British citizens, the only destination for which you will need a visa is Turkey.
We will provide instructions on how to get this during the booking process.
How do we all protect the environment whilst on holiday?
At Seafarer we endeavour to respect the natural environment in which we sail as well as the laws, people and culture of our host countries. On this basis our staff will advise on issues such as use of appropriate eco friendly detergents and soaps on board our yachts, correct use of holding tanks, conserving water, disposing of rubbish responsibly and advising on local regulations you should be aware of.
Additionally, we actively promote the history and culture of our host counties and endeavour to contribute to the local economy and communities. For example we try to make use of local suppliers and materials wherever possible, support local events as well as support local conservation initiatives. In this way we are hopefully doing our bit towards the common goal of ensuring that these beautiful and largely unspoilt areas are there to be enjoyed by future generations.
Where can I find details of your Coronavirus deferment and cancellation policy?
Please see the information relating to our Coronavirus policy on this link 
Book your flights with us to ensure full financial protection for your holiday.
| | | |
| --- | --- | --- |
| | Your flight inclusive holiday with us is financially secure as we are ATOL licensed, making the entire package ATOL protected.  We have been trading since 1995 so, with over 25 years under our belts, you can book with total confidence. | |
The Seafarer Price Guarantee
We Will Not Be Beaten On Price !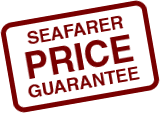 As an independent company, we are able to keep our prices highly competitive – if you see a like for like product featured elsewhere cheaper, let us know and we will beat it!
This guarantee applies to yacht and accommodation rates on our Beach Club, Flotilla, Learn to Sail and & Cabin Charter programmes operated by Seafarer and is subject to availability at the time of booking.
For those booking before 31st May,  we will not impose any surcharges and we guarantee to honour the price confirmed to you at the time of booking.