Flotilla Holidays In Greece
The Greeks have been a nation of seafarers since time immemorial – no surprise when large parts of your homelands are either islands or virtually inaccessible by land. Homer referred to these waters as his 'wine-dark sea', while Helen of Troy was the legendary 'face that launched 1,000 ships'.
And while this Eastern end of the Mediterranean has been both a highway and a crossroads simply forever, these shores  have provided safe harbour for the travellers and adventurers of history. Today their legacy of picturesque harbours, atmospheric harbour towns, stunningly scenic bays and anchorages, Byzantine churches, crusader castles and ancient temples is your playground.
Seafaring in Greece- All time classic
We have seafaring options in Greece to suit everyone. More adventurous sailors should set a course for the Dodecanese or Northern Sporades and Pelion Coast, while those looking for a more leisurely time will enjoy the clement waters cruised by our South Ionian flotillas.  The latter coastline plays home to our beach club at Nikiana, whilst Lefkas is the home port for our RYA sailing school, Seafarer Training.
If you fancy sailing on a larger yacht with a professional crew to do most of the work, then join our 'Share a Sail' programmes in the Cyclades, the Ionian or the Dodecanese isles of the Eastern Aegean.
Destinations
Greece is the cradle of flotilla holidays, so it should come as no surprise that this is where we offer our widest choice of sailing areas in the most idyllic environment.
Lefkas Flotilla
Easy / Relaxing Sailing – Level 1
Ideal For Families
Beautiful Area With Varied Ports
Club And Flotilla Option
Combine Flotilla With RYA Tuition
Dodecanese Flotilla
Level 2-3, Stronger Breezes And More Open Water
Rich In History & Culture
Beautiful Area With Varied Ports
Great Sail & Stay Options
Good Sailing Winds Almost Guaranteed
Kefalonia Flotilla
Moderate Sailing – Level 2
Ideal For Families
Club And Flotilla Option
Combine Flotilla With RYA Tuition
Sporades Flotilla
Challenging Flotilla Sailing – Level 3
Ideal For Explorers, Off The Beaten Track
Unspoilt Destinations
Fresh Breezes And Open Waters
Saronic Gulf & Corinth Canal Flotilla
Intermediate Sailing – Levels 2 & 3
Ideal For More Experienced Sailors
Best for history & Culture featuring famous ancient sites
Transit the spectacular Corinth Canal
Bareboat Charter
Finally we offer 'bareboat' charters from a range of bases in the Ionian and throughout the Aegean, including the Cyclades, the Saronic Gulf, the Sporades or the Dodecanese, as well as fully crewed Mega Yacht cruises featured in our yacht cruise brochure and website – Whatever your choice, you will be exploring some of the world's very best!
The Seafarer Price Guarantee
We Will Not Be Beaten On Price !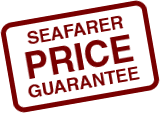 As an independent company, we are able to keep our prices highly competitive – if you see a like for like product featured elsewhere cheaper, let us know and we will beat it!
This guarantee applies to yacht and accommodation rates on our Beach Club, Flotilla, Learn to Sail and & Cabin Charter programmes operated by Seafarer and is subject to availability at the time of booking.