Why Choose a Dodecanese Flotilla ?
Great sailing with stronger breezes
Rich In History & Culture
Beautiful Area With Varied Ports
For those looking for more sailing and longer distances
Open water sailing
For those looking for more sailing and open waters, the Dodecanese island group is a fantastic destination. The combination of some of the better known and more cosmopolitan Greek Islands such Kos, with its noted ancient sites and great beaches, as well as some of the smaller and lesser known gems of the Dodecanese such as Nysiros, Halki or Tilos, make this an irresistible proposition for more experienced sailors.
You can be virtually assured of some fresh winds, so you will be doing plenty of sailing, with more than enough to keep you occupied ashore in between. Join in Kos and choose from our north itinerary featuring Kalymnos and Patmos or alternatively for our southern route, visiting Symi, Tilos and Nysiros before returning to Kos.
The Symi Route
X
Kos
Fly to Kos and transfer to Kos marina for embarkation. Kos is the home of the father of modern medicine Hippocrates and the ancient ruins of the Asklepieion medical complex are a must. In Kos town you can hire a bike as the best way to explore.
X
Kardameina
(18 nm) A few hours sail along the protected southern side of Kos, a great chance to get to know your yacht and enjoy a swim stop along the way. Kardamena is a lively destination, great for a punch party and the first group meal.
X
Nysiros
(10 nm) A short sail south to the island of Nysiros - perfect if you wish to take advantage of an afternoon exploring the still active volcano. A visit to the monastery in the afternoon, with a choice of superb seafood tavernas to finish.
X
Tilos
(20 nm) The epitome of a traditional Greek Island with nice beaches and a friendly 'far from the madding crowd' feel. Tilos also hosts an internationally protected bird sanctuary.
X
Symi
(24 nm) The stunning harbour of Symi is a great place to sail into. The amphitheatre town retains its' traditional character and charm having been much renovated over recent years. Be sure to climb the steps to the church for a superb panoramic view.
X
Free Sailing
If you didn't make it to the volcano, then Nysiros may be a good choice, alternatively your crew will give you the best recommendations based on the weather and your preferences.
X
Kos Marina
Its time to head back to our base in Kos marina and stroll into town. Our favourite restaurant is tucked away up a cobbled alley off the main sea-front, perfect for our farewell dinner.
The Kalymnos Route
X
Kos
Arrivals and Departures: Fly to Kos and transfer to Kos marina for embarkation. Kos is the home of the father of modern medicine Hippocrates and the ancient ruins of the Asklepieion medical complex are a must. In Kos town you can hire a bike as the best way to explore
X
Pothia, Kalymnos
(17 nm) Known as the island of the sponge divers. The bustling harbour town boasts several museums, and a lively neoclassical sea front.
X
Lipsi
(30 nm) The largest of a small group of islands to the south of Patmos, explore the local market for thyme honey and other local specialities.
X
Patmos / Arki
(12 nm) Depending on the weather, we will head to Patmos, for a visit to the monastery of St John or alternatively the smaller island of Arki and the quiet village of Port Augusta, a sleepy little spot with just two tavernas ashore.
X
Leros
(21 nm) We moor in the marina in Lakki, on the south west side of the island. Evidence of Italian occupation is obvious in the town, with a good range of facilities ashore.
X
Free Sailing
Heading towards Kos, you are spoilt for choices - ask the crew, and they will guide you to your perfect spot.
X
Kos Marina
Its time to head back to base in Kos Marina and an opportunity for a last evening in the town, drinks and a farewell meal await after a stroll along the sea front.
The Weather
This area is blessed with warm sunshine over 300 days a year. Temperatures from early May range from the low to mid 20s in early and late season, up to the high 30s between June and September. Sailing conditions are variable ranging from moderate to fresh force 3 – 6+, the latter being especially during the Meltemi season from late July through to late August, so we generally recommend this area for more experienced sailors.
Sail & Stay - Kefalos Beach Club
Enjoy amazing winds and great equipment in our Kefalos Beach CLub on the island of Kos
The Seafarer Price Guarantee
We Will Not Be Beaten On Price !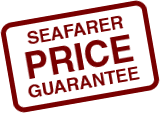 As an independent company, we are able to keep our prices highly competitive – if you see a like for like product featured elsewhere cheaper, let us know and we will beat it!
This guarantee applies to yacht and accommodation rates on our Beach Club, Flotilla, Learn to Sail and & Cabin Charter programmes operated by Seafarer and is subject to availability at the time of booking.
Book your flights with us to ensure full financial protection for your holiday.
| | | |
| --- | --- | --- |
| | Your flight inclusive holiday with us (should you choose this option) is financially secure as we are ATOL licensed, making the entire package ATOL protected.  We have been trading since 1995 so you can book with total confidence. | |
Yacht Security Deposit
Returnable Deposit Payable Locally:
Yachts under 35ft – €1500
Yachts 35 – 45ft – €2000
Yachts from 45ft – €3000
Catamarans – from €3000 to €3500
Non Returnable – Deposit Reduction Premium:
£40 per day
Plus reduced returnable deposit payable locally – from €500
Extras
Inflatable SUP (stand up paddle board) £150 per week
Child safety netting (upon request) – from £200 per charter
Skipper – from £190 per day (+ compulsory non-refundable damage waiver of £350 per week)
Hostess – from 3170 per day
Wi-Fi  (2GB) – £70
Asymmetric Spinnaker (upon request) – £175 per week + additional security deposit of €600
Saturday flights from London, Manchester, Belfast, Birmingham, Bristol, Cardiff, Glasgow, and Nottingham to Kos. Flight time 3 hours 40 minutes. Return flights from only £125 per person.
Approximately 30 minute road transfer in Kos, between the airport and town marina. Available from £40 per person return
Meet the Team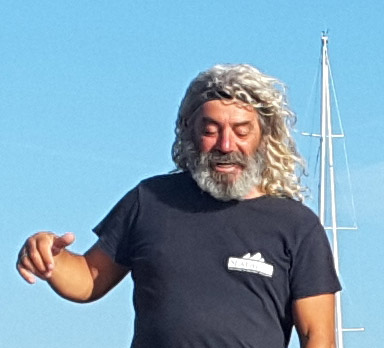 Vaggelis (Angelo, as he likes to be known) working at sea is like working
Yvet & Angelo are looking forward to welcoming you to your Dodecanese flotilla holiday and hope to make your cruise an safe, fun and unforgettable experience.