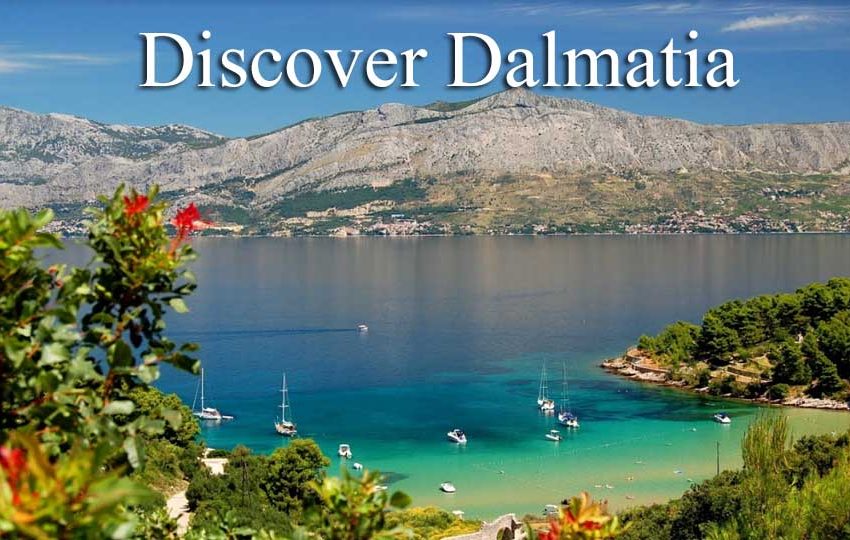 Many of our regular clients have already discovered our great sailing area between Split and the Kornati National Park, but for those who have yet to Sail in Croatia, we have brought together a few of the highlights of this stunning location, which offers culture, history and natural beauty in equal measures.
Our exclusive base in Zaton, near Sibenik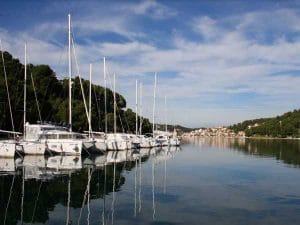 Firstly it is well worth mentioning our base – normally you would finds yourself wandering around a large, busy marina on your first and last days, and
sometimes this can be a somewhat unwelcome end to a fantastic holiday, particularly if you have experienced some of the quieter, off the beaten track
locations that we pride ourselves in finding on our flotillas. Not so in Zaton – our base is exclusive to our flotilla and bareboat charters in the area, meaning its a peaceful location, with a stunning location which book-ends your holiday perfectly. Zaton is situated upstream from Sibenik on the Krka river, perfectly protected from all prevailing weather patterns. Form the marina, the small village is approximately 10 minutes stroll along the bank of the river, and offers all the facilities one could want – bars, restaurants, supermarket, fresh market and an excellent bakery, as well as as ATM and post office.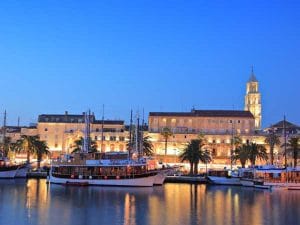 South from Zaton – the highlights
If you are travelling for one week, and looking for some cultural and historical elements to your holiday, then our Hvar route is perfect. On our published route we stop in Split itself, the highlight of which is certainly the old town, focused on the Diocletian palace. Its still very much a "living" city, and a walk through the narrow cobbled streets reveals trendy bars, cool cafes, restaurants and washing lines in equal measure! If you're there in
the high season, orators still perform in the same square as did the Romans centuries before them. After hugging the coast, we head out to Hvar, and the beautiful village of Starigrad, nestled at the end of a long bay on the north side of the island. Artisan workshops and rustic Konobas wait to be discovered in the back streets. A days free sailing offers many choices – Viz, for those looking to make the most of the winds and sail, Trogir, included in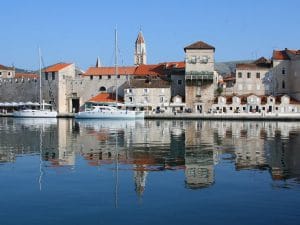 the UNESCO list of world heritage sites, Maslinica on the island of Solta with its boutique high class marina along with many other destinations, which our knowledgeable crew will be more than happy to recommend, depending upon your wishes. The flotilla regroups again in Primosten, a truly
stunning picture postcard walled town that sits just off the coast, connected by a causeway. If you are there at the right time, the main square hosts theatrical events, perfect after a stroll to the church at the top of the town for a breathtaking view of the sunset.
The Kornati Route – unspoilt charm to the North
If you have already explored the more well-trodden and polished parts of the Dalmatian coast, then its time to see a different side to this stunning area. Our base in Zaton is ideally situated for us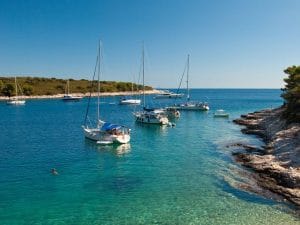 to head north, exploring the close to 150 islands that make up this archipelago. On our way north we stop in Murter, on a private pontoon owned by one of favourite restaurants in the area, renowed for its exceptional local cuisine. From there we usually head to Sali, in the heart of the Kornati island chain on the largest of the islands, Dugi Otok. This harbour offers beautifully protected mooring and is a great place to stock up before a night on anchor or mooring buoy in the national park itself. You are spoilt for choice, but we love Telascica bay, which cuts almost 5 miles north into Dugi Otok – mooring buoys, anchorages and small jetties and quays can be found dotted around the bay, which is a park in its own right. We also particularly like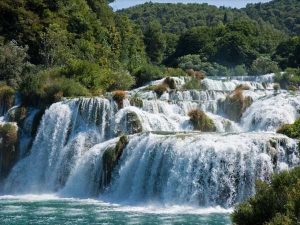 the ACI marina Kornati, although part of the large marina chain, this one has a stunning location and your mooring fee includes entrance to the national park, so well worth a visit. Free sailing from here gives a choice of towns and villages – again, our crew can listen to your desires and make some suggestions – nightlife? solitude? gourmet restaurant? all possible within a few hours sailing. It's also worth mentioning a particular favourite of mine – a trip up the river Krka to Skradin, and the spectacular Krka national park and falls. For those accustomed to coastal and island sailing, this really is an opportunity to explore inland, heading beyond Zaton to the marina in Skradin. The setting is idyllic, the town is lovely and the excusrsion to the waterfalls is breath-taking – particularly if you choose to swim under the falls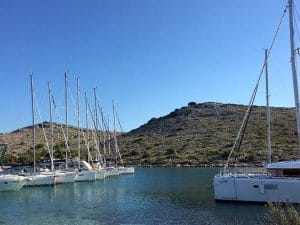 themselves!
Of course if you haven't been to this part of the Adriatic before, two week flotilla holidays are perfect, giving a chance to really explore the area, with extended free sailing in the middle of your holiday to go further afield or to hole up in a preferred spot and relax. Sailing distances are moderate, winds are fresh and the local wines need sampling, along with the excellent local cuisine, which, with its Italian and Balkan influences fusing harmoniously, offer the perfect end to a perfect days sailing.
Remember though, Croatia is increasingly popular, and availability is limited for 2017, so our advice is to give us a call without delay to ensure we can help to give you your perfect sailing holiday. For more information on the area and the routes, please click here, or alternatively, call us on 0208 324 3118 to check availability and book.