Choosing The Right Flotilla Destination  – Rustic Greece Vs Trendy Croatia
Greece and Croatia have long been favourite choices for Mediterranean sailors whether on a flotilla or bareboat holiday. They both boast great weather, fantastic and varied sailing, wonderful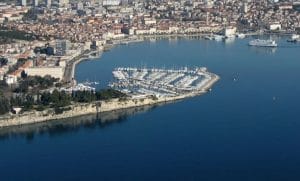 scenery and a wealth of history and culture. But if you have not been before, which one would be the right choice for you?
This is not a straightforward choice because each country offers a Variety of cruising areas each with their own appeal. I have often heard it said that Greece is for beginners but not for serious sailors as there is no wind. This may be the experience of those who have visited the Ionian and in particular the area immediately south of Lefkas, but the reality is that Greece offers some of the most challenging sailing in the Mediterranean, especially in areas like the Cyclades islands of the central Aegean. Indeed even in the Ionian the sailing is much more lively on our Kefalonia flotilla which explores much further south.
Croatia too offers a variety of conditions and it is fair to say that the Dubrovnik flotilla exploring southern Dalmatia and Montenegro offers more moderate conditions than that further north in central Dalmatia where conditions are more variable and wind patterns generally stronger.
If distances and wind strength will ultimately influence your choice, the small chart below offers guidelines on each area.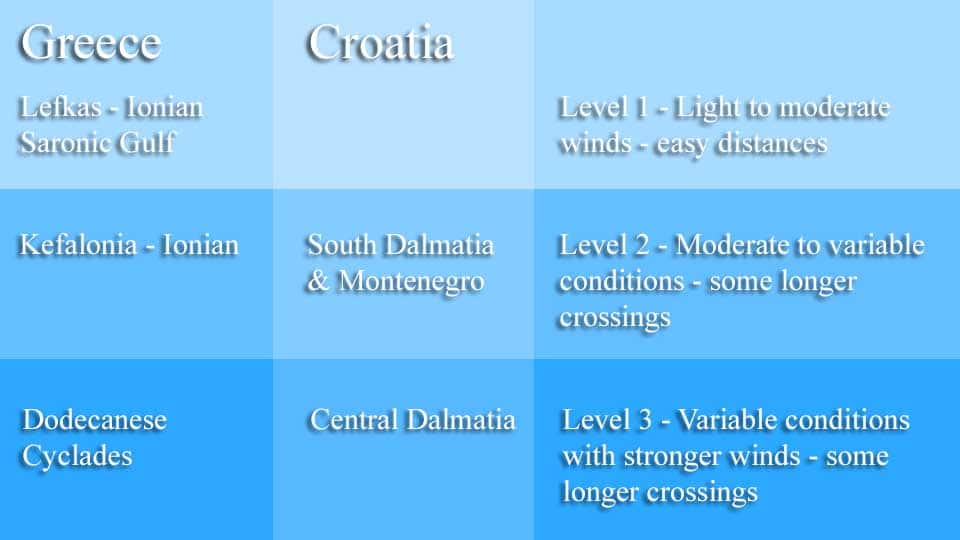 A more marked difference between Greece and Croatia is in the sailing infrastructure.  Croatia has seen heavy investment in marinas over recent years to the extent that  there is comprehensive coverage almost across the entire country and you can expect to be in a well equipped marina  4 or more  nights out of 7.  The advantage is that it is much easier to find mooring space and it tends to make things easier as the laid moorings (or lazy lines as they are sometimes called) mean you don't use your anchor very much. Facilities such as modern showers and shore power are an added bonus. The downside is the additional cost which at between 1.50-2 euros a foot per night, needs to be factored in to the cost of your holiday.  Town quays are cheaper at roughly half that price, though shore power and laid moorings are still likely in most places.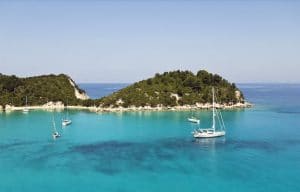 In Greece, the picture is rather different and environmentalists have proved more vociferous  in blocking some planned marina developments, whilst it is true to say that the country has pursued a policy of trying to maintain the traditional character of many of the islands and village communities.   Consequently, in most of the smaller islands and villages, mooring space can be limited and you are less likely to find lazy lines or shore power, though enterprising taverna owners often have showers available for visiting yacht crews.  The disadvantage is that you will need to use your anchor on most days for 'stern- to' Mediterranean style mooring.  This does worry some skippers who are not used to this style of mooring, but your flotilla lead crew is there to assist and they will  ensure  that there is a space waiting for you at the destination of the day. The big advantage is the cost and it is true to say that with the much lower and often zero mooring charges, sailing in Greece does work out cheaper, even though the cost of living, eating out and so on is probably around the same.
We love both countries and  each destination has its distinctive character and charm, so our recommendation is that you should ultimately explore  them all, preferably with Seafarer and given that we have one of the highest repeat booking ratios in the industry, many of our clients are doing exactly that!