Learn To Sail with Seafarer Training
RYA Training

Whether it is a refresher course, a taster weekend or a full RYA course, we now offer a comprehensive range of courses in the UK.
The Solent in our view represents the ideal starting point, thanks to good accessibility from many parts of the country but also protected waters enabling sailing in most conditions plus a great range of options to sail to, from the Isle of Wight to attractive harbours like Poole and Weymouth to the West, or Chichester and Portsmouth harbour to the East. Many of our training trips are across the channel to France and the Channel islands.
Weekend Trips

Embarking Friday evening from 6pm or by 08:30 Saturday morning our weekend tuition includes refresher courses, taster cruises  and the RYA start yachting course. We will tend to sail fairly locally, visiting the isle of Wight, one of the marinas in Portsmouth harbour with Poole being the furthest we go.  Disembarkation is typically by around 4pm on Sunday afternoon.
Weekly Tuition

Our 5 day sailing courses  venture further afield with cross channel or coastal voyages as far as Weymouth and Poole. These include refresher courses and mile builder voyages and ICC courses  as well as the standard RYA courses including Competent Crew, Day Skipper, Coastal Skipper and preparation for the Yachtmaster exam.
Our 7 day courses are usually mile builder voyages  and preparation for Yachtmaster as well as our special Tidal Conversion Course  
Private Tuition
Ideal for families or groups of friends or for those whi simply wish to ensure a bespoke course entirely tailored to your needs tuition with private yacht charter will ensure you have your own instructor.  
Depending on your previous experience, you could undertake any of the RYA courses or simply concentrate on whatever areas have been identified as your further training needs.
Qualifications
For Flotilla Or Bareboat Charter
Many of our clients undertake their training with a view to chartering a yacht on holiday. Whether flotilla or bareboat, the minimum qualification required is the International Certificate of Competence, which can be taken as a course or a stand alone assessment. The RYA Day Skipper course has a broader syllabus and also qualifies you to obtain an ICC certificate via the RYA, either for a fee or as a benefit of joining the RYA.
Safety Information
Seafarer Training is fully recognised by the Royal Yachting Association. Tuition yachts are regularly inspected and comply with RYA / MCA guidelines and Codes of Practice for Sail Training Yachts. All instructors for both RYA and Non RYA courses advertised, are RYA qualified commercially endorsed Yachtmasters and cruising instructors as a minimum.
You can be reassured that safety procedures and equipment are regularly monitored and inspected to comply with both the British RYA and Greek maritime authority regulations.
At Seafarer we ensure that all our recommended courses are both safe and enjoyable offering a high standard of tuition and comfort.
We ensure that:
You are under the supervision of an RYA qualified instructor whilst at sea.

All our RYA instructors hold the requisite first aid certificates

Safety equipment on our tuition yachts complies with British RYA & MCA regulations.

All yachts have DSC VHF radios, handheld VHF radios and mobile phones.

Slim-line inflatable life jackets, harnesses and crotch straps are provided for each person aboard, with extra spares carried.

For your comfort, all yachts are equipped with spray hood, hot water, w.c. with shower, , deck shower, electric fridge, electric heating,fully equipped galley, radio / media player and TV screen.

Accommodation on board is in double / twin or  single cabins or you can book a saloon berth. Pillows and pillow cases are  provided and we recommend you bring your own sleeping bag..

Instructor / student ratio is maintained at a maximum of 5 students per instructor, in line with RYA codes of practice.
Course Information
Sailing is a social sport and a sailing course can be an ideal holiday or short break and a way to make new friends. Our RYA instructors have all been chosen for their sociable approach as well as their expertise to make the time you spend with us as much fun as it is a learning experience. The waters of the Solent and English Channel represent and an ideal area to start yachting and learn to sail for both novice and advanced students alike, offering varied conditions and tides, plus an excellent selection of lights, buoys , and situations that will enhance your learning experience as you progress through the RYA sail training programme. Our sea school ethos has always been to put safety first and we hope to empower each of our students by offering simple and patient instruction, in order that they may gain confidence in their own ability as they learn how to sail and to take their first steps as skipper or to undertake longer offshore coastal passages.
Mixed Ability Groups
Whilst The RYA training programme can be joined at any level from Start yachting to Yachtmaster, we welcome mixed ability and family groups, often combining our RYA Competent Crew and Day Skipper courses, competent crew and Coastal Skipper courses  on the same tuition yacht, so that students might learn from each other. The maximum student/instructor ratio is 5:1, in line with RYA codes of practice.
Students are accommodated in shared cabins with options for sole occupancy also available.
Domestic Arrangements
We supply pillows and pillow cases and recommend you bring your own sleeping bags and towels. All Marina fees and fuel costs are included. Tea & coffee, drinking water, provisioning for continental breakfast, light lunches and snacks are supplied whilst on weekend courses, whilst 5 and 7 day courses include provisioning for full board.
On arrival at our base you will be greeted by your instructor and shown to your yacht where you will be given a basic safety brief and are then free to relax for the night or mix with other guests. Our courses start on the following morning and run for 2, 5 or 7 days until mid- afternoon on the final day.

Travel Arrangements & Parking
Free parking is available at our base if you are driving, or it is a relatively short cab ride from either Southampton  station or the airport.
The Seafarer Price Guarantee
We Will Not Be Beaten On Price !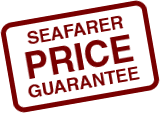 As an independent company, we are able to keep our prices highly competitive – if you see a like for like product featured elsewhere cheaper, let us know and we will beat it!
This guarantee applies to yacht and accommodation rates on our Beach Club, Flotilla, Learn to Sail and & Cabin Charter programmes operated by Seafarer and is subject to availability at the time of booking.
Prices
£ Per person
2 Day Refresher Courses
5 Day RYA Practical courses
7 day RYA Courses & Mile Builder Trips
Voyages
April & May
£199
£525
£695
June - November
£249
£525
£695
Extra & Discounts
A 50% supplement applies for single cabin occupancy on the training boat.
3 day courses (25th May) Supplement £100
ICC test (within a weekend course) £50
Hire of wet weather gear £30
Hire of sleeping bag  £10
A 10% multiple course discount applies when 2 or more courses are booked for an individual at the same time.
What's Included On A Tuition Yacht Course
Instruction from RYA qualified instructors
Provisioning for breakfast & light lunch (weekend courses) or full board (mid week courses)
All mooring fees
Diesel, water & gas
Course completion certificate (if successful!)
Free parking at our base at Shamrock Quay Marina, Southampton
Automatic 5% discount when booking your next Seafarer holiday
For more information and upcoming course dates for  these and other shore-based courses, pleased give us a call.
RYA Shorebased Theory Courses
We are pleased to offer a selection of online and combined online courses with classroom based tuition in co-operation with on line platform Navathome and City Sailing (London)
RYA Day Skipper Theory
5 evenings (London) + Online
This course offers a mixture of classroom and online tuition to ensure you receive personal attention and assistance where necessary, while still giving you the flexibility of progressing at your own pace. The package includes tuition charts and course book with exercises and also the support of an instructor when required.
Each evening session is maximum 2 hours, plus around 40 hours of on line study are recommended.
Course price £360
RYA Yachtmaster Theory
5 evenings (London) + Online
As a next step from the Day Skipper theory course, this advanced course is recommended for those wishing to embark on longer voyages on their own yacht or work in the industry in future. The content compliments and prepares the student for the Yachtmaster practical course.
The more advanced syllabus covered makes the 5 evenings of classroom based training really valuable, whilst it is stressed that students will need to devote the 40 hours of recommended study time on line to be able to complete this course and examination upon completion.
The initial registration is valid for 6 months, with the possibility of a 6 month extention for an additional £30 fee.
Course price £385
Day Skipper Theory, Yachtmaster Theory and Yachtmaster Ocean Theory
These courses are online only
This option gives you total control of your study time  and place and your and rate of progress.  Given that when you study is entirely up to you, it is dependent on some self discipline to ensure that you work systematically towards completing the qualifiction. You will  still receive support from an instructor who can assist and clarify on issues and questions that may arise. Recommended on line study time is 40 hours, plus some time allowed for revision and practice. There is an initial 6 months time limit to complete the course with a further 6 month extension available at a cost of an additional £30 fee
These web based  courses  are operated by on line specialist RYA Training Centre Navathome. Click here for a free demo
Start Date: Anytime, Price £299
VHF Radio Online Course
Online + classroom assessment
The VHF Radio is a standard and essential piece of safety equipment found aboard all charter yachts and this course will teach you the correct procedure for its use, both in everyday situations and also in the event of an emergency.
It is recommended for all charterers, but it is a legal requirement for all charters in Croatia for the skipper to be in possession of a international recognised radio operators certificate, as well as an internationally recognised skippers certificate.
The course takes approximately 5 hours (recommendation from the RYA) and after successful completion, you will be required to sit a separate classroom based written and practical assessment. Please note that a £60 licence fee is payable to the RYA on the day of the assessment.
Start date: Anytime Price £75
For more information and upcoming course dates for  these and other shore-based courses, pleased give us a call.
Meet the Team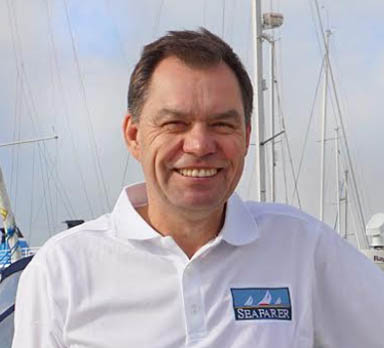 Simon began sailing dinghies at local clubs in Surrey before progressing to big boats