Become a Professional RYA Watersports Instructor in just 6 WEEKS
Train on the Wonderful Island of Lefkas in a busy RYA Training Centre
Our fast-track Dinghy and Windsurf Instructor courses are designed for ambitious, energetic and enthusiastic people of all ages and all abilities who want the best introduction to the industry. The only prerequisites to joining one of our Professional Instructor Training Courses are a moderate swimming ability and a passion to learn new skills, although we also offer 4 and 2 week options for those with previous sailing or windsurfing experience. Our longer courses contain a week of work experience in a busy RYA Training Centre giving you the knowledge and confidence to start work as soon as you finish the course. 
However, you choose to utilise your newly gained instructor qualification we are here to help make it happen. We recognise that gaining your qualification is just the first part of the adventure, so we will always remain on hand to help you enjoy the rest of it!
Week 1 & 2
The first two weeks are focused on honing your personal watersports skills. You will learn to sail or windsurf in an exciting and thorough way working your way through Dinghy Level 1, 2 and 3 for Sailing or Start and Intermediate for Windsurfing. These two weeks will be intense, with a lot of on-water time and professional coaching in order to fine tune your skills.
Week 3
Those with Level 3 or relevant Sailing / Windsurf Experience will join at the beginning of week 3 and during this time we start focusing more on the Instructing side of the course commencing with the Powerboat Level 2 Course and the Assistant Instructor Course along with practise and clinics to make your personal sailing razor sharp.
Week 4
Using the skills learned in weeks 1 to 3 the 4th week will be doing work experience. You'll become a vital part of team working in an RYA Training Centre for a busy week helping with RYA Courses, Sessions, Safety Boat Driving and the overall running of the centre. This experience really matters when it comes finding employment and working effectively in a centre environment.
Week 5
Following a week of work experience Week 5 is all about getting ready for the Pre Entry Assessment and the Instructor Course that follows. Sailors will do the Seamanship Skills and Sailing with Spinnakers modules and Windsurfers Non-Planing Carve Gybe and Beach Start Clinics with everyone doing their RYA First Aid Course. We will also cover some of the Theory Topics required on the Club Yacht to help the understanding.
Week 6
Week 6 kicks off with the Pre-Entry Assessment (Sailing Only) then 5 days of the instructor course with an RYA Coach or Trainer. The pre-entry tests that your sailing skills are at the level required then the instructor course teach the techniques needed to become an RYA Dinghy or Windsurf Instructor. Following the successful completion of the course, we'll arrange a suitable celebration before starting as an RYA Instructor.
2021 Dates & Prices
[
| Course Dates | Course | Price | Early Booking Price |
| --- | --- | --- | --- |
| 29th August - 10th October 2021 | 6 Week Dinghy Academy | £3295 | £2995* |
| 12th September - 10th October 2021 | 4 Week Dinghy Academy | £2425 | £2205* |
| 26th September - 10th October 2021 | 2 Week Dinghy Academy | £1455 | £1325* |
| 8th May - 19th June 2022 | 6 Week Dinghy Academy | £3295 | £2995* |
| 22nd May - 19th June 2022 | 4 Week Dinghy Academy | £2425 | £2205* |
| 5th June - 19th June 2022 | 2 Week Dinghy Academy | £1455 | £1325* |
| 4th September - 16th October 2022 | 6 Week Dinghy Academy | £3295 | £2995* |
| 18th September - 16th October 2022 | 4 Week Dinghy Academy | £2425 | £2205* |
| 2nd October - 16th October 2022 | 2 Week Dinghy Academy | £1455 | £1325* |
| Single Room Supplement | All Courses | £100 per week | - |
Prices above are based on flights from a London Airport, Transfers to our Academy Base, Shared Accommodation in a Hotel,  all tuition and courses and full board catering. For flights from other destinations we can be very flexible so please feel free to get in touch for your perfect course. 6 & 4 week courses include RYA Powerboat Level 2, RYA First Aid and RYA Safe & Fun. 2 Week courses just include RYA First Aid and RYA Safe & Fun.
* Early Booking Discount until end of January 2021
The Seafarer Price Guarantee
We Will Not Be Beaten On Price !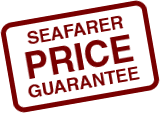 As an independent company, we are able to keep our prices highly competitive – if you see a like for like product featured elsewhere cheaper, let us know and we will beat it!
This guarantee applies to yacht and accommodation rates on our Beach Club, Flotilla, Learn to Sail and & Cabin Charter programmes operated by Seafarer and is subject to availability at the time of booking.
For those booking before 31st May,  we will not impose any surcharges and we guarantee to honour the price confirmed to you at the time of booking.
Frequently Asked Questions
What is the RYA?
The Royal Yachting Association (RYA) is the UK governing body for sailing and windsurfing. The RYA is recognised internationally as the leading authority on sailing and windsurfing instruction. This means that  becoming an RYA Instructor really does open up a whole world of opportunity to you. Watersports companies all over the globe are aware that a qualified RYA instructor must comply to high standards of safety and must have an exceptional dedication to their pupils progression in watersports.
Once qualified, in addition to the support you will receive from the RYA, all Academy members will also gain ongoing support from Seafarer to increase your teaching experience, improve your personal skills and in time gain further instructor qualifications. The lines of communication between our Academy Team and our Academy Members always remain open to help you make the most out of your watersports career – whether you are just enjoying a gap year break or you are looking for a long term career, our friendly and professional Academy Team will happily support you on your journey.
What is an Instructor Training Course?
A Seafarer Academy Instructor Course is a fast track way to become an RYA Dinghy or Windsurf Instructor. First concentrating on learning to sail or windsurf it then moves into learning to become and instructor with work experience along the way.
What is an RYA Assistant Instructor Qualification?
Before starting work experience we offer RYA Assistant Instructor Qualification about halfway through the course. This allows you to assist with sessions while following the RYA Dinghy or Windsurf scheme along with preparing you for the Instructor Course to come.
Who Can Apply ?
Our fast-track Sailing and Windsurf Instructor courses are designed for ambitious, energetic and enthusiastic people of all ages and all abilities. The only prerequisites to joining one of our Instructor training course, are a moderate swimming ability and a passion to learn new skills. (Please note our minimum age to travel to Greece is 18) For those hoping to do shorter courses, a certain level of sailing or windsurfing ability is needed. Please give us a call to discuss.
What Qualifications & Skills Will I Gain?
The minimum course content for all students is listed below. The exact qualifications you gain will depend on your previous experience. All candidates will be able to ask for additional tuition to hone skills of their individual choice based on their personal preferences and their previous ability. Please note that no previous experience of sailing or windsurfing is needed.
Sailing Qualifications
RYA Level 1 Start Sailing

RYA Level 2 Basic Skills

RYA Level 3 Better Sailing

RYA Seamanship Skills

RYA Sailing with Spinnakers

RYA Assistant Dinghy Instructor

RYA Dinghy Instructor
Windsurfing Qualifications
RYA Start Windsurfing

RYA Intermediate Non-Planing

RYA Non Planing Carve Gybe Clinic

RYA Beach Start Clinic

RYA Start Windsurf Instructor
All candidates will gain
RYA Powerboat Level 2

RYA First Aid

Safe and Fun Safeguarding Module

Yacht Based Theory Tuition in relevant topics

Personal Coaching areas that need improvement

Work Experience in active RYA Centre

Professional Use of VHF Radios

Careers Advice & Employment Opportunities
The course aims to ensure a 100% pass rate for all Academy Members, however please note that if your instructor skills are not quite strong enough at the time of moderation then you will receive an RYA Action Plan. The Action Plan is issued with specific goals for you to achieve in order to finalise your instructor qualification. The Action Plan is designed to help build your confidence and to regulate standards within the RYA system. It is created as a support for trainee instructors and should be viewed as an aid not as a critique or a fail. If an Action Plan is issued then the Academy Team will always support you in achieving your goals and becoming qualified. However in such cases that an Action Plan is issued due to a lack of effort, attendance or commitment to your training then any further assistance will be at the discretion of the Academy Team.
What is Included in the Price?
Return flights, Transfers to/from hotel, Accommodation (shared twin with en suite facilities), Breakfast, Lunch, Dinner, Unlimited Equipment Use, All Required Safety Equipment, Sailing or Windsurf Instructor Training, Instructor Assessment, RYA Logbooks, RYA Certification, First Aid Manual.
Do I have to be an RYA Member?
All RYA Instructors must be RYA members. Therefore before embarking on your instructor course in Greece please ensure that you join the RYA. This is between £20 – £50 a year ( depending on age ) and holds many benefits for you once you are qualified. RYA Membership is not included in the price of your course. Follow this link for more details:
http://www.rya.org.uk/joinrenew/types-prices/pages/howmuch.aspx
What is the Pre-course Instructor Pack?
Once you have decided to join the Seafarer Academy and have paid your £590 deposit you will receive your Pre-Course Instructor Pack.. The Instructor Pack includes all you need to know before you head to Greece.
Contents includes: Welcome Letter, What to Pack List, Work Experience Request Form, Employment Request Form, Flight Information, Accommodation Details, How to Apply for Funding/Grants Information, Invite to Members Facebook Page
How do I Book?
You can reserve your space on the Seafarer Academy with a £95 Initial Deposit followed by the remainder of the £595 deposit within 2 weeks of booking. We can then arrange a payment plan which spreads the payments over a number of months leading up to the course.
To book and secure a space call fill out the form below, call 0208 324 3118  or email [email protected]
How To Apply For Grants?
There are in fact a large number of organisations that offer financial assistance to a variety of causes. Regardless of your social circumstance or income everyone is eligible to apply for grants at various charities and trusts. Of course getting a Grant does require some time and effort. You will have to search the internet and apply to a large number of organisations. Typically grants for individuals can range from £50 – £2,500.
STEP 1) Type into your search engine key phrases such as:Vocational Training Grants
Funding for Personal Development
Grants for Outdoor Education Training

STEP 2) You will find many useful websites such as the below:
STEP 3) Your local library, often overlooked these days, will be a great source of information. The library clerks should be able to point you in the direction of a Local and/or National Guide listing trusts and charitable foundations. National ones to look out for include:

The Educational Grants Directory
The Grants Register
A Guide to Grants for Individuals in Need
The Youth Funding Guide
Directory of Grant Making Trusts

STEP 4) Be prepared to commit time to this process. Apply to as many places as possible, by phone, letter or email. Remember you may have to work hard to receive a grant, but it really is possible to gain valuable financial assistance to help you complete your ambition of becoming a professional watersports instructor. An example of some key phrases and text to use when applying for grants:

The Seafarer Academy provides Vocational Training for the outdoor industry.
The Seafarer Academy teaches all the necessary skills to become a professional RYA Watersports Instructor, responsible for the safety and skills development of watersports novices.
The valuable instructor skills learnt at the Seafarer Academy are directly transferable to many other job roles in life, in particular within the formal education system.
The use of Outdoor Education, such as the Seafarer Academy delivers, is proven to be an excellent tool for personal development.
Among other things Outdoor Training teaches strong team building skills, it encourages acceptance of responsibility and it intrinsically improves communication abilities. All of which are key life skills.
What sort of Socials will be organised as part of the course?
This is a professional training course so we tend to party all the time but we organise regular fun social events throughout the 6 weeks. Below are a couple of sample events you might see as part of the Academy
Sunset Yacht Cruise with Fizz and Nibbles
Sail Away with Beach BBQ on a deserted Island
Evening Paddleboard trip to the Island of Agia Nicolaos
Meals out in Nydri, Lefkas and Vassiliki
Social Dinners, BBQs and Weekly Quizes
Trips around the wonderful island of Lefkas
How Can I Find Out More and Ask More Questions?