Club Overview
This resort is well established with those in the know, as a top class windsurfing centre, so no doubt familiar to many in the UK Market. Thanks to the ideal conditions and state of the art equipment available, we enjoyed an excellent first season here.
Set on the beach front with a huge sandy beach, our club is operated by long-established specialists 'Kefalos Windsurfing' offering truly first class windsurfing equipment to suit all abilities.
Our beachfront accommodation offers a choice of rooms and apartments to suit every taste and budget. We have a number of hotels and self-catering apartments within easy reach of the club with superior accommodation on request
The location is stunning, though the top quality and extensive range of windsurfing equipment plus the idyllic windsurfing conditions are the real highlights of this club.
Location & Weather
Kos is one of the most beautiful and largest islands in the Aegean (it is the third largest island in the Dodecanese after Rhodes and Karpathos and has the second highest population after Rhodes). The island's main port is in the capital (also called Kos) and is 200 sea miles from Piraeus. As well as its capital, Kos has six large settlements/villages: Kefalos, Kardamena, Antimachia, Mastichari, Pyli and Zia.
The village of Kefalos with its choice of restaurants, cafes and shops is just a short stroll from the hotel. The wider area also offers great opportunities to explore, with archaeological sites such as the Asklepeion, the ancient home of Hippocrates the father of the medical profession, is well worth a visit. The attractive capital of the island is perfect for an evening out and it is all within easy reach.
This area is blessed with warm sunshine over 300 days a year. Temperatures from early May range from the low to mid 20s in the early and late season, up to the high 30s between June and September. The winds are generally very strong from Mid June to Mid September wither winds from force 4 to force 6 almost every day.
Hotel Choices
We have a number of basic hotel and apartment choices available right on the beach. These are both relatively basic but with an excellent location. For something slightly more upmarket please get in touch and we can arrange quite a number of hotels and villas.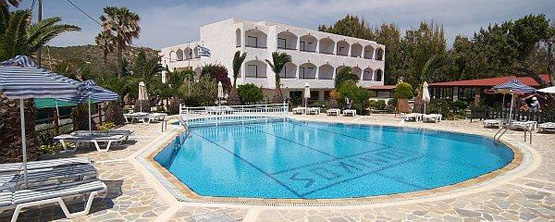 Hotel Ionikos 2**
This friendly, family run hotel is in a prime location right on the beach, ideal for those seeking a relaxed holiday next to a typical Greek fishing village, set in quiet surroundings with a large attractive garden area. All rooms are simply furnished in the typical Greek style and include a private bathroom, safety deposit box, air-conditioning and balcony or terrace (some facilities are payable locally). The restaurant offers "al fresco" dining, including an authentic Greek menu with a variety of Greek specialities, as well as a continental breakfast. There is also a pool/beach bar. There is a swimming pool with a separate children's pool area, surrounded by a sun terrace with sun loungers and parasols. Just behind the swimming pool is the cool club area with table tennis, and on the terrace opposite the restaurant, there is also a fitness room.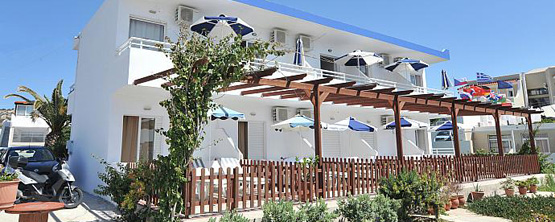 Irene Studios
Irene Studios are ideally located at the centre of Kefalos Bay just 30 m from the beach. Ideal for those who want to combine relaxation and action with watersports. Only 50m from Kefalos Windsurfing and yet next to restaurants, shops, travel agency, car rentals and cafes. It is perfectly situated overlooking Kefalos Bay. They are on the main road of Kefalos, where you can find everything from restaurants cafes and various shops.
The Irene Studios are basically equipped with kitchenettes, fridge, bathroom and balconies. Nothing fancy but they are clean and have all necessary amenities for the holiday maker's needs. The kitchens are equipped with coffee making kettles and all required utensils. One more bed may be added if needed. There is a small garden and plenty of space for children to play.
Other Hotel Options
We have numerous other Hotel and Villa options available. Please get in touch for more details.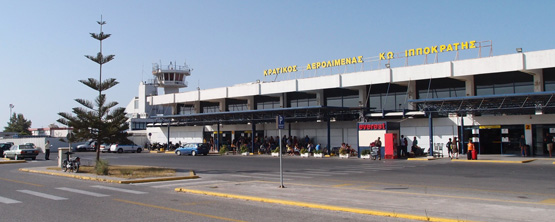 Flights & Transfers
Saturday Flights from London, Manchester, Bristol, Birmingham, Cardiff, Glasgow & Nottingham to Kos Airport. Flight time 3 hours 40 minutes.
Approximately 30 minute road transfer in Kos, between the airport and Kefalos. Clients continuing in Turkey have a 1 hour ferry transfer from Kos to Bodrum.
Equipment
We know that equipment is one of the most important things to our windsurfing friends and our commitment to you is that we have the latest gear available on the market! We don't fix you to a specific board during your stay as we feel you should be able to try the range available and maybe find the board of your dreams! You can pick and choose your equipment depending on the conditions, your progression through your stay, and even your mood!
All of our sails are rigged and ready to go with adjustable harness lines, booms and uphauls attached. We have the latest training rigs for our beginners and special kiddy rigs and boards for the early starters!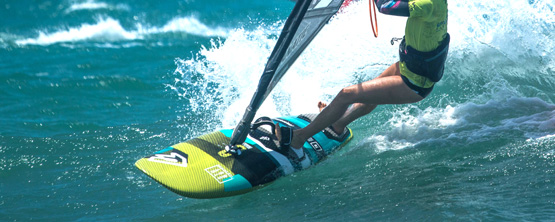 Fanatic Boards
Fanatic Boards have one of the best reputations in the industry with too many PWA wins to count.
On the Freeride and Freemove side, we have Sharks, Geckos, Blasts, Hawks and Rays from 105 to 156L and on the Freestyle side Freewave and Skakes from 116 to 110L.
Falcon Slalom Boards from 110 to 120L (VIP Pool)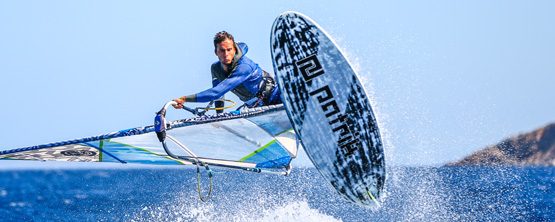 Patrik Boards
Shaped from over 25 years of technical expertise, DEDICATION AND PERFORMANCE, PATRIK is far more than just another name in windsurfing.
We have freeride boards from 125 to 155L and freestyle boards from 100 to 115L
Slalom Boards from 110 to 135L (VIP Pool)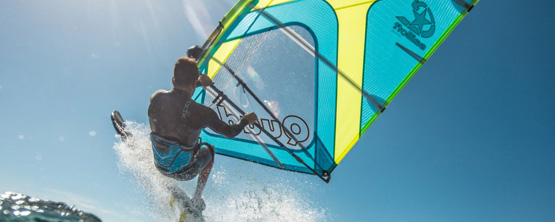 Sailloft Hamburg Sails
In the windsurfing community, Sailloft sails are known for their excellent quality and durability, – appreciated by hobby surfers and pros who are used to pushing sails to their limits and sometimes beyond in extreme wave conditions. The only way to build sails is perfection.
Cross – No Cam Freeride in 5.5/6.0/6.5/7.0/7.5/8.0
Quad – Freestyle Wave in 3.0/3.3/4.0/4.4/4.6/4.8/5.2/5.6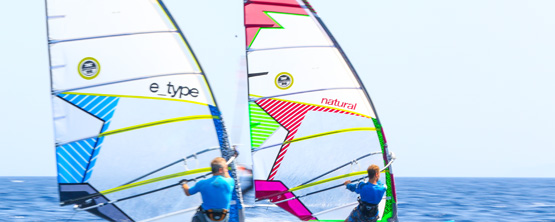 North Sails
North Ram and Warp Camed Slalom Sails from 6.3 to 7.8 (VIP Pool)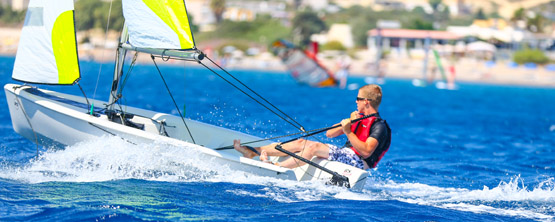 RS Feva Dinghies
Cracking Sailing Boats for 1 or 2 people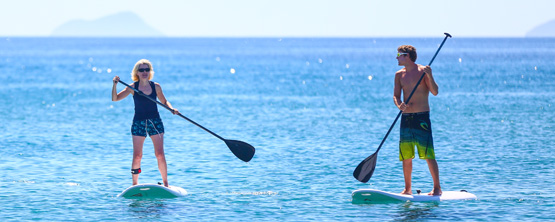 Stand Up Paddleboards
A range of Inflatable and Composite SUPs by F2 and Fanatic
STAY & SAIL
Combine a week at Kefalos Beach Club with our Dodecanese Flotilla
2019 Prices Per Person
Irene Apartments - Self Catering
| 2019 Dates | One Week | One Week 3rd Person | Two Weeks | 2 Weeks 3rd Person | Flights From |
| --- | --- | --- | --- | --- | --- |
| 4th, 11th, 18th, 25th May | £299 | £239 | £535 | £519 | £259 |
| 1st, 8th June | £359 | £239 | £649 | £589 | £259 |
| 15th, 22nd June | £409 | £279 | £725 | £645 | £259 |
| 29th June, 6th, 13th, 20th, 27th July | £445 | £279 | £795 | £689 | £229 |
| 3rd, 10th, 17, 24th August | £485 | £279 | £875 | £735 | £369 |
| 31st August, 7th, 14th, 21st, 28th September | £359 | £239 | £649 | £589 | £289 |
| 5th, 12th, 19th October | £299 | £239 | £535 | £519 | £259 |
| | | | | | |
| Return Transfers | £40 | | | | |
Ionikos Hotel - Bed & Breakfast
| 2019 Dates | One Week | One Week 3rd Person | Two Weeks | 2 Weeks 3rd Person | Flights From |
| --- | --- | --- | --- | --- | --- |
| 4th, 11th, 18th, 25th May | £349 | £279 | £619 | £499 | £259 |
| 1st, 8th June | £425 | £325 | £769 | £575 | £259 |
| 15th, 22nd June | £469 | £369 | £845 | £649 | £259 |
| 29th June, 6th, 13th, 20th, 27th July | £545 | £425 | £995 | £749 | £229 |
| 3rd, 10th, 17, 24th August | £485 | £425 | £995 | £749 | £369 |
| 31st August, 7th, 14th, 21st, 28th September | £425 | £325 | £775 | £575 | £289 |
| 5th, 12th, 19th October | £349 | £279 | £619 | £499 | £259 |
| | | | | | |
| Return Transfers | £40 | | | | |
What's Included
Unlimited use of Standard Pool Watersports Equipment
Harness & Kit Insurance
Self Catering Accommodation (Irene Studios)
Bed & Breakfast Accommodation (Ionikos Hotel)
Return UK Flights (Flight Inclusive Package Only)
Transfers (Flight Inclusive Package Only)
Atol Protection (Flight Inclusive Package Only)
Optional Extras
Use of VIP Pool Equipment from £70 per week
Windsurfing Lessons from £25
Sailing Lessons from £25
Half & Full Board Hotels