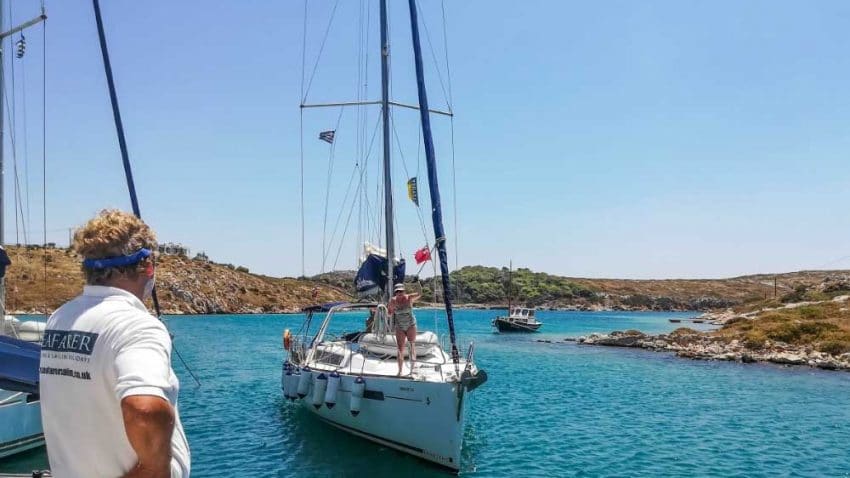 Categories:
A blogster writes: After the storm
Yesterday evening at around 5.30 the sea suddenly changed. Gone was the flat gently swirly millpond of translucent water, replaced by a chop of waves as the wind backed towards the east across the inland sea. People sensibly started leaving the water and the 9-strong Nikiana beach crew, under the direction of beachmaster Rabbie, moved into action like a well-oiled machine.
The beach club prides itself that, should the occasion arise, it has enough craft to put every guest on the water at the same time. Because it attracts a good standard of sailor it also has some pretty hi-spec kit – top of the range Lasers, an RS100 and an ALTO to name but a few. All in all, between dinghies, windsurfers, SUPs and Kayaks, a fleet of 50 or so craft can be afloat.
So last night, as the waterfront closed, everything had to come out of the water. It took some impressive team-work. Sometime after midnight a full moon that had given golden illumination to the white horses topping waves in the bay, vanished behind clouds and the wind got up. It was, by any account, a 'bit of a blow'.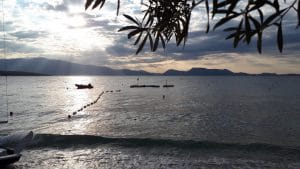 It meant that, come this morning, many off us awoke to the view of a mast outside our balcony window. Coming down to breakfast we had a most unusual Nikiana scene – an empty bay. But before long the beach crew were back getting boats afloat in the sunshine. With an uncertain forecast however, it will be the same routine tonight.
THE NAUGHTY NIKI
With the Greek weather Gods up to a little mischief it seems to be an appropriate time to introduce you to 'The Naughty Niki', this season's house cocktail. Sci-fi fans have also been known to call it The Red Dwarf.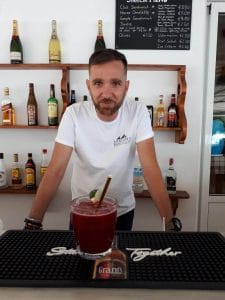 It's a G&T pimped-up with strawberry pulp, pomegranate juice and a wedge of lime that makes for a tincture of substantially moreish finesse. The trophy wife suggested it was possibly rude to have dived into one before the sun was over the yardarm – but with pressures of publication deadline looming what other choice has a blogster got! Sharpened the appetite perfectly too. Sadly the measure is not quite as big as it looks in the photo, being foreshortened by Android camera.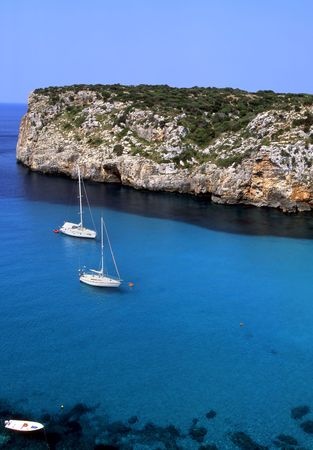 Categories: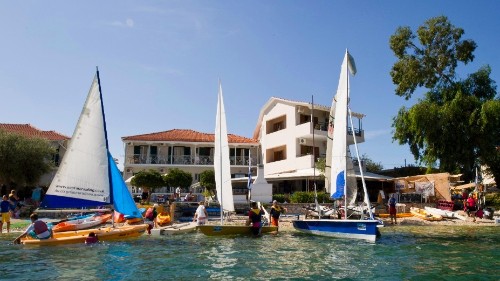 We arrived well after dark with a sensible o'clock flight timing that obviated early morning trauma. As the plane came into land at Preveza we could see the lights strung along the shoreline like fireflies. Gatwick can obviously learn a lot from Greek baggage handlers and within an hour or so of landing we were rolling our cases into the grounds of Nikiana.
Let me 'fess up right at the start. I love old school Greek islands. 5 star luxury may have its place, but in Greece I want little more than the sand between my toes, a comfy bed with a shower and loo en suite, and a bar that stays open until the last guest has had the last drink of the night.
Such delight to discover that the bar acts as a front for a taverna that was able to produce a bowl of fall-apart stewed beef for me, a plate of green beans and potatoes for the trophy wife, cold beer and a carafe of local red wine that might not win many Parker Points but which perfectly complemented the meal. This was the sort of Greece I remembered from student island hopping days when Jimi Hendrix was top of the charts and Joni Mitchell sang 'The wind is in from Africa…' about Crete.
Major learning points from Sunday night – the barman is called Elias, and the draught beer is called Mythos. Looking forward to a Mythosophical Monday.
Monday breakfast was an interesting combination. Thick Greek yoghurt with honey and fresh watermelon at one end of the buffet, scrambled eggs, bacon and baked beans the other. Thought it would be rude not to try both – bacon excellent.
Welcome meeting at 9.30 courtesy of Joe the manager. All very relaxed but with a wonderful focus on 'being green' – so try not to use too much plastic, don't leave the tap turned on as water is a valuable resource, generally sail power is better than engine power. Lots of head nodding from the assembled company.
Then the waterfront briefing from Robbie. As he's Scottish I wonder if it should be Rabbie. Major safety talk after a description of a myriad of sailing and water activities. Not planning to sail (may kayak and SUP (stand up paddle board) a bit but feel we're all in very safe hands.
Lots to do but started at the shop stocking the fridge in the en suite kitchenette with water, fruit, snacks, beer and retsina. Sorted – whatever the Greek is for Rock and Roll me and the trophy wife are jumping to jive.
Read More About The Beach Club Here