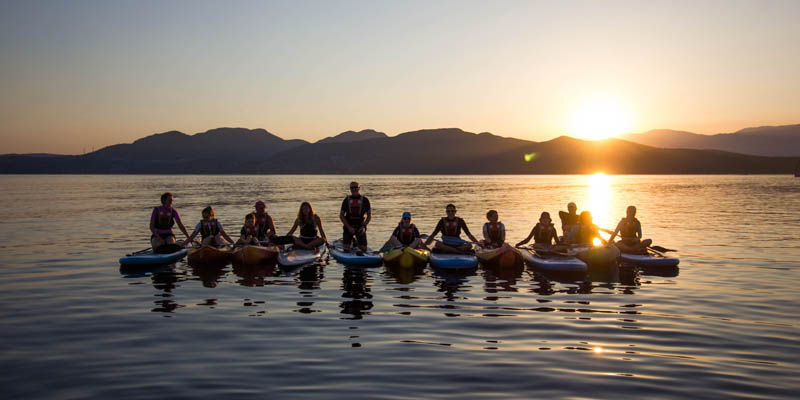 Exciting new equipment, courses, restaurant options & special weeks
We had a great year in Nikiana last season and myself and the team are raring to get back to the club, hop on our sailing boat of choice, plane around the sailing area and finish with an ice cold glass of Mythos, Fix or many other fantastic drinks options. To add to our excitement there's quite a lot of new things to look forward to both on and off the water. If you would like any more information on anything mentioned in this article I'll be in the Seafarer offices for the next two weeks so feel free to call 0208 324 3118 for more information.
Boats & Equipment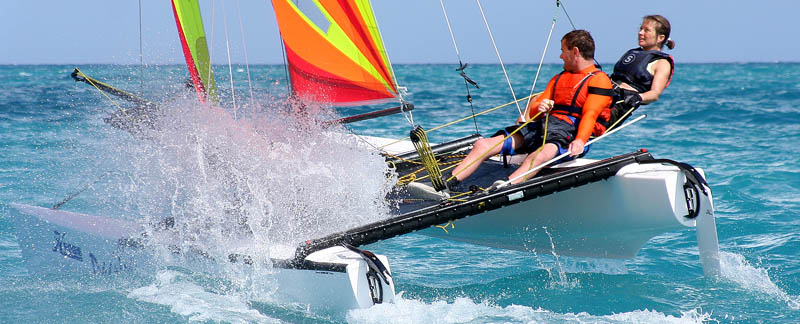 Hobie 18 Pacific
People love the Dart 16s we currently have at the Club but there's long been a call for something a bit faster and a bit bigger. So enter stage our Hobie Pacific, an 18ft beach catamaran with twin trapeze and spinnaker. The boat is designed for 2 or 3 people and is the perfect next stage up from a Dart 16 and we're sure it's going to be very popular.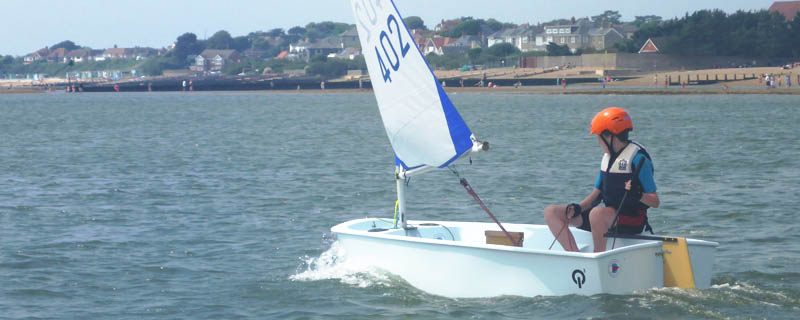 Hartley Alphas
We've decided to replace our Taz junior dinghies with Hartley Alphas, a small junior dinghy based on the Oppi. These stable training boats are excellent for kids aged 6 to 12 just starting on their sailing journey.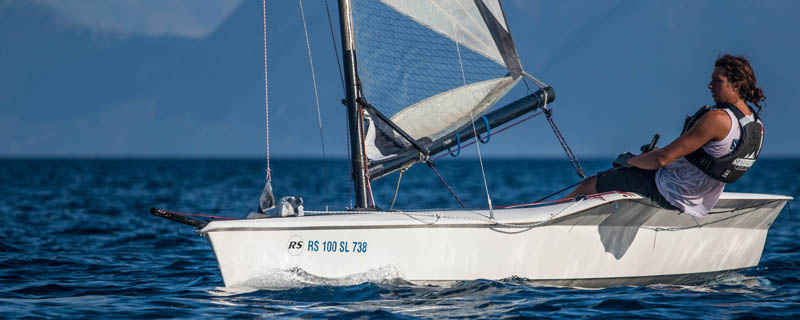 RS100's
Not strictly new for 2019 (we obtained one in the middle of 2018) but we now have two RS 100s at Nikiana Beach Club. These exciting singlehanders are super light, have wings for greater righting moment and an asymmetric spinnaker to power you downwind. The boats are perfect for those who can sail a laser well and are looking for a little more of a challenge.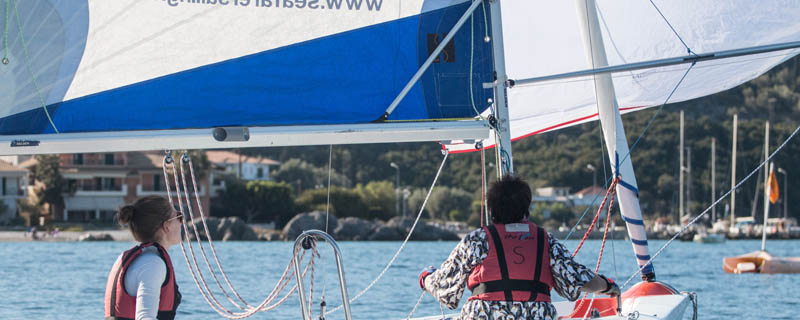 Symmetric Spinnaker Bahia
Again not strictly new for 2019 but we've fitted a symmetric spinnaker on one of our Bahias so we can teach these skills to anyone looking to sail a boat with one of these.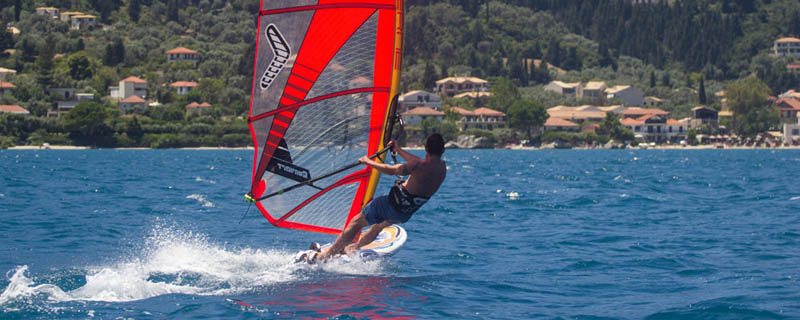 Updated Windsurf Boards
Were revamping all our windsurf boards for the coming season to get the right combination for our guests. On the beginner, end were getting more Red Windsurfers, an inflatable crossover board which proved so popular last year for its soft decks, stability and good handling. For intermediates were expanding our Bic Techno Range with 2 160L boards with optional daggerboards and a 133L board for more advanced sailors. Finally, for those advanced windsurfers we've added to our Starboard Futura range with a 120 and 130L.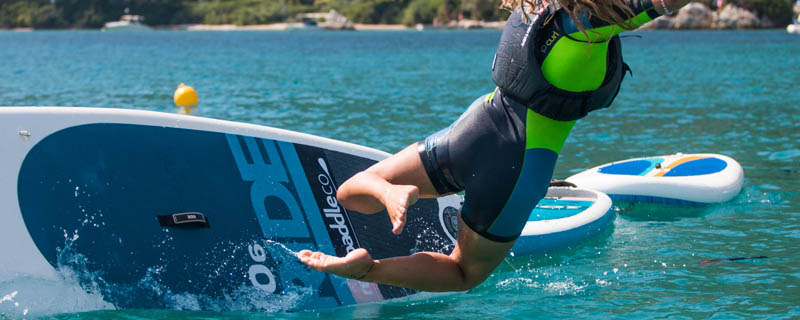 SUPs & Kayaks
Nothing quite as exciting as above but were adding more Red Paddleboards and more kayaks to get everyone on the water.
Taverna & Socials
Club Board
In previous years, we've been simply Bed & Breakfast as we felt it didn't "lock you in" to spending every mealtime at the Club like some places might. But due to popular demand and the fact a large percentage of guests were happy to grab a bite in the taverna for just about every meal anyway, we thought we'd let you pre-book your meals!
The price is £89 per person for adults or £69 for children 13 or under.  This includes the following;
Monday Evening Social Dinner
Wednesday Night Greek Night
Saturday Farewell Dinner
2 x 2 Course Evening Meals from a set menu*
3 x 1 Course Lunch from a set menu*
*These meals can be taken any day but Sunday and will have quite a number of options for Meat, Fish, Vegetarian and Vegan. We will always cater for dietary requirements but please let us know in advance as some products can be tricky to source in Greece. Club Board Menus are available behind the bar.
If you would rather keep it flexible, our B & B option is, of course, available and our traditional Greek taverna will have a great a la carte menu this summer.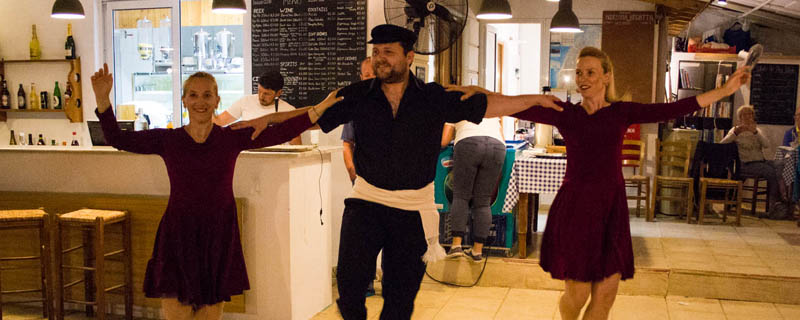 Updated Social Nights
We've had similar social nights for the last couple of years at Nikiana and this year we thought we'd give it a bit of a shakeup. We're not going to reveal all here but prepare yourself for fun socials, great food and that super friendly Nikiana Vibe everyone loves.
Courses & Training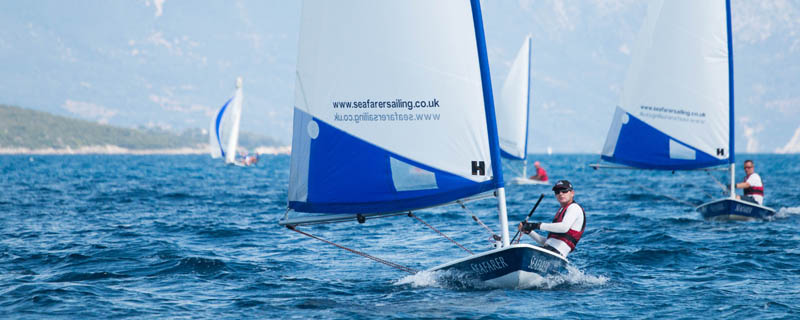 RYA Start Racing
This year were going to start running the RYA Start Racing Course, a great introduction to racing for those with RYA Level 2/3 or similar abilities. The course covers such areas such as starting, how the course works and rules along with making sure you're making the boat go fast in a straight line and the corners.
For those who are keen were running a Race Week at Nikiana Beach Club on the 1st September with 15 hours of tuition for those of different levels with a number of races at the end of the week.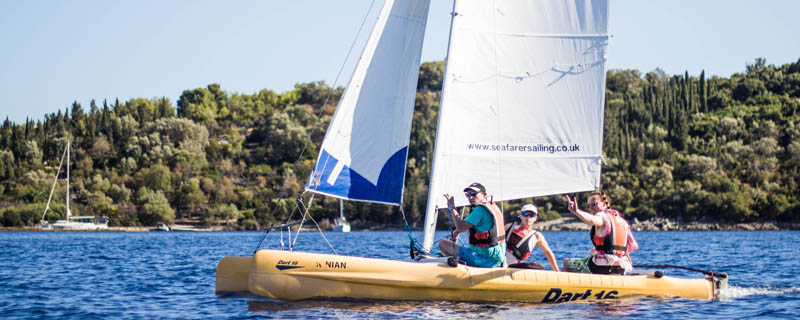 RYA Daysailing
The seas around Nikiana offer some of the most interesting sailing in the world with Islands, Bays, Fishing Villages and Beaches all accessible by dinghy from our base.  This year we will start running the RYA Daysailing course will take you out of the sailing area and teach you how to do small boat cruising including passage planning, pilotage and other skills needed in the open seas. The course will include a 1 day Day Sail and can be done in Dinghies or Multihulls.
Special Weeks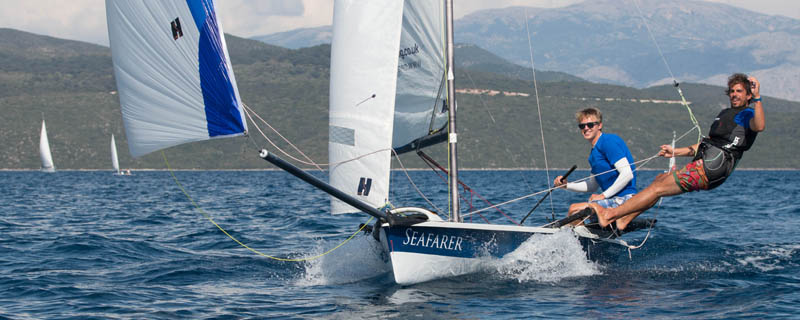 Greek Easter 24th April
Due to over a thousand years of religious disagreement on the date of Easter, in 2019 it's celebrated a week later than in Western Europe. And a real celebration it is. Nikiana Beach Club is going to be opening 11 days early so you can enjoy a traditional Greek Easter feast with a fabulous view.
7 Nights from £499 (Wednesday to Wednesday)
11 Nights from £599 (Wednesday to Sunday)
Solo Travelers Week - 16th June
No single supplement, evenings socials and boat matching.
From £599pp
Level Up Weeks - 12th May, 23rd June & 29th September
After the resounding success of this year's Level Up weeks we've decided to run two more next summer. The idea is to "Level Up" your sailing skills or learn a new sport with 18 hours of free RYA Tuition in Dinghy Sailing, Windsurfing and Yachting.
12th May & 29th Sept – From £499pp
23rd June – From £599pp
Check out Nikiana Beach Club
Have a look at our club page for more details
Join our mailing list
Get our latest news and special offers
We send around 3-4 emails a month
Don't worry it's easy to unsubscribe