Beach Hotel Overview
Many years ago the people of the island of Skopelos in the Sporades chased a female pirate and her crew to a beautiful point just to the North of the beautiful Panormos Bay. Upon reaching her ship she sank it off this point so the local people couldn't steal her treasure.
Adrina, the pirate at the centre of this legend gave her name to two wonderful hotels set on this point which we are proud to offer for the 2019 season. Adrina Beach offers a number of Sea View rooms with a cracking view set in a lovely garden setting all tumbling down to a beach with crystal clear seas. Adrina Spa Resort has a more modernist style with luxury villas from 2 to 6 people located next door with full spa facilities and a number of excellent restaurants.
Adrina is located in Panormos Bay on the west side of the island, about 15 minutes south of our flotilla base at Loutaki and is ideally located to explore the island of Skopelos. Failing that lie back on a lovely beach next to some blue water and relax before or after a weeks flotilla or bareboat.
Location
Adrina itself is set in the North of the stunning Panormos Bay, a wonderful natural harbour with stunning sea and a great natural harbour to the south. The village is 10 minutes walk away and has its own large beach with a number of restaurants and shops for basics.  Panormos is on the west side of the island about 15 minutes drive from both the capital, Skopelos and the 2nd biggest village Glossa. There is a regular bus service between these two that stops at both the village and the hotel and car hire is easily available.
Located between Skiathos and Alonissos, the island of Skopelos is full of green and wooded valleys surrounded by crystal clear waters. For fans of the film Mamma Mia! look no further as this was filmed on the island with many of the locations available to visit.
Hotel & Room Choices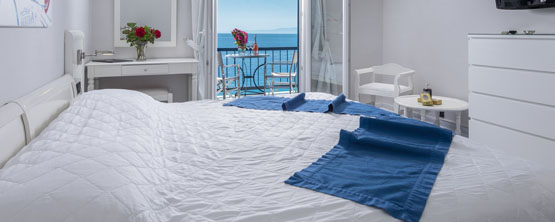 Adrina Hotel Double & Twin Rooms
The hotel offers a range of rooms with different view options. All rooms have a large bathroom with bath, private balcony, TV, fridge, air-con, hair dryer and other amenities. All rooms have beds that can be made as twins or doubles and can fit another bed or coat as necessary.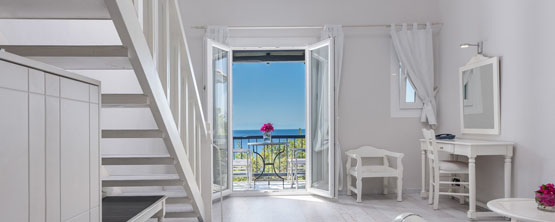 Adrina Hotel Maisonette Rooms
Maisonette rooms are perfect for families of 4 or 5 with 2 or 3 beds downstairs and a double upstairs. The rooms have the same amenities as the other rooms and a choice of views.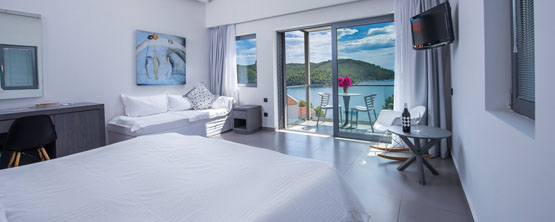 Adrina Resort Villas
If you're looking for something more luxurious Adrina Resort offers various size villas to suit everyone's needs. Villas each have private outdoor space and some have their own swimming pool.
Facilities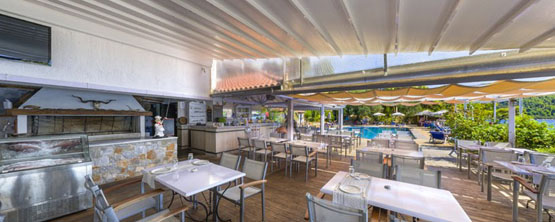 Restaurants & Dining
A hearty breakfast overlooking the sea is provided with all bookings. For those looking to dine in the hotel for lunch or in the evening, there is a fantastic local restaurant down by the beach serving Greek dishes prepared onsite with local ingredients. For those wanting to go further afield, there are a number of restaurants in the Adrina Resort just a few minutes walk away.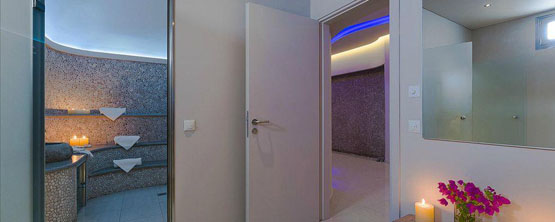 Spa
Adrina Resort has a fully equiped Spa available to guests featuring:
 Jacuzzi
Hamman
Fully Equipped Gym
Massage
Face & Body Treatments
Manicures & Pedicures
Open 9.00 to 20.00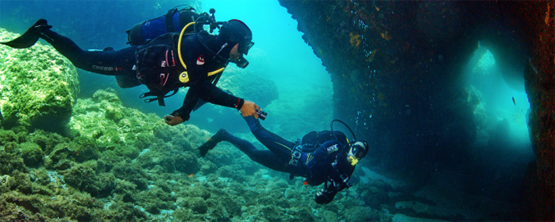 Dive Centre
Scuba Diving and Snorkeling in Greek islands and especially in N.Sporades islands (Skiathos, Skopelos, Alonissos) is a unique lifelong experience. History, Untouched Natural Environment, Rich Biodiversity in combination with local hospitality and high quality diving services, is a magnificent mix that offers unforgettable diving experience. Our PADI certified dive center is located in Adrina beach and in Skopelos harbor. Wreck dives, cavern dives, cliff dives, boat dives in clear crystal waters, under the supervision of experienced PADI professionals, are some of the activities we offer.

Transfers & Flights
Our Sporades Flotilla starts and ends in the Port of Loutraki near the village of Glossa on a Friday and from there its a simple bus or taxi ride of around 15 minutes. To get to other islands and the mainland from Skopelos you can take both hydrofoil and displacement ferries from Loutraki and Skopelos town. The nearest airport is on the island of Skiathos with regularly scheduled flights to London, Manchester & Birmingham.
STAY & SAIL
Combine a week at Adrina Hotel with our Sporades Flotilla