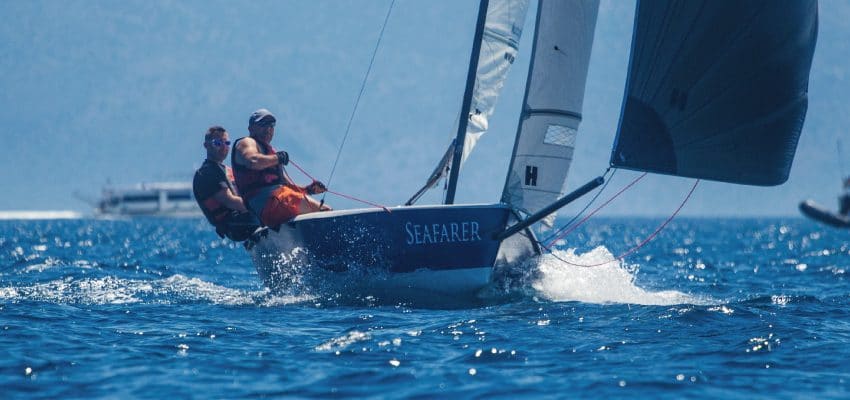 Categories:
Yachting and Dinghy Sailing can learn a lot from one another. As Yachting experiences are growing worldwide; cruising holidays and yacht tuition are becoming more affordable. Thus Yachting as a sport is beginning to engage with a wider client base. Over the next few years, I can see a lot of accomplished Dinghy Sailors looking to gain hands-on yacht experience in order to enjoy holidays in the Mediterranean or further afield. Those that do, will take full advantage of exploring beautiful seas and landscapes with the relaxed cruising approach that is paramount to an enjoyable sailing holiday.
However, it is not just the transition from Dinghy Sailing into Yachting that is important for the sport. Yachting can learn a huge amount from the immediate and demanding techniques required to make a boat go as fast as possible. These fundamental skills often begin with Optimists and Toppers and can take you all the way to the Olympics or Americas Cup working on boats being built on the very edge of what is technologically possible.  

"It's always been a dream of mine to be involved in the America's Cup. I remember when I was a kid sailing Optimists down in Cornwall and there was a British America's Cup challenge that was training in Falmouth," —Ben Ainslie
One can often tell when teaching yachting to someone with a background in Dinghy Sailing. They usually have a proficient understanding of the five essentials, but it is the acute sense of wind awareness which makes students stand out. Having these essential sailing skills in their back pocket means they can crack on with a Start Yachting course or Pre-Flotilla training, that suddenly makes that dream holiday an exciting reality.

For those Dinghy Sailors (or Windsurfers) who wish to get into Yacht Sailing, there are a number of options. The best way would be to spend a week on an RYA Training Yacht either with us in the Mediterranean or at any RYA Training Centre in Britain. Seafarer has training yachts based in Greece and Croatia and you can get more details here. Another option is to try one of Seafarers Cabin Charter Holidays in Greece or beyond, more details here.

For those Yacht Sailors who want to gain the gain the experience Dinghy Sailing provides, we recommend a week at Nikiana Beach Club and an RYA Level 1 or Level 2 Course which will teach you all about how to sail a 1 or 2 person Dinghy in the warmth of the Greek sun. This can be combined with a week's Flotilla or Bareboat from either Lefkas or Kefalonia.
Whichever way you look at it, sailing is the best sport known to man (we are quite biased on this front). But with so many parts it's hard to remember that whether you sail an Optimist on a small pond or a 100ft Yacht around the world the techniques are the same and you gain the same pure enjoyment from hearing the wind in the sails and the water lashing on the hull. 
We wish you fair winds and good seas.
Text by John Chambers & Joe Snowdon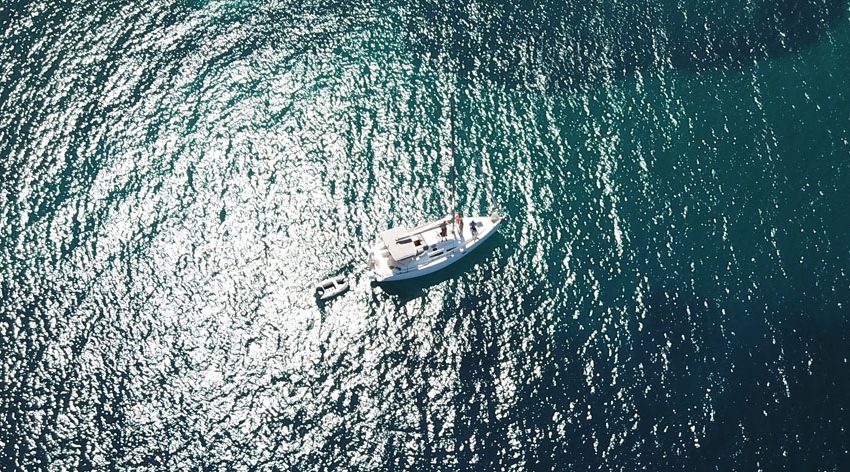 Categories:
As many of you are aware, Seafarer regularly exhibits at the London and Southampton Boat Shows, and whilst it is predominantly the stomping ground for those who have an existing interest in sailing or boating of some kind, it also attracts those who are curious about our sport and are keen to find out more.
We often get asked questions about sailing – "Is this for everyone?" or "So, what experience would I need to charter one of your yachts in the Mediterranean?", amongst others. Many people have seen the freedom of Flotilla and Bareboat Holidays while abroad and wondered how they can do these themselves.

So I guess the first thing to establish is whether you are actually going to enjoy being on a sailing yacht, and of course all the words in the world can't replace a bit of experience. Luckily, at Seafarer we have a number of ways that one could enjoy a fantastic holiday in the sun and answer that initial question for themselves. One option would be to join one of our Cabin Charter yachts in the Ionian or the Cyclades, enjoying a week's cruise on a 50 foot sailing yacht, crewed by a professional skipper and 1st mate, who would be responsible for looking after the yacht and the guests on board. This is an opportunity to see the islands of Greece, and to whet your appetite for sailing – this is no Gulet cruise in Turkey, we sail every day! Alternatively, you could choose to enjoy a relaxing week at our Beach Club in Nikiana, Greece, which, as well as including all the watersports you could want: Dinghy Sailing, Windsurfing, SUPing & Kayaking, you could also take a 2 day RYA Start Yachting course, an ideal way to dip your toe in the water (quite literally!) to see if yachting is for you.
RYA Cruising Courses

As an RYA training centre, we are, of course, huge advocates of the RYA training system, and we believe that the quality of training provided by RYA centres in general rivals the best maritime training worldwide. If you enjoyed your initial taste of yachting in the Mediterranean, then it makes sense to consider the Mediterranean as your training ground also. For those with very little or no practical sailing experience, we would always recommend the RYA Competent Crew course – this is conducted over a one week period aboard a fully safety coded training yacht and will teach you all the skills required to become an active crew member, experience life on board and really get to know the boat.
At this point, you will have some experience under your belt, and you will have had a great holiday at the same time. The next stage, for those who wish to progress, is to consider a RYA shore based theory course to while away those bleak cold winter evenings…and to set you up with the theoretical knowledge to compliment your existing practical skills in preparation for the next step. Following the RYA Competent Crew we also recommend getting some practice in different waters and conditions. Numerous Sailing Schools around Britain run weekend trips with an instructor onboard making this the ideal way to improve your sailing and will be ideal for the next stage, RYA Day Skipper.
Again, if your likely sailing is to be predominantly in the Mediterranean, a "blue water" cruising ground would be a great choice – you'll get all the practical skills offered in the UK, with the addition of the crucial "stern-to" or Mediterranean style mooring – the essential skill that will be put into practise every day in Greece, Croatia, France or indeed the majority of holiday cruising destinations.

The great thing about a course with Seafarer Training is that our tuition yachts generally follow our flotilla routes, which gives you a chance to partake in the social side of Flotilla sailing and to experience first hand the considerable benefits of having a professional flotilla crew on call to take the guesswork out of your first sailing holidays. Once you have your practical RYA Day Skipper course under your belt then the world is your oyster – join a Seafarer Flotilla in one of our less challenging sailing areas, or go Bareboat if the sense of adventure takes you. Either way, our experienced team are on hand to offer you the best suggestions to make your sailing dream a reality.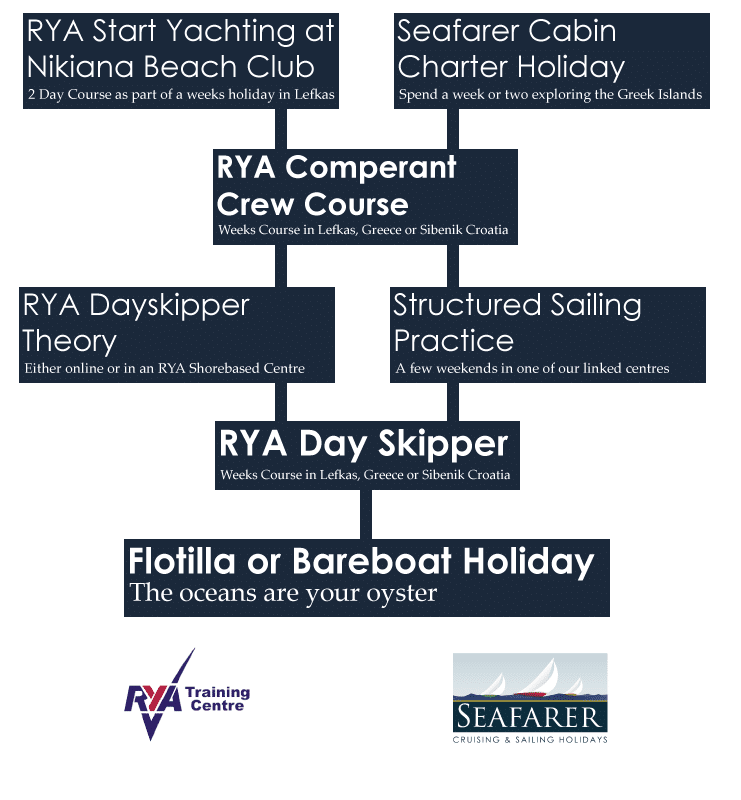 Categories:
OFFER EXPIRES SATURDAY AFTERNOON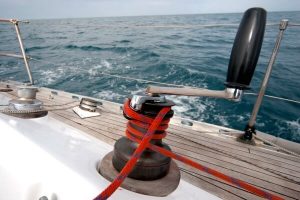 One Week of Tuition on our tuition yacht in the Ionian, get qualified for £399pp
Categories:
Sail from Rhodes to Kos this October for a bit of Half-Term Island-hopping.
Check out the itinerary here.
Sun and Sailing for less!