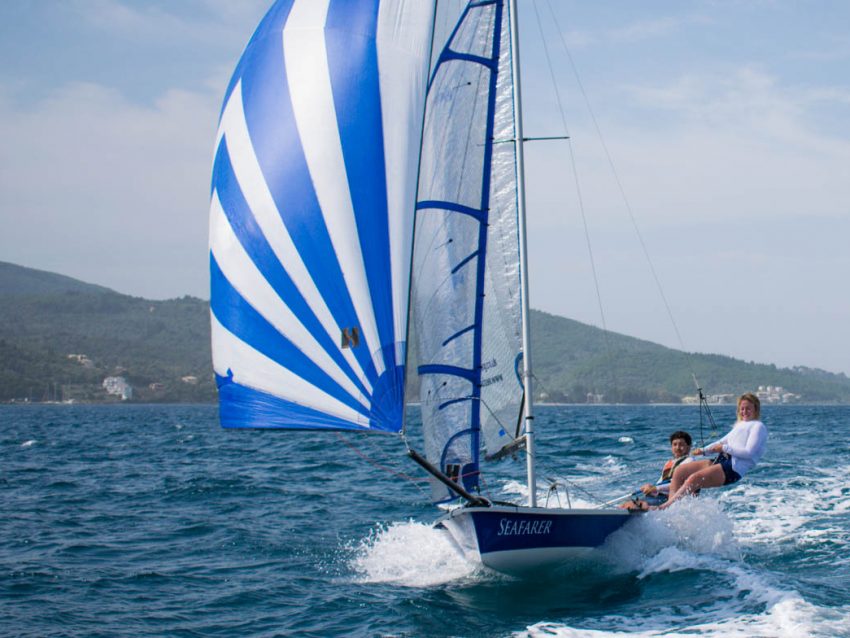 Yachting and Dinghy Sailing can learn a lot from one another. As Yachting experiences are growing worldwide; cruising holidays and yacht tuition are becoming more affordable. Thus Yachting as a sport is beginning to engage with a wider client base. Over the next few years, I can see a lot of accomplished Dinghy Sailors looking to gain hands-on yacht experience in order to enjoy holidays in the Mediterranean or further afield. Those that do, will take full advantage of exploring beautiful seas and landscapes with the relaxed cruising approach that is paramount to an enjoyable sailing holiday.
However, it is not just the transition from Dinghy Sailing into Yachting that is important for the sport. Yachting can learn a huge amount from the immediate and demanding techniques required to make a boat go as fast as possible. These fundamental skills often begin with Optimists and Toppers and can take you all the way to the Olympics or Americas Cup working on boats being built on the very edge of what is technologically possible.  

"It's always been a dream of mine to be involved in the America's Cup. I remember when I was a kid sailing Optimists down in Cornwall and there was a British America's Cup challenge that was training in Falmouth," —Ben Ainslie
One can often tell when teaching yachting to someone with a background in Dinghy Sailing. They usually have a proficient understanding of the five essentials, but it is the acute sense of wind awareness which makes students stand out. Having these essential sailing skills in their back pocket means they can crack on with a Start Yachting course or Pre-Flotilla training, that suddenly makes that dream holiday an exciting reality.

For those Dinghy Sailors (or Windsurfers) who wish to get into Yacht Sailing, there are a number of options. The best way would be to spend a week on an RYA Training Yacht either with us in the Mediterranean or at any RYA Training Centre in Britain. Seafarer has training yachts based in Greece and Croatia and you can get more details here. Another option is to try one of Seafarers Cabin Charter Holidays in Greece or beyond, more details here.

For those Yacht Sailors who want to gain the gain the experience Dinghy Sailing provides, we recommend a week at Nikiana Beach Club and an RYA Level 1 or Level 2 Course which will teach you all about how to sail a 1 or 2 person Dinghy in the warmth of the Greek sun. This can be combined with a week's Flotilla or Bareboat from either Lefkas or Kefalonia.
Whichever way you look at it, sailing is the best sport known to man (we are quite biased on this front). But with so many parts it's hard to remember that whether you sail an Optimist on a small pond or a 100ft Yacht around the world the techniques are the same and you gain the same pure enjoyment from hearing the wind in the sails and the water lashing on the hull. 
We wish you fair winds and good seas.
Text by John Chambers & Joe Snowdon