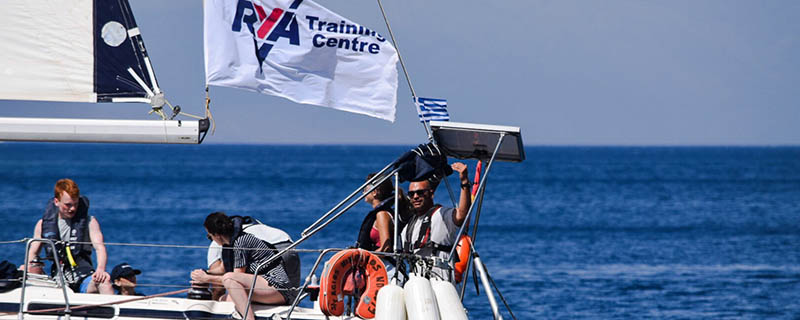 Categories:
Reading time 4 min 45 sec 
Author Lee Savage
Whatever your reasons for getting into sailing, it is not as difficult as you might imagine and there are a lot of different ways to get started. With so many destinations to choose and so many sailing experiences, it can be overwhelming to decide where to start.
If exploring fantastic bays, discovering remote islands, swimming and relaxing in the sun with a good book sounds like the kind of yacht cruising you are looking for then Cabin Charter will be the way to go. 
If you would like to dip in and see but you are not sure if it's for you our beach club has a dedicated Yacht where we offer several opportunities including two days Beginner Yachting (16h) while you stay in our Beach Club Hotel.
But you are here to find out how to become a Yacht Skipper, learn a new skill and take the first step towards becoming qualified, opening a whole new world of possibility for holidays and adventure travel. Even if you only ever do one course, you will have experienced the trip of a lifetime.
The RYA
The RYA is a world-recognised organisation authorised by the UK maritime coastguard agency to issue international certificates of competence. Seafarer instructors are all experienced RYA instructors and can deliver a challenging syllabus to take you from no experience to a qualified licensed skipper through a series of RYA courses outlined below. 
Our Training Centers – help you become a skipper

Our sailing schools in the Ionian and Croatia and the UK allow as few as one person to take part in training onboard our RYA equipped yachts. These yachts feature all the safety equipment and training resources needed to complete your chosen courses. 
RYA Training In The Mediterranean
For our training yachts in Greece and Croatia, you have the opportunity to learn alongside a fantastic holiday experience. Naturally, it is a more intense experience than a Yacht Charter holiday. You will spend most of your days absorbing the syllabus, but there will also be opportunities to swim and explore the beautiful islands. 
Learning alongside our flotilla, you will also have the chance to participate in group meals, our punch, and beach parties. Popular with experienced and newly qualified skippers alike or those seeking to improve their abilities with the support of our skilled lead crews. Filled with like-minded sailors, you will meet skippers who have already taken steps into the sailing world and discovered how accessible it is. It's a tremendously positive and supportive environment to learn alongside.

RYA Training In The UK
Our UK school offers numerous bespoke courses for those wishing to brush up on any particular skills before flying to their next sailing holiday be it boat handling or just refreshers. Of course, we offer all the practical RYA courses including Competent Crew, Day Skipper & Coastal Skipper (for Day Skippers wishing to take there sailing further)
Based in Southampton, it offers fantastic sheltered waters sailing in the lea of the Isle Of Wight. It's a great location to challenge your tidal knowledge and experience the lively sailing environment made famous for events like the Fastnet Race, the Round the Island Race and Cowes Week.
How to Become A Skipper
The Competent Crew course is perfect for somebody who has never been on a yacht before. It is the broadest course in the RYA syllabus covering virtually everything to do with sailing and living onboard a boat. You will have the opportunity to test your skills and will come away with a great sense of achievement and a good understanding of where to go next! 
As an instructor for many years, I have discovered that even more experienced sailors can benefit from this course, there is always another level of detail to learn. If you haven't sailed for a while or had any formal training, this course will not only be an excellent refresher, but you will be surprised how many new things you can learn. For more experienced sailors, this is a unique opportunity to polish the essential fundamentals of sailing.
Training in Croatia Training in Greece Training in the UK
Theoretically a skipper
With some sailing experience under your belt, you are ready to study the theory. Reading about navigation, sailing, and charts will seem much less daunting. You are now prepared to take the Day Skipper theory course. The Day Skipper Theory syllabus contains all essential theoretical knowledge required to become a skipper. It can be completed online at your own pace, We offer Navathome with all the needed resources sent to your home, and you can even use your repeat customer discount.

If you don't feel ready
Not everybody is prepared for the Day Skipper course right away, we all learn at different rates and bridging the gap between the competent crew and Day Skipper courses is best achieved with Bespoke training, this can help you refine those skills that you think you lack. Commonly this is boat handling, we all know there is nothing more exhilarating than bringing a beautiful yacht alongside a concrete harbour wall! We offer bespoke training at all of our bases in Greece, Croatia, and the UK. 
The courses in the Mediterranean are all one week. Our UK school offers much more flexibility for weekends or any other length or start days. Talk to one of our consultants to find out more.
General skills training works very well alongside the day skipper course. You will get to see others go through the course while you polish the fundamentals. Having feedback from an instructor while learning alongside the standard RYA courses can give you the confidence to grow without the pressure of a restricted syllabus. Talk to one of our consultants to find out where and how we can help you get to the next level.
The Sailing Licence
With your Day skipper theory ticket in hand and some recent sailing experience, You will be ready for the Day Skipper practical course. Taking everything you have learned in the first two courses, this turns you into a responsible skipper. You will learn to handle the boat, bringing it into port, directing your crew to ensure everyone is safe and comfortable.
Call0208 324 3118Email[email protected]
Now you are qualified as a skipper
With your internationally recognised license in hand, you now have the opportunity to take your friends and family sailing on Yachts around the world. I am not surprised if this might feel incredibly daunting as this license can be achieved in as little as three weeks.
Flotilla can be a great option to help build your confidence. As well as being fantastically social flotilla offers you the opportunity to grow as a skipper with the security of having our lead crew on standby to assist or advise on any aspect of sailing. You can find more about our flotillas here.
A whole world of sailing
As soon as you feel ready, you will be free to charter yachts worldwide. As an internationally recognised skipper, you can benefit from bareboat prices and the freedom to travel at your own pace. Seafarer has a vast range of worldwide destinations. Click here to find out more.

If you are still not sure
Perhaps you are not sure where you fit into all of this. Why not talk to one of our team? We are a small yet experienced company in the world of sailing, and we would be happy to advise you on how best you can get started.
Call0208 324 3118Email[email protected]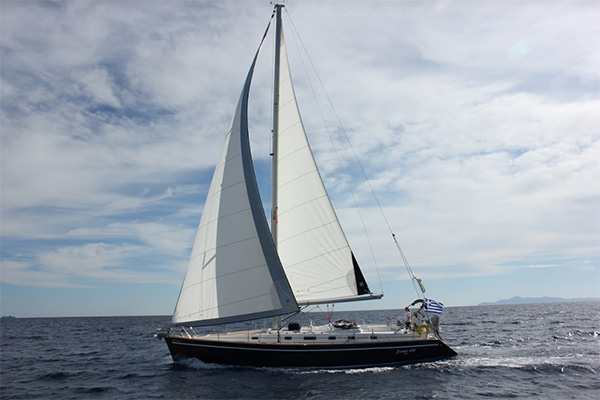 Categories:
Dolphins in the Gulf of Corinth
Its about time for our first dolphin video of the season and Christianna IV, Cyclades Cabin Charter was lucky enough while heading through the gulf of Corinth on their way to Mykonos a few days ago. Enjoy including some Scotish commentary from Martin Johnson
Cyclades Cabin Charter
Explore the stunning islands of the Cyclades aboard our fully crewed 52 foot sailing yachts, Christianna VII and Malama.
Ionian Cabin Charter
Explore the beautiful Ionian islands and the coast of Epirus in the Ionian aboard one of our fully crewed yachts.
Like our Facebook Page
Special Offers and Last minute deals for our followers
Join our mailing list
Get our latest news and special offers
We send around 3-4 emails a month
Don't worry it's easy to unsubscribe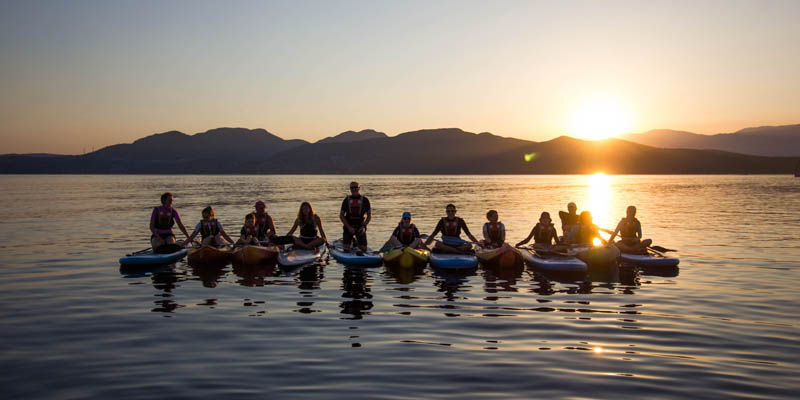 Categories:
Exciting new equipment, courses, restaurant options & special weeks
We had a great year in Nikiana last season and myself and the team are raring to get back to the club, hop on our sailing boat of choice, plane around the sailing area and finish with an ice cold glass of Mythos, Fix or many other fantastic drinks options. To add to our excitement there's quite a lot of new things to look forward to both on and off the water. If you would like any more information on anything mentioned in this article I'll be in the Seafarer offices for the next two weeks so feel free to call 0208 324 3118 for more information.
Boats & Equipment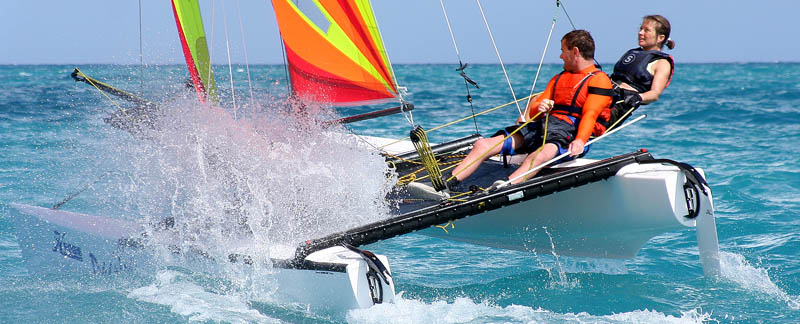 Hobie 18 Pacific
People love the Dart 16s we currently have at the Club but there's long been a call for something a bit faster and a bit bigger. So enter stage our Hobie Pacific, an 18ft beach catamaran with twin trapeze and spinnaker. The boat is designed for 2 or 3 people and is the perfect next stage up from a Dart 16 and we're sure it's going to be very popular.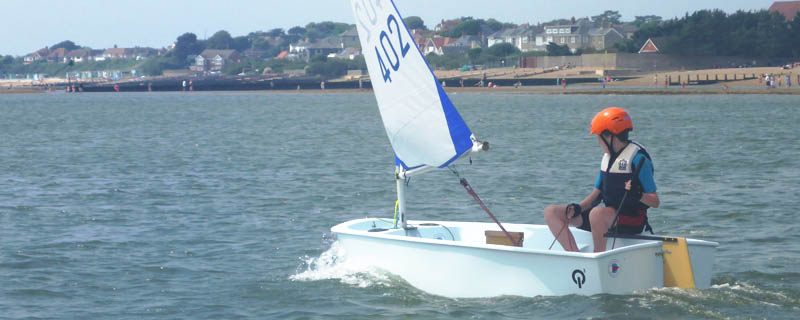 Hartley Alphas
We've decided to replace our Taz junior dinghies with Hartley Alphas, a small junior dinghy based on the Oppi. These stable training boats are excellent for kids aged 6 to 12 just starting on their sailing journey.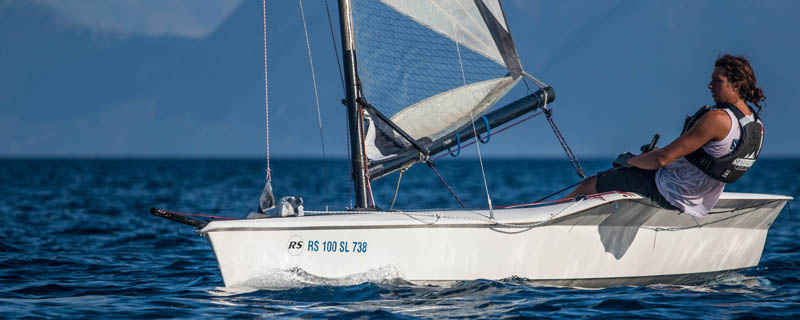 RS100's
Not strictly new for 2019 (we obtained one in the middle of 2018) but we now have two RS 100s at Nikiana Beach Club. These exciting singlehanders are super light, have wings for greater righting moment and an asymmetric spinnaker to power you downwind. The boats are perfect for those who can sail a laser well and are looking for a little more of a challenge.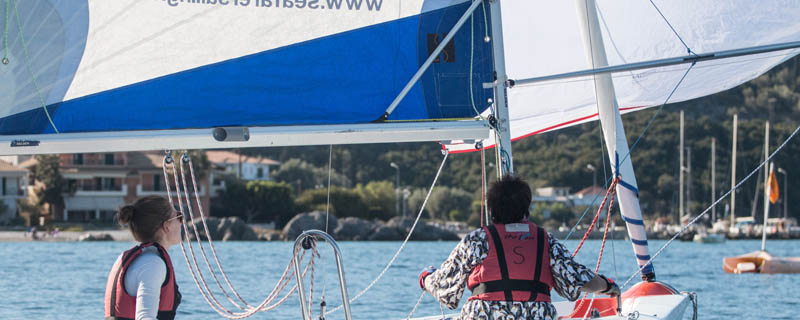 Symmetric Spinnaker Bahia
Again not strictly new for 2019 but we've fitted a symmetric spinnaker on one of our Bahias so we can teach these skills to anyone looking to sail a boat with one of these.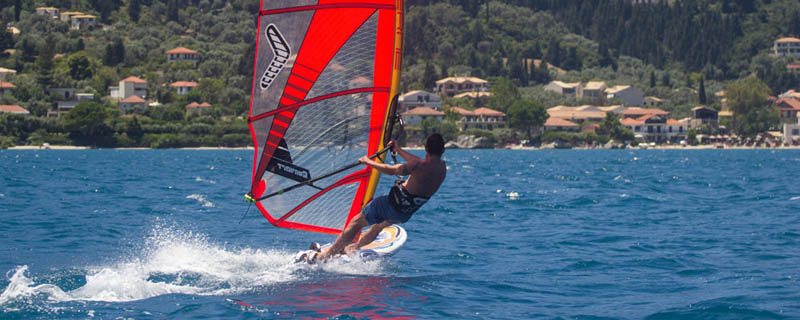 Updated Windsurf Boards
Were revamping all our windsurf boards for the coming season to get the right combination for our guests. On the beginner, end were getting more Red Windsurfers, an inflatable crossover board which proved so popular last year for its soft decks, stability and good handling. For intermediates were expanding our Bic Techno Range with 2 160L boards with optional daggerboards and a 133L board for more advanced sailors. Finally, for those advanced windsurfers we've added to our Starboard Futura range with a 120 and 130L.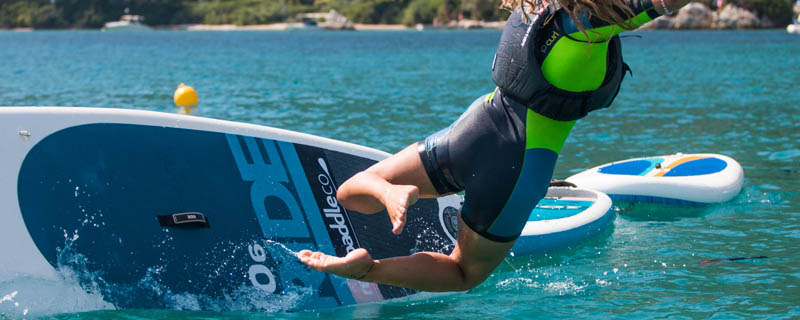 SUPs & Kayaks
Nothing quite as exciting as above but were adding more Red Paddleboards and more kayaks to get everyone on the water.
Taverna & Socials
Club Board
In previous years, we've been simply Bed & Breakfast as we felt it didn't "lock you in" to spending every mealtime at the Club like some places might. But due to popular demand and the fact a large percentage of guests were happy to grab a bite in the taverna for just about every meal anyway, we thought we'd let you pre-book your meals!
The price is £89 per person for adults or £69 for children 13 or under.  This includes the following;
Monday Evening Social Dinner
Wednesday Night Greek Night
Saturday Farewell Dinner
2 x 2 Course Evening Meals from a set menu*
3 x 1 Course Lunch from a set menu*
*These meals can be taken any day but Sunday and will have quite a number of options for Meat, Fish, Vegetarian and Vegan. We will always cater for dietary requirements but please let us know in advance as some products can be tricky to source in Greece. Club Board Menus are available behind the bar.
If you would rather keep it flexible, our B & B option is, of course, available and our traditional Greek taverna will have a great a la carte menu this summer.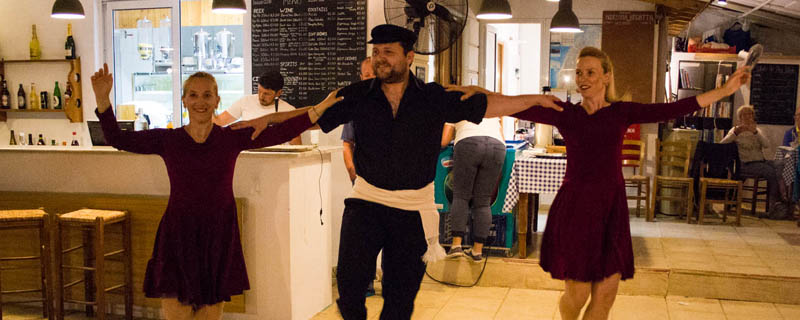 Updated Social Nights
We've had similar social nights for the last couple of years at Nikiana and this year we thought we'd give it a bit of a shakeup. We're not going to reveal all here but prepare yourself for fun socials, great food and that super friendly Nikiana Vibe everyone loves.
Courses & Training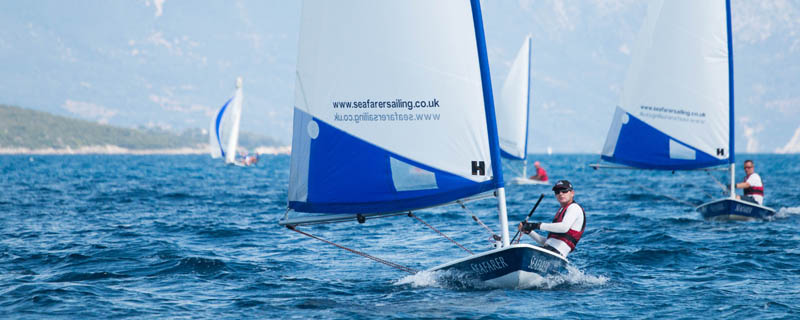 RYA Start Racing
This year were going to start running the RYA Start Racing Course, a great introduction to racing for those with RYA Level 2/3 or similar abilities. The course covers such areas such as starting, how the course works and rules along with making sure you're making the boat go fast in a straight line and the corners.
For those who are keen were running a Race Week at Nikiana Beach Club on the 1st September with 15 hours of tuition for those of different levels with a number of races at the end of the week.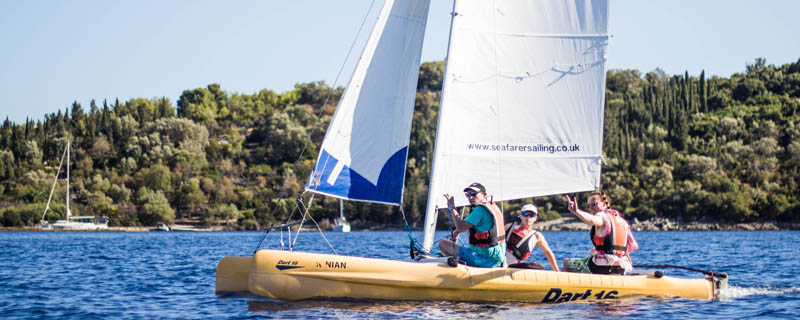 RYA Daysailing
The seas around Nikiana offer some of the most interesting sailing in the world with Islands, Bays, Fishing Villages and Beaches all accessible by dinghy from our base.  This year we will start running the RYA Daysailing course will take you out of the sailing area and teach you how to do small boat cruising including passage planning, pilotage and other skills needed in the open seas. The course will include a 1 day Day Sail and can be done in Dinghies or Multihulls.
Special Weeks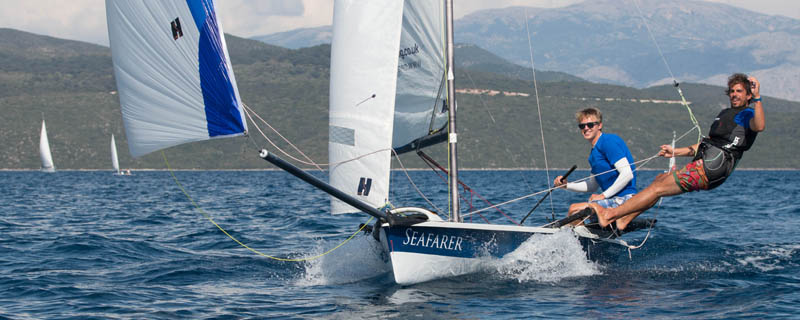 Greek Easter 24th April
Due to over a thousand years of religious disagreement on the date of Easter, in 2019 it's celebrated a week later than in Western Europe. And a real celebration it is. Nikiana Beach Club is going to be opening 11 days early so you can enjoy a traditional Greek Easter feast with a fabulous view.
7 Nights from £499 (Wednesday to Wednesday)
11 Nights from £599 (Wednesday to Sunday)
Solo Travelers Week - 16th June
No single supplement, evenings socials and boat matching.
From £599pp
Level Up Weeks - 12th May, 23rd June & 29th September
After the resounding success of this year's Level Up weeks we've decided to run two more next summer. The idea is to "Level Up" your sailing skills or learn a new sport with 18 hours of free RYA Tuition in Dinghy Sailing, Windsurfing and Yachting.
12th May & 29th Sept – From £499pp
23rd June – From £599pp
Check out Nikiana Beach Club
Have a look at our club page for more details
Join our mailing list
Get our latest news and special offers
We send around 3-4 emails a month
Don't worry it's easy to unsubscribe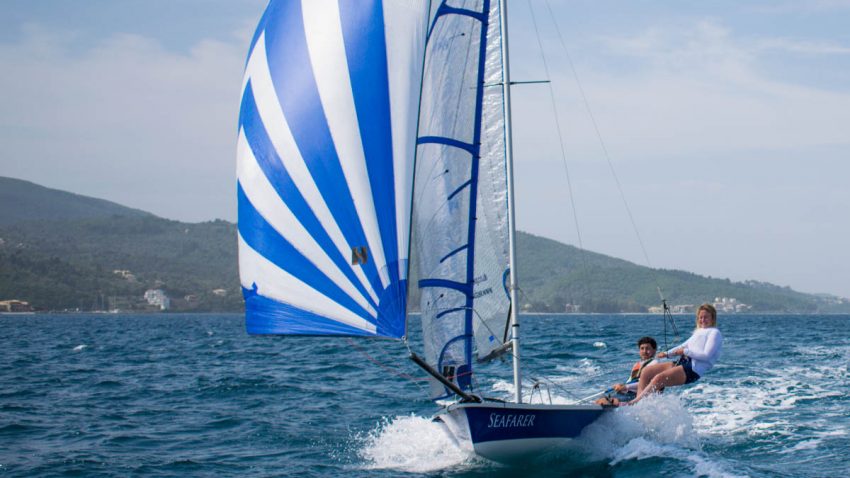 Categories:
Yachting and Dinghy Sailing can learn a lot from one another. As Yachting experiences are growing worldwide; cruising holidays and yacht tuition are becoming more affordable. Thus Yachting as a sport is beginning to engage with a wider client base. Over the next few years, I can see a lot of accomplished Dinghy Sailors looking to gain hands-on yacht experience in order to enjoy holidays in the Mediterranean or further afield. Those that do, will take full advantage of exploring beautiful seas and landscapes with the relaxed cruising approach that is paramount to an enjoyable sailing holiday.
However, it is not just the transition from Dinghy Sailing into Yachting that is important for the sport. Yachting can learn a huge amount from the immediate and demanding techniques required to make a boat go as fast as possible. These fundamental skills often begin with Optimists and Toppers and can take you all the way to the Olympics or Americas Cup working on boats being built on the very edge of what is technologically possible.  

"It's always been a dream of mine to be involved in the America's Cup. I remember when I was a kid sailing Optimists down in Cornwall and there was a British America's Cup challenge that was training in Falmouth," —Ben Ainslie
One can often tell when teaching yachting to someone with a background in Dinghy Sailing. They usually have a proficient understanding of the five essentials, but it is the acute sense of wind awareness which makes students stand out. Having these essential sailing skills in their back pocket means they can crack on with a Start Yachting course or Pre-Flotilla training, that suddenly makes that dream holiday an exciting reality.

For those Dinghy Sailors (or Windsurfers) who wish to get into Yacht Sailing, there are a number of options. The best way would be to spend a week on an RYA Training Yacht either with us in the Mediterranean or at any RYA Training Centre in Britain. Seafarer has training yachts based in Greece and Croatia and you can get more details here. Another option is to try one of Seafarers Cabin Charter Holidays in Greece or beyond, more details here.

For those Yacht Sailors who want to gain the gain the experience Dinghy Sailing provides, we recommend a week at Nikiana Beach Club and an RYA Level 1 or Level 2 Course which will teach you all about how to sail a 1 or 2 person Dinghy in the warmth of the Greek sun. This can be combined with a week's Flotilla or Bareboat from either Lefkas or Kefalonia.
Whichever way you look at it, sailing is the best sport known to man (we are quite biased on this front). But with so many parts it's hard to remember that whether you sail an Optimist on a small pond or a 100ft Yacht around the world the techniques are the same and you gain the same pure enjoyment from hearing the wind in the sails and the water lashing on the hull. 
We wish you fair winds and good seas.
Text by John Chambers & Joe Snowdon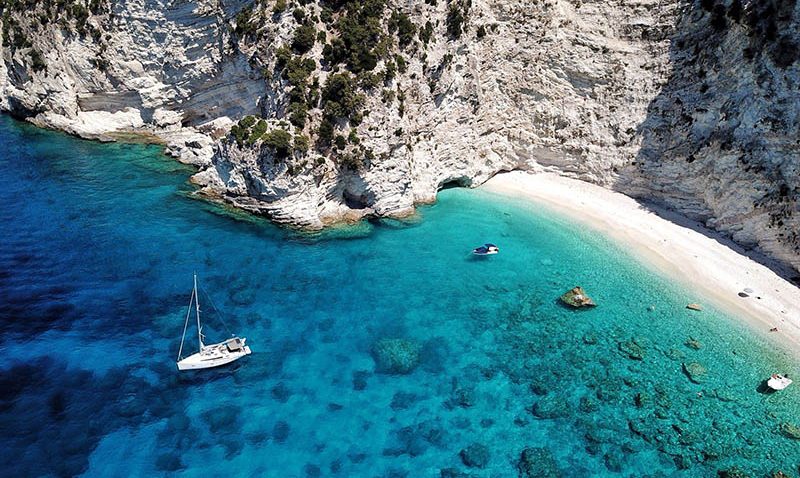 Categories:
Island-Hopping Vlogs!
Our friends, The Budget Savvy Travelers, have been recording their journey on our Cyclades Cabin Charter. We're a couple of videos in and there's more to come as they show you the joys of exploring the Cyclades with Seafarer.
We've enjoyed watching and we think you will too! Hopefully this whets your appetite and will have you calling to book your own sailing adventure. Scroll down for the first video and a link to learn more about our Cabin Charter.
Thanks to @TheBSTravelers for the footage, here's their channel, we recommend watching the whole series!
Cyclades Cabin Charter
Explore the stunning islands of the Cyclades aboard our fully crewed 52 foot sailing yachts, Christianna VII and Malama.
Ionian Cabin Charter
Explore the beautiful Ionian islands and the coast of Epirus in the Ionian aboard one of our fully crewed yachts.