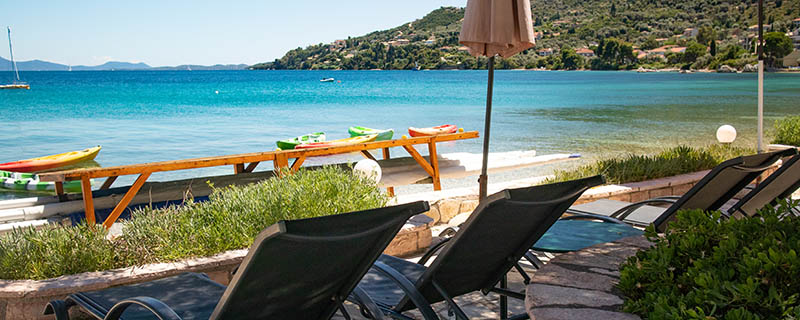 From our lame excuse of a sailor, currently beached in Greece
As if the vicissitudes of lockdown were not enough for a sociable old salt, Captain Mad, our favourite man about the Seven Seas, 'kneeded' major surgery on his left leg at the back end of 2019, rendering him somewhat less than nimble about deck. To give the legendary old boy some respite and the chance to get some sun on his back, we packed him off to our beach club in the Ionian with strict instructions to make radio contact on a daily basis (before happy hour starts) and fill in his log.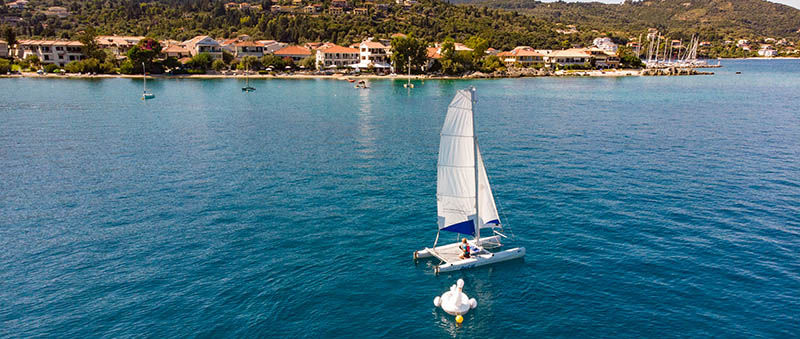 Day 6 - MAD ABOUT THE SWANSONG
Much excitement at the beach club yesterday with honours at stake for the weekly regatta. Eavesdropping on the race briefing I discovered the course markers included a floating doughnut and an inflatable swan. All contestants were required to do was circumnavigate the doughnut and fly three times around the birdie and they'd quacked it.
A mixed flotilla of six boats lined up for the start – a few more were somewhat off the pace. The wind was blowing unsteadily at around 2 knots (ish!). As the whistle sounded, they rather floundered forward, sails gasping for air. However, by the time the first dinghy rounded the swan, some sort of pecking order had been established.
Like every regatta the Nikiana version had its own 'je ne sais quoi' – nobody on shore knew a thing.  I wandered down to join the beach crew on the waterfront to enquire who was leading. 'No idea,' said Max. 'Can't say,' said Hannah. 'Does it matter?' asked Giles. 'Connor probably knows,' Joe volunteered.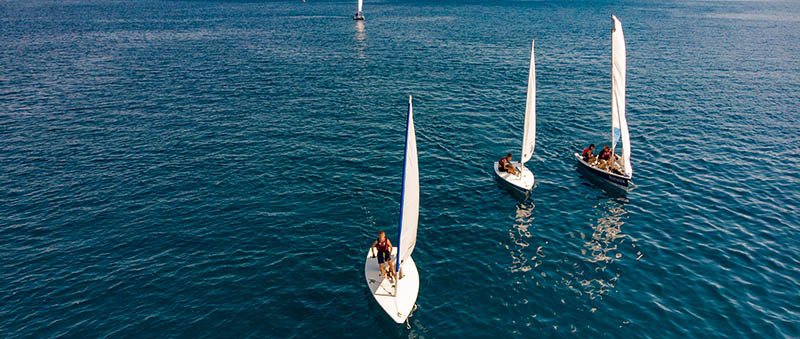 Just as well, thought I as Connor was sitting in the patrol boat in the middle of the water. There was a brief moment of tension when a local in a kayak and a pair on a stand-up paddleboard overtook a clutch of contestants but, in the dying breeze they soon put clear water between themselves and the field.
At pre-farewell-dinner drinks the anticipation was palpable. I mingled asking several of the contestants how they got on. 'No idea,' said one. 'Can't say,' said a second. 'Does it matter,' commented a third. 'Connor probably knows,' Joe volunteered. It was all over when the swan sang – an appropriate end to the final event of the week.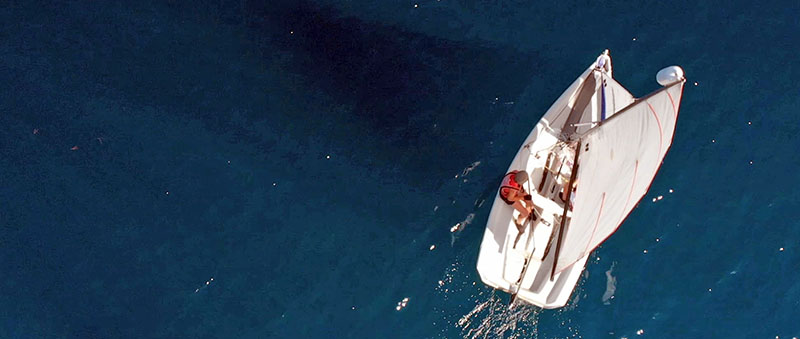 Well obviously Conner knew – he was doing the handicap! At first when the announcement came I thought Connor said the race had been won by Batman and Robin. Made me wonder if the swan was actually The Penguin in disguise. Joking aside, it transpired that the names to be etched on the honours board were Kate and Robyn, a mother and daughter team.
Seeing as they hail from Ashbourne in Derbyshire, which must be just about as far from the sea as you can get in the UK, what's not to like about that?
Anchors aweigh,
Captain MAD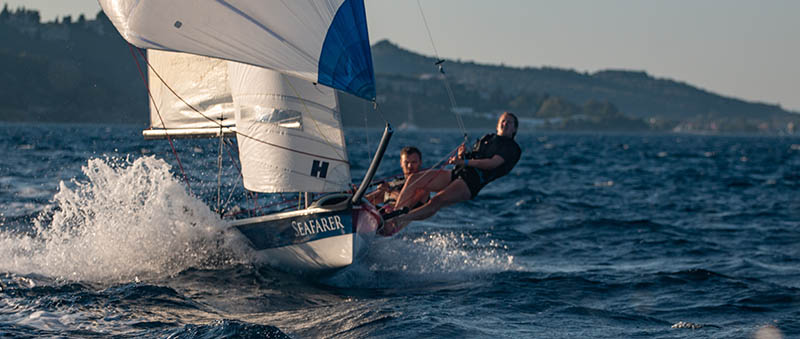 Day 4 - MRS MAD ABOUT THE BUOY
The Lady of the Lagoon has landed
I've been keeping it under my Captain's hat but Mrs MAD has finally made it onto the water. I have to say the waterfront crew here are simply amazing and couldn't possibly be more helpful. None more so than Connor, who fearlessly gave the Lady of the Lagoon a quick refresher in a Laser 2000, whereby she was quickly zipping up and down across the bay on the back of a force 4 Nor'westerly. Despite being beach-bound myself it was a joy to see.
If you ever wanted proof positive that once you've learned to sail it's easy to get back into a buoyancy aid and relive the experience, this was it. I haven't often had dinghy envy in my life, but sitting in the taverna viewing proceedings through my binoculars, I would happily have crewed for her.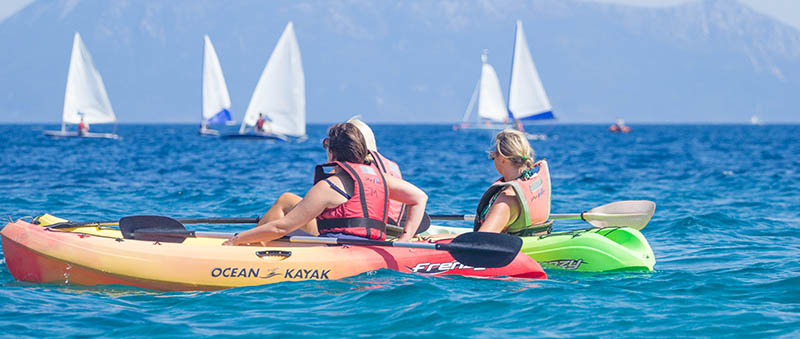 The other great thing about Seafarer's Nikiana beach club is that even if you don't sail there is so much to do. Whilst the good wife is now happily working her way towards taking her place in the weekly regatta, I am rehearsing my role as 'kayak-taxi-uber-driver' for a short trek across the bay to a rendezvous with pre-regatta lunch at a restaurant called 'The Breath of Zorba' on Saturday.
And what's not to like about that? Just have to hope he hasn't pigged out on the garlic.
Anchors aweigh,
Captain MAD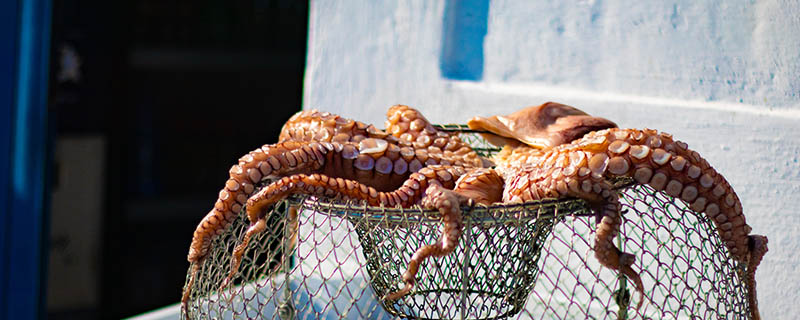 Day 3 - ON TENTERHOOKS FOR A TENTACULAR SPECTACULAR
You only need a couple of squid!
Far have I travelled, and many a strange thing I have seen and eaten on the Seven Seas, but few things can compare with a char-grilled cephalopod. As every educated old salt worth his salt knows, the literal translation of Cephalopod from the classic languages is 'head foot' (never let it be said I didn't listen to old Chug Summers at school!) And in the pantheon of 'head feet', amongst the 50,000-odd (and odd is indeed the word) members of the Phylum Mollusc, the Octopus and the Squid are leg-end-ary.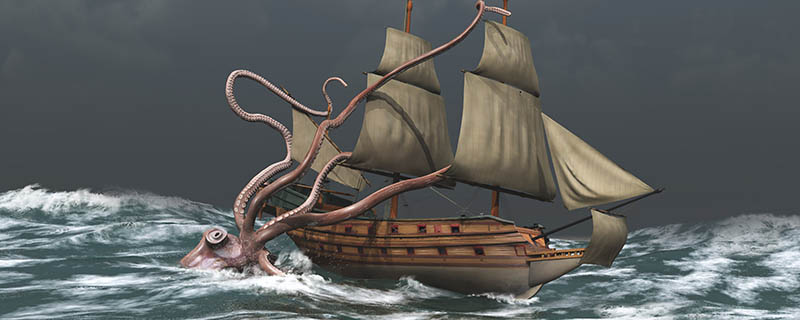 KEEPING OUT OF ARMS WAY IN THE PUB QUIZ
So here's the thing – if you ever want a really killing pub quiz question, ask 'how many legs are there on an Octopus?' Most back-bar pundits will happily scrawl 8. Next question, ask 'how many legs does a Squid have?' At this stage, unless the pundits are using their mobile phones (and shame on them says MAD), they will be perplexed.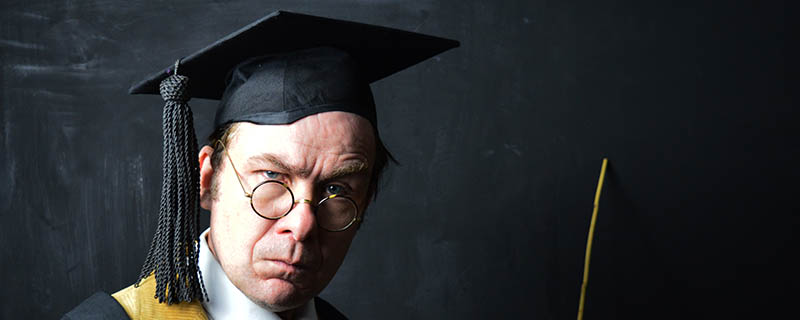 Actually, in both cases, the answer is 'none'. Cephalopods may be called 'head-foot', but in fact they don't have feet at all. Instead they have both 'arms' and 'tentacles'. Then it gets even more tricky because, actually, the eight-pronged Octopus has six arms and two tentacles. Then, every single squid in the whole wide world has eight arms and two tentacles. In both cases the tentacles are shorter than the arms. Lesson over!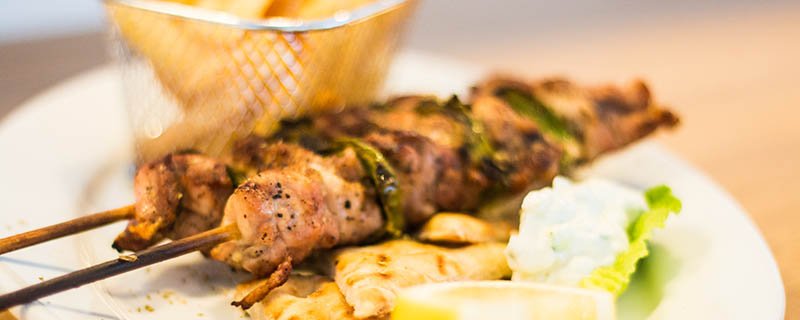 ARE YOU A SUCKER FOR A TENTACLE?
Anyway the point is, that last evening, Lady MAD and I enjoyed the most delicious Octopus I've ever eaten, just down the road from Nikiana, at a restaurant by the harbour. No idea what it had been marinated in, but the tentacle (the bit with suckers on) and a half on the plate could easily have been mistaken for lobster. Dialling-up our gastronomic lunchtime aspiration, we then lunched today a short feet-in-the-sea walk down the beach at 'the blue and white restaurant' on fresh squid.
Only in Nikiana with Seafarer – and what's not to like about that?
Anchors aweigh,
Captain MAD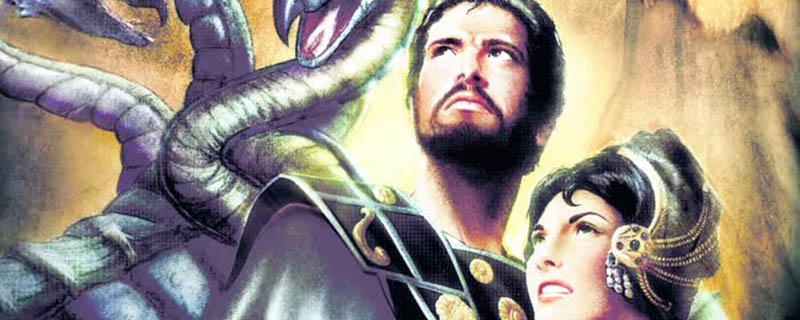 Day 2 - FROM GOLDEN FLEECE TO GOLDEN BEACH
Captain MAD and the Argonauts
A great nation of sailors, the Greeks. Back in the day, in fact since time immemorial or even before, heroes of myth and legend set sail on adventures of derring-do. One such was Jason who, on his good ship Argo, sailed in search of a Golden Fleece – never let anybody tell you old MAD never paid attention in classic lessons with Chug Summers.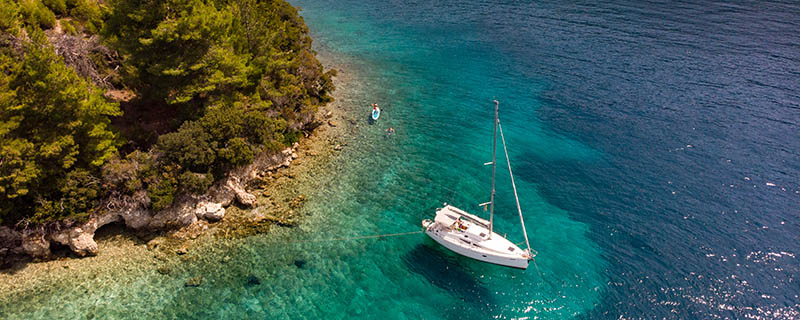 ARGONAUTICS ARE US
Having been appraised of the knackeredness of MAD's left knee, and concomitant lack of yachting, the beach crew at Seafarer's beach-based sailing emporium very kindly arranged for me to have a day sailing on the 34' Elan yacht 'Argo' – all boded well for a day island-hopping in the wake of Jason and his crew.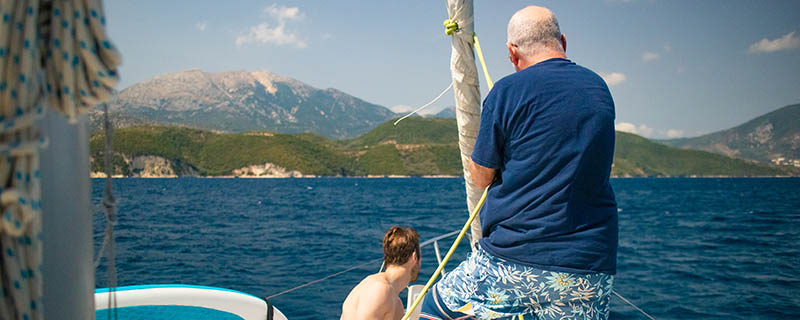 IT'S ABOUT THE COMPANY YOU KEEP
I've always liked to sail with a diverse ship's company. My fellow Argonauts were Si, a brewer from Leeds (always good to have a brewer on board!), Lara, a health professional from Cardiff (ditto), and Nikiana beach club supremo Joe – who looks like Poseidon's more handsome younger brother. Not to forget of course the Lady of the Lagoon herself, Mrs MAD, who had put on hold reinventing her dinghy career for 24 hours.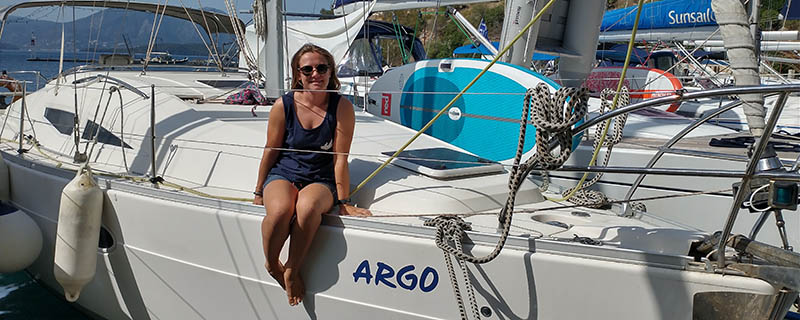 LET'S START WITH THE DERRING-DON'TS
Our skipper was Lissi who started with the best safety briefing on the derring don'ts I have ever heard. It's long been a great joy to me to see young sailors take the helm and the fact that Lissi gained her Yachtmasters five years ago at the age of 20 is a tribute to the endearing attraction of open water sailing. Actually, 4 of Seafarer's instructors are young female Yachtmasters, a tribute to their equality policy.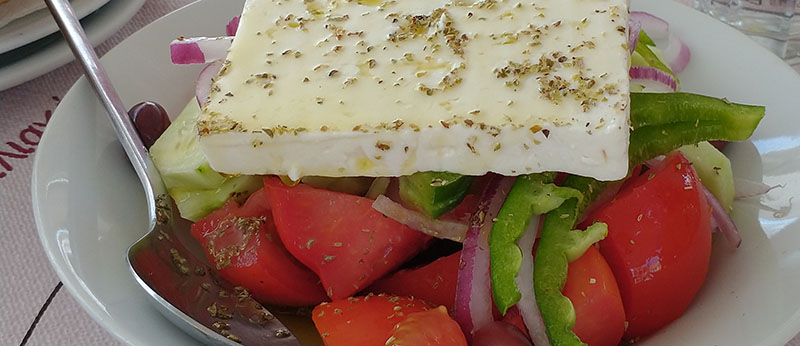 DESTINATION LUNCH
In Lissi's practised hands, all of us crewing as required, we were under canvas for a nice long beat to the neighbouring island of Meganissi. As ever the target for any seasoned salt was 'lunch' and we duly made land and a lazy-line mooring at a stone quayside abutting a quintessentially Greek taverna where we shared a quintessentially Greek lunch. Luckily the waiter, who looked rather like 'Lurch' from the Adam's Family, spilled a glass of wine in my lap which resulted in a second carafe and watermelon 'on the house' – my groin may have been three sheets to the wind, but what's not to like about that.
The good yacht Argo, complete with super-skipper Lissi, can be chartered on a day-cruise basis by any guests staying at Nikiana. The maximum crew complement is 5. 
Anchors aweigh,
Captain MAD
Day 1 - THE QUARICEP CONUNDRUM
Slipping up on a dodgy duckboard outside my local, The Rusty Scupper (2-4-1 pink gin for senior citizens every Tuesday and Thursday), necessitated 8 days in hospital whilst the NHS drilled holes in my kneecap and reunited it with my quadricep tendon with steel hawser. Not only a bit jippy, but it rather stymied my challenge for the Cowes' Week round the island race this summer.
SEAFARER TO THE RESCUE
So recently I've become something of a lame excuse of a sailor. Luckily help was at hand from the good folk at Seafarer who found space for me at Nikiana, their beach club on the beautiful island of Lefkas, beach-based sailing central a-go-go. Hence, I sit here writing this whilst looking across a bay of brilliant translucent water, under azure skies and a benevolent sun, as a mild Force 3 breeze ruffles sails inshore.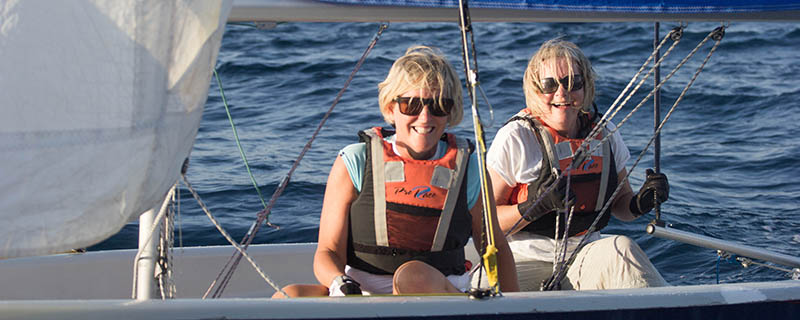 THE LADY OF THE LAGOON
Much as I'd love to get back into a dinghy, the knackered knee- simply won't bend enough to get under a boom. But there is another agenda – it's time to get the good Lady MAD back onto the water under sail. She has long claimed a heritage of a winning career in Mirror Dinghies and Lasers back in the day, but has staunchly avoided taking the helm for the last decade or four. So, with the kind support of Giles, Hannah, Lizzie and the beach crew here I'm sending her back to sea!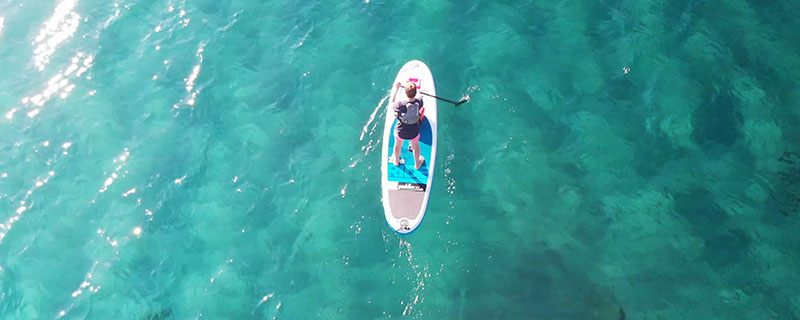 MY PLANS TO BE A SUPER-SUPPER
For me I'm going for a more straightlaced and straight-legged experience – I'm going to try one of these new-fangled 'Stand Up Paddleboards' which seem all the rage. They look a bit tricky to mount but I'm hoping to find my feet by the end of the week – so watch this space for daily reports.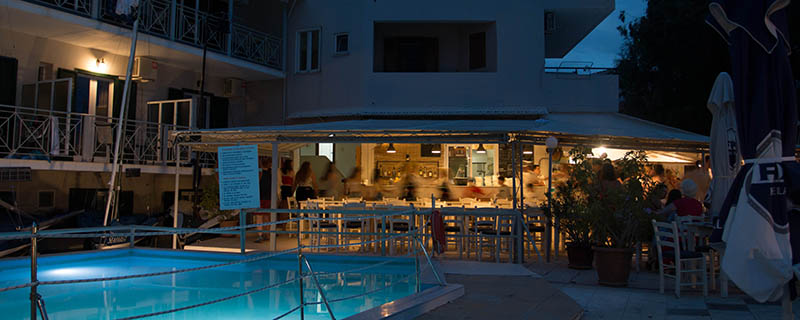 ALSO ON THE AGENDA…
We've just had souvlaki and salad for lunch, washed down with a couple of ouzos – what's not to love? This afternoon we're swimming and chilling and tonight it's the welcome party (suitably socially distanced in every way). Tomorrow we take to the water. It's a whole new normal!
Anchors aweigh,
Captain MAD
For more information or availability, you are welcome to call one of our sales consultants on 0208 324 3118.