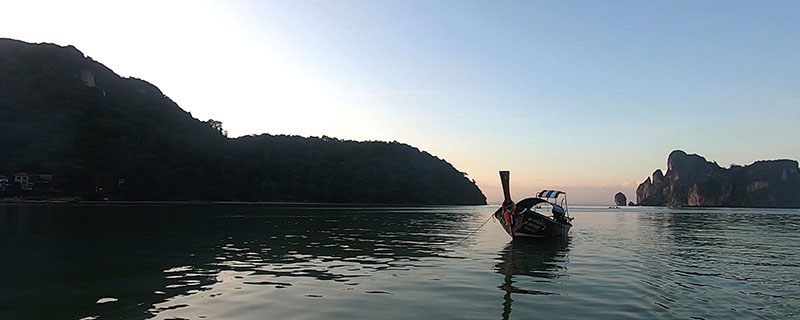 Revisiting the first week of our flotilla, sailing from Phuket
2 years on from my first visit to Thailand, the memories of my time there are still as fresh as if yesterday….read on for a first-hand account of our inaugural flotilla in this enchanting country, back in January 2020…
It is 0430 UK time on a cold January Sunday in England, and I am wide awake, having travelled back less than 24 hours ago. My mind is full of the images, tastes and sounds of my trip to Thailand to join our new flotilla for the first week. My eagerness to write some of my thoughts down hopefully gives you an idea of the impression I have been left with after my first visit to this amazing country.
Day 1 - Phuket Yacht Haven
I arrived in Phuket airport after 2 six hour flights, via Doha in the middle east. I flew with Qatar airways, and the interconnection was hassle free, a welcome chance to stretch ones legs. Arriving in Phuket, the 35 degree heat envelopes you immediately, and reminds you of how far you have come. It's not oppressive, just warming.
Jumping in a cab I headed for our base, Phuket Yacht Haven Marina, only 20 minutes away. Turning into the marina entrance, you pass palm and rubber tree plantations before emerging at the water's edge, 2 minutes from the pontoons. The Deck (the marina bar and restaurant) is a typically swish marina spot overlooking the yachts, happily missing the one marina aspect we can live without, the prices – a Pad Thai and a cold beer will cost you around 250 bhat (around £6.50) – and that's expensive for Thai standards. Once you settle in, walk 5 minutes to the north to the Living Room or Papa Mama (both rustic spots on the shore) and the prices tumble.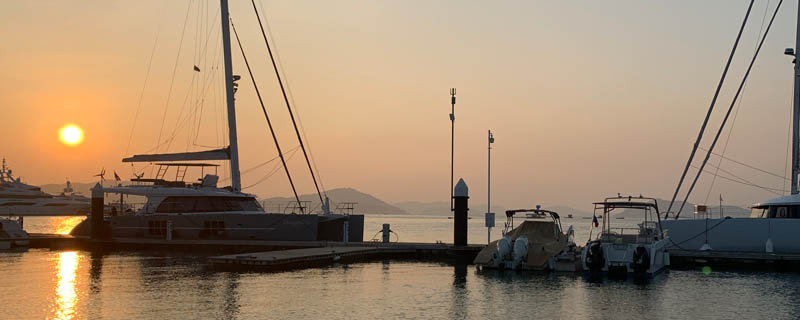 Day 2 - Phuket Yacht Haven to Koh Hong
After a beautiful sunrise, we strolled to the Living room restaurant for a main briefing and breakfast before setting off for the day. We are in tidal (and often shallow) waters here, so more focus on sailing and navigating than the mooring techniques. Getting out into the open water and the 10 knots of breeze means sails up and trimmed (yes, even on the lead yacht!) and away we went – down the river, leaving most of civilisation behind us. Hong is Thai for "room" and Koh Hong gives our first taste of what this means in these islands – the iconic columns of granite, with often a hollow centre. We anchor in 5 metres close to Koh Hong and its time for a punch party – with a difference. We dinghy into a cave (no engines, so as not to startle the bats) and emerge into an inland lagoon. No going ashore, so a raft with all the tenders is our venue, utterly stunning and completely to our selves now the day trip boats have gone. Its breathtaking and blows everyone away. Best punch party venue ever. Fact.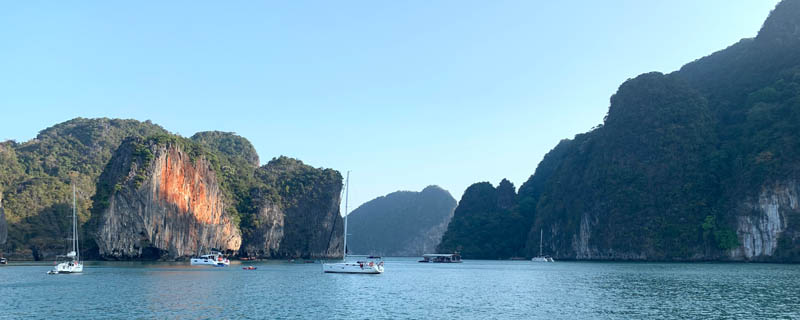 Day 3 - Koh Hong to Chong Koh Yao
After a morning swim (as you do), we head out – all together, as the channels north get shallower. First stop is Koh Phing Kan, better known as James Bond Island, the setting for "The Man with the Golden Gun" – its full of tourist boats during the day, but we get as close as we can – one to tick off the bucket list. Navigating east across the shallows, we all go our separate ways, some heading off for a sail, some to explore the smaller islands and hongs along the way. We head to another Hong – Koh Roi and venture into this one on foot, across pure white sands. Inside is a sensory overload – the sounds of the birds only drowned out by the resting chirps of the thousands of fruit bats roosting in the mangroves….its paradise. After an hour taking it all in we weigh anchor and head down to our overnight stop on the south of Koh Yao Noi. A floating village of fishermen watch as we tender ashore and, after politely declining the offer of a taxi, we stroll the 2km to the aptly named Good View restaurant. This isn't a touristic island, and the stroll passes the locals going about their day – mending boats, doing their washing, skipping home from school, all with mangoes, bananas, limes and pineapples growing by the side of the road. As a foodie, this really starts my journey, with a chilli soft shelled crab and pineapple rice ending off a perfect day.
Day 4 - Koh Yao Noi to Rai Lei Beach
Another day, another Hong….this one is also Koh Hong, but this is the Krabi one (the larger town on the mainland to the east). This one is navigable at high(ish) tide, and once inside, this is a huge lagoon, around knee depth, bordered with mangroves and white sandy beaches. We have a cracking 20 knots of breeze for a sail, but you wouldn't know, being completely surrounded by the sheer granite cliffs. Out we go, and off we sail, getting a healthy 8.2 knots from our trusty Bavaria 36, on a close reach down to Rai Lei, and civilisation, backpacker style. Rai Lei is busy, the longtail boats buzzing past, carrying those less fortunate than us yachties.
Ashore is lively, will loads of bars and restaurants to cater for the largely bohemian crowd. Grab an ice cold beer, relax and maybe get a bamboo tattoo whilst you chill…hey, when in Rome….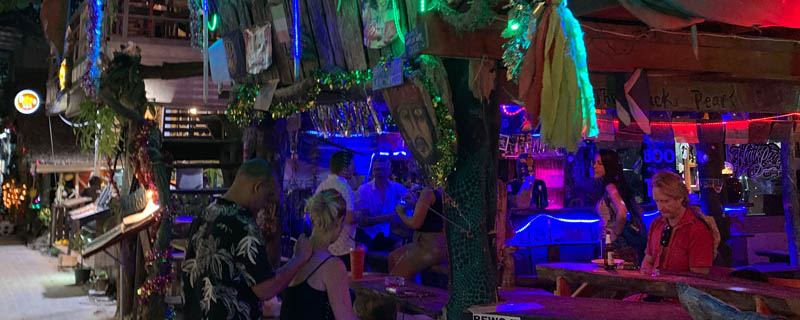 Day 5 - Rai Lei Beach to....somewhere on Koh Pu
We were recommended by our incredibly knowledgeable colleague in base to get to Koh Pu – its how Phi Phi Don was 20 years ago, she said……she was right. This is off-grid, relaxed beach life at its best. You're not getting the co-ordinates from me…..we will tell you when you get there! (anyone remember "The Beach"?) This is a place to die for. My heart rate went down 50% when I stepped ashore. A couple of little restaurants, an amazing waiter who (with almost no convincing) had me order the freshly caught Barracuda with red curry sauce – I would happily see out my days on that dish alone. There are beach bungalows available for rent…..definitely the next holiday for my family is sorted – the image of my boys playing on the unspoilt white sand has to become reality.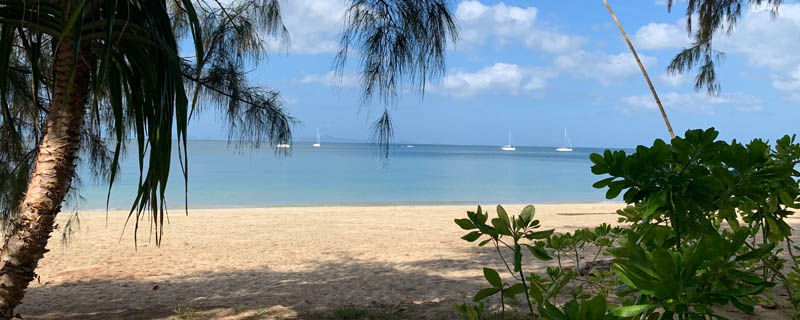 Day 6 - Koh Pu to Koh Phi Phi Don
Today is the day. We all (very reluctantly) leave Koh Pu and head west, to probably the most famous islands in Thailand, Koh Phi Phi Lei, and Koh Phi Phi Don. Phi Phi Lei has been made world famous as the location for the film "The Beach" – its a shame old Leo wasn't a yachtie, because the week has already given us more serene breathtaking places. Thankfully for the island, Maya beach is now off limits to tourists – but you can get close enough for a decent photo. It is beautiful, and the steps taken by the locals to stop the hordes has paid off – the coral reef is recovering, the sea life is back.
After some photos, and to imagine what it would be like without the longtails, day tripper boats and the speed boats, its time to head north, and into the vortex. Koh Phi Phi Don is insane…..but insane enough to make it still a worthwhile place to stop. Parties on the beach, fireworks, fire jugglers, madness everywhere…..go exploring the back streets and see just how far the rabbit hole goes…..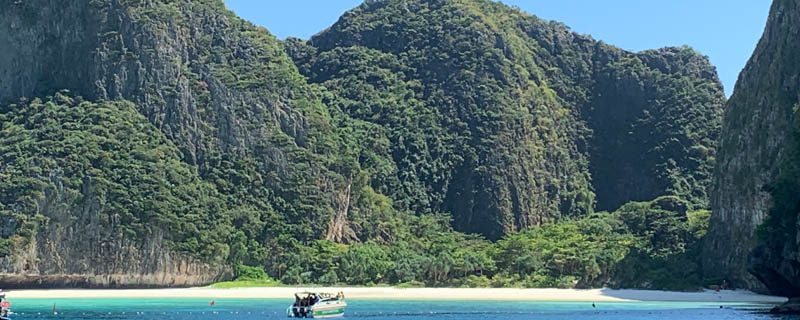 Day 7 - Koh Phi Phi Don to Phuket Yacht Haven
Our final day. The wind gods see fit to provide 20 knots from the east, and the 30 plus miles back to base gurgle past under sail alone, a glorious beam reach to take us back and remind us that this can't be the last time to sail here.
We refuel back at base, a relaxed and simple affair, as everything has been. Back on the quay its time for a posh shower, to sit down, order a cold one and process the sights and sounds of this enchanting place.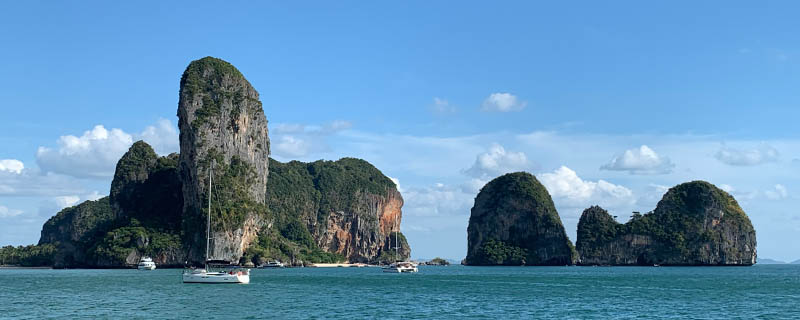 Farewell to the Land of Smiles
There are many things that contribute to a perfect holiday. Thailand is, without a doubt, one of the most enchanting places I have ever visited, and one of the best places I have ever sailed. The scenery is stunning, the food is amazing, the people are the warmest, friendliest hosts and the culture is fascinating.
Thailand has a well deserved reputation as being known as the Land of Smiles. I can see why. Find the time, find the means and come sailing with us in Thailand. If you enjoy it as I did, you won't be able to stop yourself smiling…..I know I can't.
John Connolly
Product Manager
For more information or availability, you are welcome to call one of our sales consultants on 0208 324 3118. If you'd like to hear more about the day to day of boat life in Thailand, I am happy to talk. Your only issue will be getting me to stop….JC