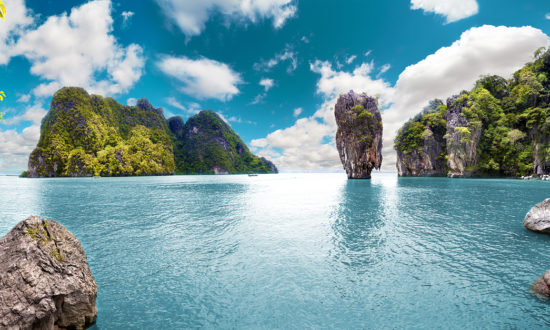 THE SEAFARER THAILAND RALLY  – SAILING A TROPICAL PARADISE
22 June 2019
You may remember a couple of months back we sent a survey asking where you'd like to see us launch a winter flotilla.
Well, we read your replies and we've decided to test the waters (literally!) on a new winter flotilla in Thailand this June! (Yes, we are aware that June isn't Winter…).
This June, we're running a mini-flotilla in the beautiful Phi Phi Islands. We have of course been promoting bareboat and cabin charter holidays here for years and our long-standing, local, trusted partner in Phuket will have one of their experienced skippers on the lead boat for that outstanding local knowledge, Also on board will be a trusted member of the Seafarer family, to keep things how you like them! We already love it, so if you love it too, this trip will become a permanent fixture.
Similar to our Peloponnese flotilla, this is part of a series of "pilot episode" flotillas. Be adventurous, be a Seafarer, join us!
We are calling this one the Phuket Rally, as it is smaller than a flotilla and will also be a cabin charter trip sailing Thailand's wonderful Phi Phi islands.

Phuket is an Island located in the southwest of Thailand in the Andaman Sea and is considered as the centre of one of the world's most beautiful sailing areas. The area boasts hundreds of idyllic islands, countless secluded beaches and all in lush tropical surroundings. The spectacular Phang Nga Bay with its amazing limestone pinnacles made famous through the James Bond film, is just one amongst countless iconic sights we will explore on this amazing trip.
The lead yacht will be a large one with en suite cabins, so for those that don't want to charter an entire yacht, you can book by the cabin. The support and camaraderie you have come to expect on a Seafarer flotilla will be there with daily briefings and some group meals as well visits to points of interest.
The area features stunning anchorages suitable for overnight stays as there are very few harbours and marinas, whilst charming villages offer unique lunchtime stops. Many of the islands in this region are ringed with dazzling coral reefs so rich in marine life that you'll be tempted to spend much of your time in the water rather than on it.
All in all it's a great mix of natural beauty, history and culture plus some great sailing as the icing on the cake!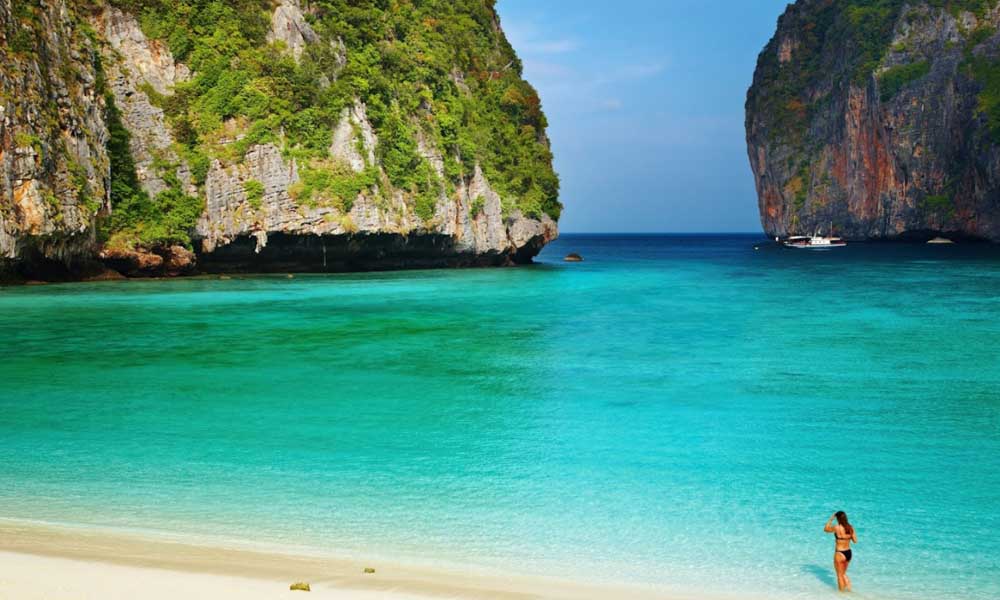 OUR ITINERARY
Day 1: The journey from the airport will give you your first glimpse of the lush Thai vegetation, Buddhist temples, and picturesque villages.
Day 2: After breakfast and the welcome briefing, we set sail to Koh Hong. This amazing site is only accessible by tender through a cave leading you to a lake surrounded by 100m cliff. Lunch at anchor.
Day 3: Depart to Koh Khai Nai, better known as "James Bond Island," where the movie "The Man With the Golden Gun," was filmed. Stop at Koh Panyi, a floating village where hundreds of fishermen live. The obvious thing to do is shop for fresh seafood for a fresh seafood feast on board.
Day 4: After breakfast, we sail for Koh Hong East and visit the spectacular lagoon. There is time for lunch then onwards to Koh Dam Kai, stopping at Ao Nang. We drop anchor in the sheltered bay and recommend dinner on board.
Day 5: Next we sail for famous Koh Phi Phi with a stop for lunch at Koh Mai Pai, a beautiful sandy beach with coral, fish, and crystal clear waters, perfect for divers and snorkelers. After lunch, we head to Koh Phi Phi Don, considered one of the most beautiful beaches ever, we also visit  Yongsakem Bay (also known as Monkey Bay).  Nui Bay for amazing sunset views is a must before, dinner, and overnight in this peaceful anchorage.
Day 6: An early start today as we sail for Koh Phi Phi Ley. Sailing around this island, you'll discover the spectacular cliffs and caves. We return to Koh Phi Phi Don. Mooring at Ton Sai Bay, an ideal place from which to go ashore for exploration and shopping.
Day 7:After a leisurely breakfast we depart to Koh Kai Nai, a small island with a stunning white sand beach, well worth lingering for a swim, We next depart for Koh Lawa. Where can either go swimming or go hiking ashore. Enjoy a spectacular sunset over dinner.
Day 8: We return to our base at Yacht Haven Marina in the morning after having breakfast on the way.
Note: The above itinerary is indicative and is subject to weather conditions. The lead crew will keep you advised of any necessary changes during the daily briefings
Sail & Stay
We offer options to extend your stay in a beach hotel in Phuket for up to a week or take a connecting flight to Thailand's exciting capital Bangkok for a couple of days before your return flight to the UK With both pre and post cruise extensions you can opt to do both for the ideal combination.
The Weather
You can expect temperatures in the high 20's to low 30's c and plenty of sunshine interspersed with some short downpours of an hour or two, usually in the early evening, that soon turn back into warm dry weather. Winds are typically south westerly at this time of year and range between force 2 and maximum force 6.  
Cruising level 2+
With some brisk sailing winds, the area is best suited to those with reasonable previous experience. Most nights are at anchor with plenty of use of dinghy and outboard to get ashore

Our Yachts
Sun Odyssey 409 @ £1998
Sun Odyssey 469 @ £2395
Oceanis 48 @ £2495
Lagoon 400 S2 @ £3395
Cabin charter (en suite cabin) £795 pp
Flights & Transfers (via Bangkok) from £595
Extra 3 nights Bangkok 5* hotel including transfers from £149pp
Extra 3 nights Phuket 5* hotel including transfers from £149pp
Extra 7 nights Phuket 5* hotel including transfers from £349pp